3,2,1…Why study abroad in Ireland is the best!
Swetha Sampath is one of our Trinity College Dublin ambassadors. Read her countdown of the best things about studying in Ireland, and why she would recommend it to any international student.
I consider myself to be a mixture of sorts. I was born in India, brought up in Dubai and later, moved to Canada. And everywhere I went, I felt like an outsider. In Canada I felt I was too Indian, in Dubai (this summer) – I was, suddenly, a Canadian and in India, I was made fun of because I was always considered a Dubai-girl.
So, even though I loved travelling, I didn't expect the experience of being in Ireland to be so vastly refreshing. After all, I'd already had my fair share of variety in my childhood. I really only did it because it was the only other English speaking country in Europe and well, it was an hour away (by flight!) to my favourite soccer team, Arsenal – who are doing very well as of now in the league, by the way! But, I now love it here and have compiled a countdown of things I've learnt so far, and why Ireland is such a fantastic place to study…
Three

opinions about Ireland that have changed:

Before I arrived in Ireland, I thought three things: Ireland has lots of cold rain, it's a deserted island and no one I know lives there. Now I know the following…
I've been frozen in Canada and burnt in Dubai – so the rain here was heaven (trust me).
Yes, it is an island – there are no direct buses or trains to all those lovely European cities – but youcan travel by plane or ON A SHIP! Yeah! I've been on it and it is, as they say, GRAND! There's a movie theatre, wifi, a restaurant, and a bar. Life doesn't get any better.
I really didn't know anyone here. Which meant that I could start afresh! I've made new friends, had new adventures and tried new things!
Two

reasons why I LOVE this country:
1. Trinity College: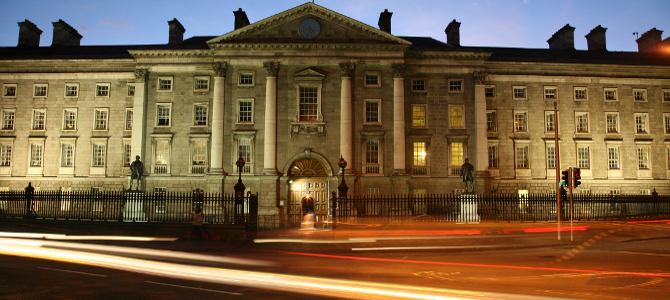 Let me start of by saying, COME TO TRINITY – YOU WILL LOVE IT! I was a lost soul at the beginning and looked for familiar societies to join during Fresher's week. I joined the Indian Society and boy, has it paid off! I've celebrated festivals like Diwali and Holi that I definitely didn't think I would, danced to Bollywood songs outside on campus, sang some very out of tune karaoke songs and ate a whole bunch of delicious Indian food.
I have also become a volunteer – both on and off campus. Thanks to Trinity's amazing volunteer co-ordinator, I've been trained to be a volunteer in Irish courts and be of help to victims. How amazing is that? On campus, I volunteered to be a part of the fantastic Trinity Economic Forum and had the pleasure of listening to some great talks by famous people all around Ireland. Oh, and made some awesome friends while I was at it.
The TCD international office is amazing, and because of them, I've met the Provost, the Indian Ambassador, students from universities in India and got a chance to be involved with Education in Ireland as an ambassador! What more can an international student ask for?
2. Ireland is beautiful!
I had the opportunity to take a four day trip around Ireland with a friend from Canada. Our itinerary looked like this:
Day one: Howth
We went here on a gorgeous sunny day, and climbed up Howth hill. We got lost mid-way and loved it!
Day two and three: Galway
We visited Connemara and the Cliffs of Moher – no picture can do justice to the sight!
Day four: Bray and Greystones
Here we walked around a mountain for four hours and reached the top only to see a white horse grazing under a ray of bright sun. A scene from a fantasy movie!
We finished out our trip up in and around Dublin. We enjoyed breakfast at a quaint city cafe, hit up some museums and churches, had lunch and a walk around Grafton Street taking in street performers on a very sunny Saturday. Could life got any better? I don't think so!
My friend left Ireland, calling it one of the best places she'd ever been to. And we hadn't even visited the top three must-see places. Nature's special child is Ireland. It didn't cost us much, and we ended the trip with hundreds of pictures!
One

reason to study in Ireland

With a university that gave me so much satisfaction (personally and academically) and a country that had just the right balance of European flair with natural beauty, Ireland offers a killer combination for every student! Do you need any more reasons?!