A trip to Dublin Castle
Take a tour of one of Dublin's most popular and historic attractions with Ji Rong, an Electronic Engineering student at the Institute of Technology Tallaght…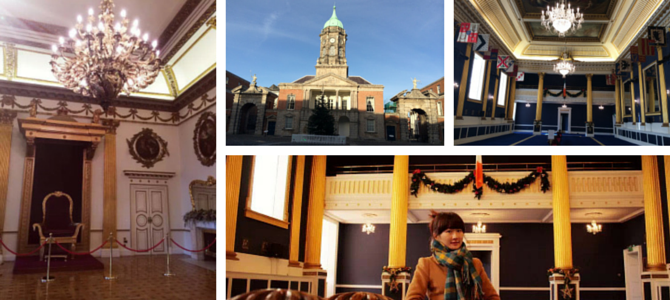 For over 800 years, Dublin Castle has been a landmark of Dublin's history. This medieval stone fortification is the home to many stories around the city's centuries of English colonial rule. As castles go, it's not exactly an overwhelming sight, but step inside and you will be greeted by magnificent rooms, an elegant courtyard, ornate exteriors, and a stylishly landscaped garden.
The Castle stands on a strategic site at the junction of the River Liffey and The Poddle. It is said the original fortification may have been an early Gaelic Ring Fort which guarded the harbour, the Dubh Linn Ecclesiastical Centre and the four main Dublin roads which intersect near the site.
The location has had a varied history—once the site of a 930s Danish Viking Fortress, followed by a 12th Century Norman Fort—the most recent Dublin Castle was created by England's King John and was completed in 1230 as a city defence, Royal Treasury and administration of justice. The courtyard featured a central square, defensive walls, and four round towers, only one of which—the Record Tower—survives today. The castle acted as the British seat of Government until 1922 when it was ceremonially handed over to the newly-formed Provisional Irish Government and its leader Michael Collins.
Fortunately, Dublin Castle survived the subsequent Irish Civil War. The site has been occupied over the ages and modified to suit its ever-changing functions. All the historic rooms have been restored and the Castle is now fully integrated into Dublin society.
Today the Castle hosts many state visits, conferences and Presidential inaugurations. It is also a major tourist attraction, welcoming citizens of all nations to experience the ornate facilities and historical layers seen throughout the complex. From the Medieval Tower to the world treasures of the Chester Beatty Library, from the Viking Defence Bank to the splendid State Apartments, Dublin Castle is more than just a building; it is a map through history.
If you are interested in culture and history, studying in Ireland is the perfect place for you as there are many more historical buildings and monuments to see—be sure not to miss them! Thank you for reading my blog post, and don't forget to subscribe!

[jetpack_subscription_form title="Never miss another blog!" subscribe_text="Enter your email address to subscribe to this blog and receive notifications of new posts." subscribe_button="Sign me up" show_subscribers_total="1″]