As the wooden horse gallops in: Chinese New Year in Dublin
Our Trinity College Dublin and Malaysian ambassador Audrey Chew Ernern found her first experience of Chinese New Year celebrations in Ireland a heart-warming one. Read all about it…

On the 31 January 2014, the Year of the Wooden Horse was ushered in by many eager hearts around the world. As a Chinese Malaysian, it has been part of my culture to celebrate Chinese New Year every year since I was born. This event has always been a memorable one to look forward to due to the food, festivities and family time. As this was to be my first year celebrating it with the absence of family, it was not exactly a thrilling idea. However, being alone was far from what happened this year.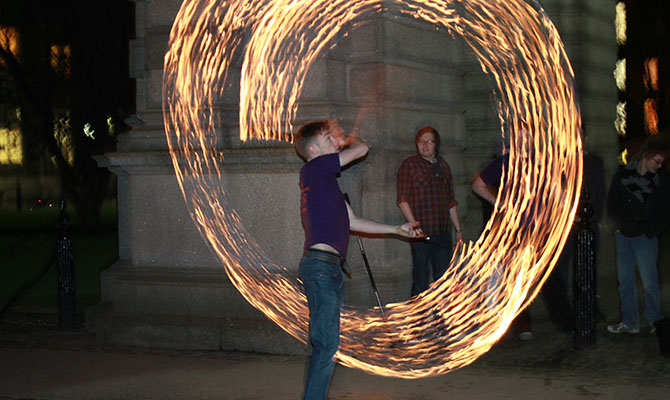 I was invited by a friend to celebrate the New Year with others who too had no family with them. We began the celebrations with a "hot" show as the TCD Juggling Society collaborated with the Chinese Society in putting on a fire display. Instead of fireworks, we watched them manoeuvre fireballs ever so beautifully and dangerously at the same time. Cheers and gasps from the audience echoed through the front square of Trinity College as they saw the performers dodge the flames elegantly.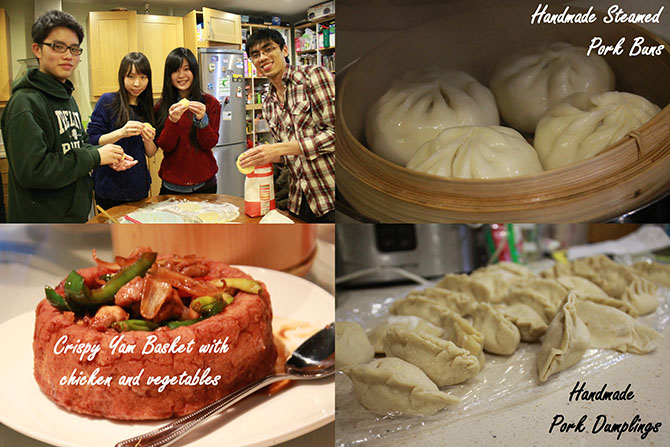 Chinese New Year is not just a one day event. In fact, it is a fifteen day festival that has different traditions on each day! And as food plays a large part in our celebrations, my friends and I organised three separate dinners together – two in a restaurant and one at home. When we gathered in the home, we made our very own pork dumplings (jiao zi) and steamed pork buns as well. As a fun fact, making dumplings is a prominent tradition in northern China as it symbolises wealth due to its similar shape to the Chinese traditional ingot. This year's celebration was unique in the fact that it was spent with a group of almost entirely new friends, many of whom I did not know until the night itself. They consisted of people from China, Hong Kong, Japan, Russia, Ireland, Wales and the Philippines. This proved for me that the festival has become more than just a Chinese celebration as many other cultures are beginning to taste traditional food and get involved in the festival.

The TCD Chinese Society also ran a cultural event which gave people the opportunity to try on the traditional Han costume. Other than the costumes, they had stalls demonstrating calligraphy, traditional paper cutting, music and a variety of Chinese snacks – all of which were free!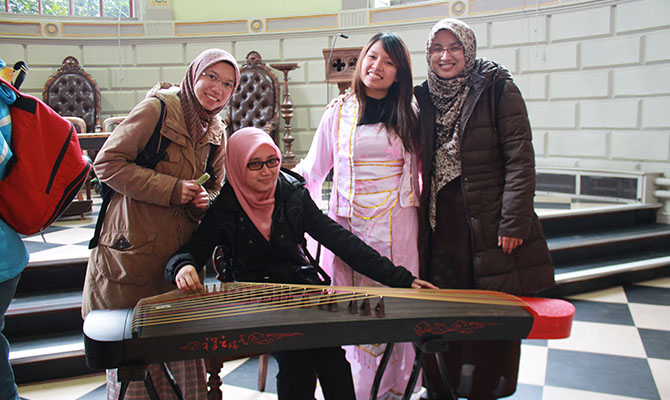 I took up the opportunity to try on one of the costumes, and was also presently surprised when I bumped into three other Malaysian students in the courtyard and welcomed them in to visit the event as well. That is the beauty of the celebration, it is in no way exclusionary. It was a day of experiencing my own traditions while introducing it to others. All in all, it was heart warming, adventurous and unexpected to have had one of my best Chinese New Year celebrations away from home.
[jetpack_subscription_form]