Griffith College Dublin : a day in the life of an international student
Hong Ling Wong is our Malaysian and Griffith College Dublin International Student Ambassador. In her first blog, she tells us what a day in the life of a business student is really like at GCD…
Hello everyone, my name is Hong Ling Wong and I'm delighted to be your Malaysian Student Ambassador representing Griffith College Dublin for 2015.
In this, my very first blog, I'm going to be taking you through a typical day as a business student at GCD, as well as sharing with you why I love my course and studying in Dublin!
My day always starts with a buzzing alarm, some snooze button action and then, my alarm ringing again! This tends to repeat until one of the two following things happen: I get tired of hearing my alarm or I'm late!
As international students, we can all be very different – our nationalities, culture, values, norms are diverse but at times we are more common than you think.
For example, the above 'getting out of bed scenario' and rushing to college because you hit snooze way too many times is a universal student truth, no matter where you are from, am I right?!
Once I pull myself out of bed, and get dressed, I'm ready to start my day as an international student at Griffith College in the heart of Ireland's capital city, Dublin!
Off to college…
Today, I have an early 9am class, and am attending a core module in my course, Strategic Management.
For BA (Hons) in Business Studies students like me, our core modules include:
Strategic Management, Financial Management, Information Systems Management and Business Planning.
Amazing course options…
Apart from taking these modules, I also get the opportunity to chose from a range of other subjects in my final year. My chosen electives are Sales Management and Consumer Behaviour for this semester (the latter and this largely means trying to get inside a consumer's head!)
My friends, on the other hand have taken subjects such as:
International Marketing
Taxation
Corporate Governance and Risk Management
International Human Resources
Organisational Development and Risk Management
Strategic Human Resources Management
Project Management
International Business Environment
One of the best things about my course is that it allows us to choose the electives we love, but most importantly the area in which we wish to develop after we graduate.
Diversity (and sweets)…
My early morning classes are both informative and fun, and my classmates come from across the globe.
I now have friends from Germany, France, Bosnia, China, Malaysia, Brazil and Ireland of course!
With this diversity comes a huge gift… sweets from all around the world!
Another great thing about studying with people from different backgrounds is the varying opinions you are exposed to. It is exciting to see different point of views around business and how we can put these innovative ideas to use in our future workplace.
Often, our 'opinions-exchange' continues even after the lecture is finished over a coffee in the college restaurant, Arthur's.
I love the warm fuzzy feeling of having a hot coffee and enjoying my college hours with classmates! #Collegenetworking
Coffee done, it's back to work and note-taking! We carry on with the day's next lecture and tutorial – Strategic Financial Management.
Practical knowledge…
The great thing about my course is that not only are we learning management theories, but the college also places an emphasis on the financial aspect of business.
From learning about investment appraisals, to calculating a cash budget statement for a start-up company, the knowledge I'm gaining in one class can be applied to so many others. For example, in my Business Planning module we are required to produce financial reports for the business we set up – everything I learn in this degree is so practical and useful.
Approachable lecturers…
And if you're lost in theories or financials, it's nice to know the lecturers are always there to help, giving advice and ready to answer any questions related to their lecture after class. And, with a relatively smaller class population, it's not surprising that the lecturers here can just call out our first names just like our friends!
A sample conversation in the college hallway with one of my lecturers goes something like this…
"Heya Jacqui! How are ya?"
"Oh I'm great, Hong! How's final year going for ya?"
"STILL ALIVE!" (no harm in cracking a joke)
"Hahaha, in a blink of an eye I'll see you on your graduation day!"
"You will Jacqui, you will!"
International support…
For international students like me, it's natural to seek more help and advice while studying abroad. The International Office staff at Griffith College are warm and helpful, and this makes everything so much easier. Simply drop by and say hi to the lovely folks in there, or contact them by email. The staff, Treasa, Sally-Anne, Izabela, Yi Fan, and Claire are all great GCD colleagues, and always do their very best to help international students like me!
The GCD Student Union…
When giving as run down of a typical day in my life, I couldn't possibly leave out the Griffith College Dublin Student Union. This is where we have all the fun after classes! From getting involved in clubs and societies; to playing a game of pool; challenging each other on the Xbox; watching movies or simply just chilling with friends, it's a perfect place to spend time and unwind after all that studying!
Hitting the books…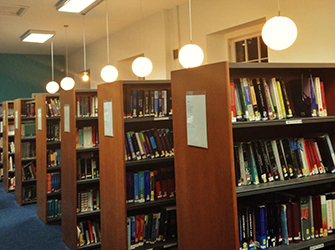 Our library opens till 9:30pm during term time, and it's a great resource. Late openings mean I can search for the books and materials I need after classes.
It's great for printing out documents, doing revision or simply just enjoying some quiet evening reading.
And, that's the end of my day! I have engaging lectures, amazing classmates, a beautiful campus (that's just 20 minutes walk to the city-centre, which is great!), and a vibrant student lifestyle – all adding to the most amazing study abroad memories!
[jetpack_subscription_form]