Ice skating at the Winterval Festival, Waterford
Radhika Loomba, our Waterford IT ambassador, got her skates on over Christmas in Waterford. Be inspired and try something new this year…
Waterford organises a Winterval festival around Christmas and the joyfulness of the festival is contagious. With this festive spirit in the air, a few of my friends were going ice skating and asked me to join. Although apprehensive I agreed, thinking that I would be fine but believe me, what came next was NOT going to help.
As I had never skated before, I asked around to get an idea of what to expect. One of my more adventurous friends described it as gliding through the air with a look of enchantment of her face. She spoke of the wind in her hair, and then quickly mentioned the potential bruises and falls. Her words only increased my nerves. She went on to advise holding my hands close to my body if I fell – to avoid losing any fingers from passing skaters. This vision was enough to convince me that this was not a sport I would enjoy.
I was scared.
I have never really been good on my feet, and a memory of a fractured foot from previous years was still fresh. I really wasn't sure how I would manage this dangerous sounding sport!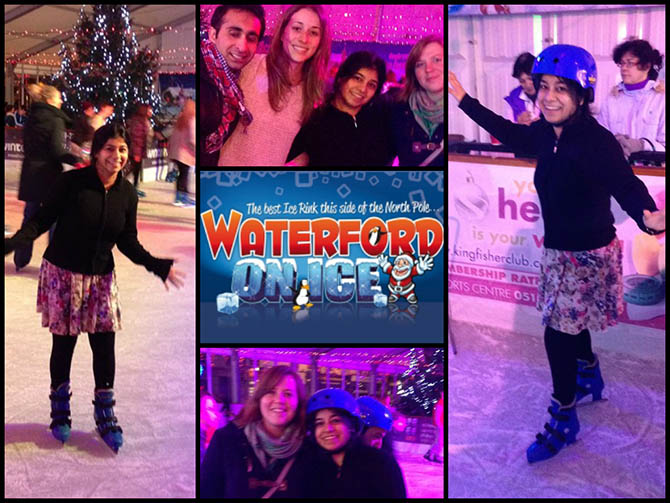 Despite my fears, the day arrived and a sense of excitement coupled with trepidation curled inside me as I buckled into my skates. I smiled through my nervousness and opted for a helmet to keep me safe. Walking in the skates seemed fine, and I listened carefully to all the instructions from my friends as we made our way to the rink – advertised as the "best ice rink this side of the North Pole!"
Wwhooooosh…I slipped as soon as I entered. Stabilising myself and with the help of a support stand, I slowly starting walking the rink. I began to bend my knees and move my feet. Upbeat music filled the hall but did not help my mood as I hardly felt like dancing when I couldn't even stand straight. Learning how to maintain my balance was proving to be quite challenging. I was not ready to let go of the stand but as the hour passed I became more comfortable and, with the help of my friends, was able to go a little distance without needing support. I began to experience the rush of adrenaline even as I skated quite slowly. All my friends were enjoying in their own way, battling their skills against the ice-rink. While some of us chose to stand close to the railing, others learnt fast. One friend even vowed to properly learn and come back again.
One thing is for sure, we all had fun, and laughed as we assisted and caught one another between falls. We even clicked pictures, balancing ourselves together, to remember the excitement we had felt.
For me, the words best describing the experience are new and different.
Yes, it was fun. Yes, I am alive.
So to everyone out there, I urge you to try something new this year! Who knows, it might turn out to be the best thing you ever did!
[jetpack_subscription_form]