Ireland: Chocolate croissants, Guinness… & forever a second home
Ellza Hines, a international student at Griffith College Dublin from Ohio reminisces on her study abroad experience in Ireland. Though it took her some time to adjust, she now considers the Emerald Isle a home away from home…
I have left Ireland. I'd be lying if I said I'm not fighting back tears right now. Or that I haven't already cried about four times. I'm just a little emotional. I'm not sure if I can ever fully express what this experience has meant to me, or tell you about the things I've done, or describe just how incredible the whole thing was.
I'm just not ready to say goodbye to Dublin, but I know I'll be back again one day.
I admit that I started my time in Ireland very homesick. I even tried to convince my mom that I needed to be back in Ohio—thank goodness she is much smarter than I am. I was absolutely gutted about leaving. Even though I knew I'd be going home to my family and friends who love me and who I love dearly, I've been living in my own bubble, dreaming of traveling, and there just aren't enough words to explain how this has affected me.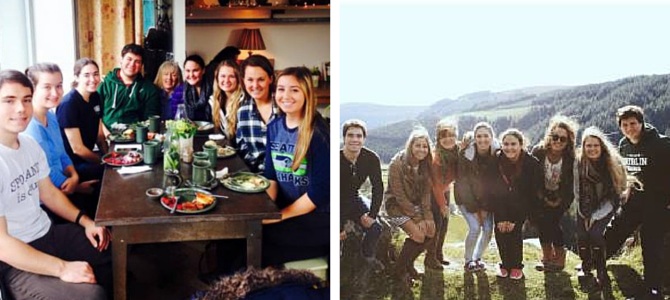 Leaving an experience like the one I had in Ireland something you also need to prepare for. You make friends and connections that go so deep. I mean, I travelled the world with these people. How could I not have developed love for them? They saw me at my finest and definitely at my worst (and I appreciate that they didn't take videos or pictures of those moments). I have to accept the fact that I won't be walking to our favorite pub for drinks and dinner anymore, or grabbing a burrito for the 100th time. There will be no more early morning travels for a weekend abroad or chocolate croissants from Spar.
It's hard to express how bittersweet this is. I want to cry because of what has ended, but I also want to smile because of what I have taken with me. To be honest, I tend to become very connected to people and experiences—and I'm having some major attachment issues right now. I'm just not ready to say goodbye to Dublin, but I know I'll be back again one day.
As for now, I'm going to reminisce about chocolate croissants and Guinness, and continue to daydream about returning to Ireland.

[jetpack_subscription_form title="Never miss another blog!" subscribe_text="Enter your email address to subscribe to this blog and receive notifications of new posts." subscribe_button="Sign me up" show_subscribers_total="1″]x]