Ireland: My own world of wonders
An informative and touching blog about the kindness of strangers and the real lessons Ireland has taught him from Akhil Dev Raj Vilayilveedu, our Indian and TU Dublin City Campus (formerly Dublin Institute of Technology) ambassador.
When I started thinking about further studies that would bridge my bachelor degree to my dream career, the first question came to mind was about the perfect course. The amount of information available is mind-blowing! I was confused for a long time before I finally reached the point of selecting a master's in technology and innovation management; it took a lot of time and effort for me to reach this decision. I wandered around websites, forums, blogs and even several overseas educational fairs as well.
In India making a decision about your higher studies can be a hectic job, especially if you have a large circle of family and friends all offering advice like I do! I wanted to find a good institution and friendly environment to study in. A key concern for me was feeling safe in my country of choice; and I wanted to live in a place with a strong support system in place for international students. For me, this aspect was as important as the quality of education offered.
"They say first impressions count and my initial experience of Ireland was definitely a good one."
Ireland ticked many boxes for me, but when I chose TU Dublin City Campus I still had many questions, and I even complied a list of things I wanted to know! Other than watching the film P.S I Love You, I was blank about Ireland, and I spent several days in front of Google! It was really exciting to learn more about the country, and as I researched I began to truly fall in love with the beauty of landscape from the pictures I found online. I have always admired nature for its beauty and serenity, and I must say Ireland is gifted in this area.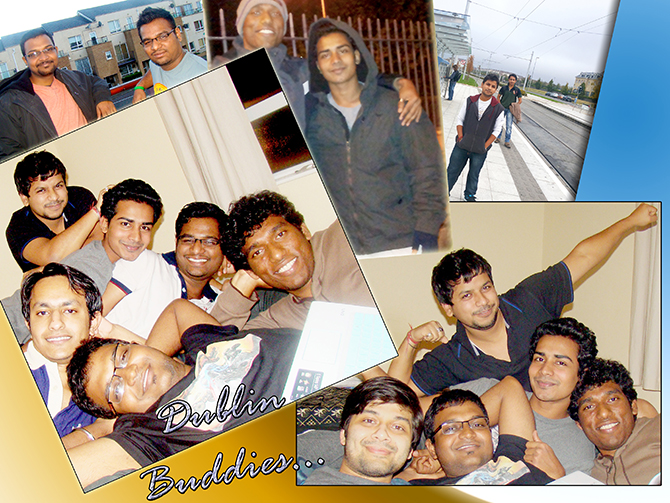 I wanted to know everything about living in Ireland for a year. The more I searched online, the more I noticed the lack of negative comments about Ireland or Irish people. The statement "world's friendliest people" came up several times from different sources, at the time I wondered what does this actually mean! Once I arrived here, I soon found out the true meaning of this, and the experiences I'm about share should help you understand too!
They say first impressions count, and my initial experience of Ireland was definitely a good one. I love an adventure, and when I arrived I was armed only with my friend Roshan's email instructions to reach my new apartment in a town just outside Dublin called Saggart. I took a bus from Dublin airport to the city centre, and from there I boarded a Luas tram to Saggart station. I found my way from there to my apartment with only the help of strangers! I felt so happy, no one had an angry face when asked for help, and nobody avoided my requests. I can never image an Irish person saying "no" when asked to help!
Everyday since then, my wonder has grown. I've met many different types of people during my time here, as well as fellow Indians, and it was with these new friends that I celebrated Diwali. The festival is celebrated in Ireland marvellously, and I was invited to be a part of the 2013 celebration by my classmate, Mani, who has been living in Ireland for the past 15 years.
On the day of the Festival of Lights, my friends and I were waiting for the bus near my apartment. Suddenly it started raining. My friend Sushant and I had neither rainproof coats nor an umbrella. We began to laugh, as we were almost sure that the clothes we had carefully picked for the festival were going to be ruined. Then an elderly Irish woman, almost the same age of my grandma, passed by the bus stop. To our astonishment, she looked at us, smiled and then offered her umbrella. We were so surprised and graciously refused the offer but she insisted and told us that she was already wearing a rainproof jacket, and that her home was just around the corner. She gave us the umbrella and walked away with a smile!
"Life is all about learning, not only from books and lectures but from experiences, and because of this I believe I have truly found the right place for my higher education."
For the rest of the evening my thoughts were filled with wonder that people can be so good to others. During the journey to the Diwali celebration, I thought about only one thing, in this world filled with greed, hatred and violence – there is some light. I had seen hope in the generosity of a stranger.
Life is all about learning, not only from books and lectures but from experiences, and because of this I believe I have truly found the right place for my higher education. When I finish my studies here, I feel I will be a much better human being. I'm so happy that I am here, and I thank God for everything I have learnt so far in Ireland – my own world of wonders!