Living in Ireland: Essential reading
We love a good book and there are so many to choose from when it comes to the subject matter of Ireland and its culture. Christine Burnell, our Mary Immaculate College and USA Ambassador shares some essential reads for anyone thinking of making the move to Ireland as an international student…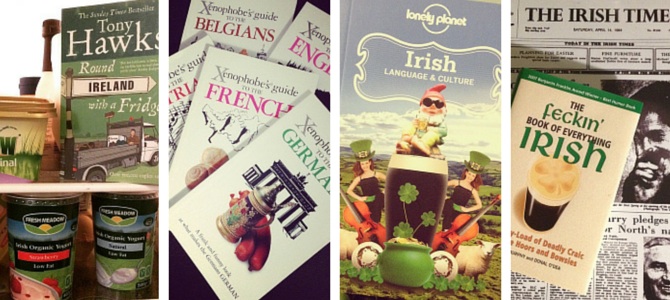 It's always good to know a little bit about where you are traveling to. A little research can prevent some pretty awkward moments for you while abroad and I know I certainly needed a little help. I'm awkward enough in my own country let alone being in another! Thankfully I have come across some pretty good reads and I'd like to share some of them with you.
Christmas 2013 a friend of mine had given me the book "The feckin' book of everything Irish" by Colin Murphy and Donal O'Dea, and it was funny as I had hoped. From the definitions of Irish slang, history, illustrations, recipes and songs, this book made me laugh and gave me a better sense of the Irish humour and their self-deprecation. An excellent guide to your future in Irish culture and sing songs.
For a similar read but covering more topics, have a look at "Irish Language and Culture" by Lonely Planet. I've had many hilarious moments reading this guide aloud to friends. Especially my Irish friends. My American accent reads it much differently than it should sound and it'll put you in tears from the laugh you'll have. This guide not only gives you more Irish slang to use but also words and definitions in the Irish language. I also enjoy the section on regional variations since the Irish seem to have amusing rivalries with each other.
"You're Grand, The Irishwoman's Secret Guide to Life" by Tara Flynn is a recent read for me and a helpful one at that. Since I will be studying here for the next few years in a class with almost all Irish woman, I might as well know what it is to be one. This book again, is hilarious (catching a theme here?) full of history and is for all who want to unlock the mystery that is the Irish woman. I will no longer be scratching my head in wonder and will instead laugh along with them and be grand.
Since Ireland is so close to many other amazing must see countries; grab yourself a collection of Xenophobe's Guides. What does Xenophobe mean you ask? This is not an exact definition from a dictionary or anything but Xenophobe is the fear of foreigners. These books are short guides to traveling to other countries and a bit about their culture, food, manners, likes/ dislikes, sports, law and much more to help put you at ease while interacting with all that may be foreign to you and to them of course, which would be you… a tourist.
Last on my list and my current read at the moment is a book written by Tony Hawks (no not the skateboarder) and his book "Round Ireland with a Fridge". Tony travels the coast of Ireland in just one month with his trusty mini fridge catching much attention from the locals on the way. I'm excited to see the adventures he has with only 30 days and an entire island to cover.
Make yourself a cup of 'tay' and cosy up next to a fire with one of these books and sure, you'll be grand when you come to Ireland!

[jetpack_subscription_form title="Never miss another blog!" subscribe_text="Enter your email address to subscribe to this blog and receive notifications of new posts." subscribe_button="Sign me up" show_subscribers_total="1″]