So this is Christmas…
Gardiana Rodrigues is our ICD Business School and Brazilian ambassador, and in this blog she shares the magic of her first Irish Christmas far away from home…

Christmas time when you are a foreign student, living miles and miles away from home, is difficult. I am homesick! Ah, how it hurts! Christmas is my favourite, and it's such a great chance to spend time with family. I adore the festive season more than any other time of year (especially the day after for shopping when everything is on sale!). Brazil, I really do miss you… but I love Ireland too!
Christmas in Ireland is like living in a fairytale – all the streets are wrapped in an eclectic mix of colours and lights. People are smiling, greeting unknown faces and wishing you a Merry Christmas. It's magical!
Time to hit the shops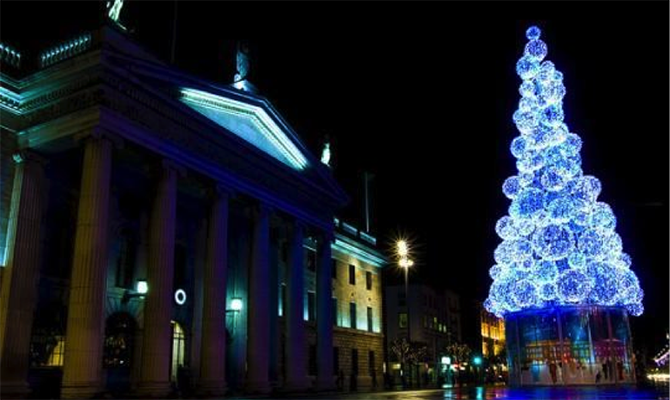 There is an amazing Christmas market at St. Stephen's Green, in the heart of Dublin's city centre. The shops in town are all decorated and the staff wear seasonal costumes. How beautiful it is to see people wearing Christmas jumpers – it is a kind of tradition here, and you have to have one to not feel left out!
The city has a magical atmosphere, with a real sense of hope. Almost all the Christmas trees I have seen are real, and the pine smell lingers in the air. The streets can be crowded but this is Christmas in Dublin! The weather is frosty, rainy and dark, but at the same time the country is so bright and effervescent, with lots of happy faces, plenty of hot drinks and that sense that snow awaits you in the not so distant future!
There are so many 'gifts' to be spotted around the street of Dublin at this time of year –  from tasty food stalls selling typical Irish food to the many Irish people living and working abroad 'home for Christmas' to visit their families.
A kind word
Ireland really is a friendly place and Christmas time is no exception. Nothing compares to a "thanks love" from a lovely lady working the market stalls, or "I beg your pardon" when someone needs to pass you in the street, or the polite way to ask you to repeat something, "pardon me?"
So, this is Christmas, and what have you done? The year is finishing and a new one is about to begin. With it comes a chance to make it better than what passed before so I'll finish with a few of my own ideas for the new year!
Let's make things happen, let's be proud of ourselves in everything we do, let's love more, let's have no war, let's live life, and let's go somewhere… maybe Ireland! Oh, and of course let it snow, let it snow, let it snow!
[jetpack_subscription_form]