Start the new year with kindness…
Start 2015 with a little kindness! Roshani Tina Thomas is studying at the UCD Michael Smurfit Graduate Business School, and in her first blog she shares some moments of goodness that she has experienced while studying in Ireland…
I have often been asked "why Ireland?", as while most Indian students cross the Atlantic to live out "The American Dream", I chose differently. This blog lists out one big reason why Ireland is the perfect place for me, and is all about the connection I've established with Ireland and its people.
It's been three months since I stepped foot in Ireland, and already it's obvious why the country is known as one of the friendliest place to reside. I was lucky enough to encounter not one but two kind gestures that will forever be embedded in my mind and something I'll cherish about my experience as a student in Ireland.
A chance encounter…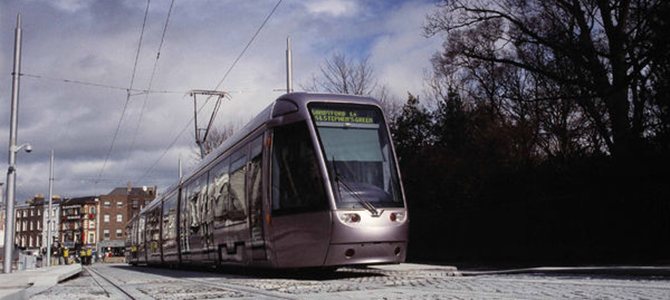 I was travelling alone in my new city of Dublin at 10pm from a quiet residential area in Sandyford for a dinner party at the city centre. For the first time, I braved the cold and of course the fear of strange sights, sounds and people on my own. I found that the Sandyford LUAS station (Dublin's tram) was deserted, except for one rather beefy-looking hooded individual with a crate of Budweiser beer sitting on the bench next to him. Before the next train was due, I had just enough time to buy a ticket for my destination. I realised to my utter despair that the machine refused to take the €10 note I tried stuffing in its mouth, while the train came, stopped and left me stranded at the station. Fear gripped me when I realised the hooded individual also declined from taking the train, and slowly yet determinedly began to walk towards my quickly beating heart. To my astonishment, this rather large fellow, in a soft voice asked me if I had any trouble with the machine and while I voiced my concern over the machine rejecting my note and not having sufficient change to buy myself a ticket, the kind gentleman took out his change and quickly bought me one before I had a chance to refuse.
I was utterly taken aback and ashamed of the thoughts that just two minutes beforehand had ran through my head about this warm human being. I thanked him and offered him my €10 which he declined to accept and said he would wait with me for the next train. Little did I know, I was going to hear something sad yet beautiful.
The pack of Budweiser was torn open and a beer was offered to me which I politely declined, while my new companion sat with me and started a long winding story of who he was and where he had come from. He had been raised by foster parents, had come in search of his birth parents only to hear that his parents did not want to have anything to do with him. He looked quite shocked and sad to tell me how can one's own parents shun away their own blood and flesh?! I then asked him what would he do now, his only response was "I will soon marry my girlfriend and when we have children, I will love them like there is no tomorrow" This gentle giant even though deeply hurt by his past, vowed never to let history repeat itself. What struck me as truly touching is that there are people who brush aside their problems to help out a stranger in need that brought tears to my eyes.
We then got onto to the next train and bid goodbye as he got off at his destination and I continued another path. At that moment I wished I could have done something to help him, and ever since wished I could have stayed in touch to do my bit for this kind soul.
A genuine kind gesture can impact lives…
Another similar experience happened only a month later, as I moved house to live closer to the city. I was just winding up with my last set of luggage and had jumped on got the last bus from Sandyford to Ballsbridge. To my dismay as soon as I got onto the bus, I was informed that the bus was not in service. The winds were howling of terrible weather, and I was left with too big a luggage to tug for 2 kms to catch the next nearest bus, as I stood there and stared at the bus driver explaining the situation to me. The good Samaritan then took pity on me and asked me to hop on the bus and said he would drop me off at the closest bus stop for me to catch another one to my destination. Upon reaching my destination, he questioned my whereabouts, and realised that he would be dropping the bus at the station nearby home and kindly offered me a drop off much closer to home.I was truly taken aback by the gentleman's kindness whom from thereon had a fascinating conversation with about his beautiful little family and his love for Dublin.
We finally reached the bus station and I got out thanking him for the kindness shown, when he asked me to wait looking at the heavy luggage I carried and the petite person who looked tired. He then helped my luggage onto his car and drove me to the bus stop which dropped me in front of my house and bid goodbye to head for dinner with his lovely family.
So, if I'm asked why Ireland?
I would first say, "The people", such kindness is rare, but here I can confidently say it's often. There is always a helping hand, a smiling face, and friendly gesture with no contempt or disregard. It's always a difficult decision to leave home, the comfort and familiarity and come to a strange place, but thanks to my beautiful encounters, I cannot feel safer or happier. This is truly enriching, I wish I had pictures to tell everyone who these kind souls are, but I do hope everyone gets a chance to have these encounters that can change one's life.
This got me thinking to how I would love to help people in need in someway or the other, and that even a small gesture can go a long way. I hope to start a helpline in the future that enables people to reach out to others in need, because there is always someone with that warmer heart and a kinder soul.
[jetpack_subscription_form]