Student accommodation: Meet my host family…
Choosing student accommodation in a brand new place can be tough. Waldemar decided to live with a host family in Dublin while studying at Griffith College Dublin and has found this accommodation to be a great way to settle in to a new country. So, let's meet the Breen's…
My time here in Ireland and Griffith College has been great! But, what has made it such a great experience for me besides the wonderful staff at Griffith College has been my host family.
Kevin and June Breen were both born and raised in Dublin and have been living in the Templeogue (suburbs) section of the city for 26 years. Kevin is 53 and June is 49, they have 2 daughters Jeannie (29 and married) and Tara (26). They also have a beautiful dog (cocker spaniel) named Bella who will turn 4 doggie years this August.
Prior to being a host family they owned an office furniture business that they were forced to sell when the economy here in Ireland took a downward turn. They got into the host family business through one of their many neighbours that had to resort to the same thing when the economy went bad.
They have been a host family for two years now and have hosted over 100 international students from France, Italy, America, Spain, Venezuela, Nigeria, Russia, Malaysia, and Turkey.
The first student they hosted was a French student that was here for the month of May in 2012, the next wave of students were both 17 and from Italy and only here for the summer. They prefer the 18 and over students and would rather take on mature students but they have enjoyed each and everyone of the students they have hosted and stay in touch with most of them via email.
Currently there are five international students living in the house including myself. The others are Gabriel (33), Carina (30), and Christina (30) all from Venezuela, and Syl (22) from France. They are all in the English programme at Griffith.
We all get along great and I know Kevin enjoys having some males around the house after all those years of being in a household full of women!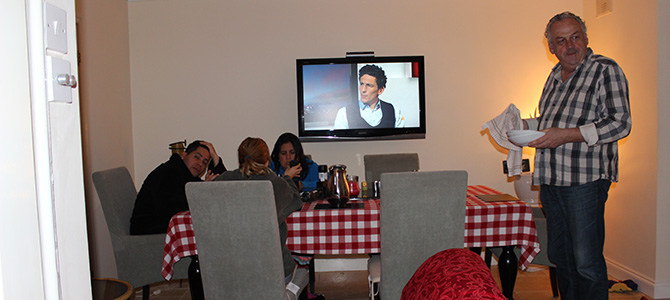 Being a host home is much more than a business for the Breens, it is like being part of the family. They are attentive to your every needs from laundry to answering a question about Dublin or the bus system. They have breakfast set every morning when you get up and their dinner's are delicious. They go out of their way and above and beyond to make sure you are comfortable and they take care of you if you are sick.
Being 35, and older than most students at Griffith is challenging enough but I am also transitioning from 10 years of military service and living with a host family has been a better fit for me versus living on campus. Thank you to my wonderful host family!!!
[jetpack_subscription_form]