From jumping at the chance of internships and attending networking events to the importance of having some down-time, Waterford IT and Indian Student Ambassador Deepak Sharma Dayalan shares his top 5 tips to get the best out of your study abroad experience…
Uni life is meant to be one of the best times of our lives. It's an evolution period that offers up essential life lessons for many. College is a venue that enables creativity and self-discovery; this is a time to learn about yourself before you are stuck with adulthood! Exploiting the opportunities you have during a year or more away at an international college is key in making great memories for the future to look back on. In this blog, I've suggested 5 simple hacks that can help make the most of your time studying abroad before you get busy filling out job applications…
Join a society or a sports club
Joining a society was one of the best decisions I made during college. I got to meet a group of great people who have a similar interests. There are always plenty of options to meet people and make friends on campus; whether it be the college Christian Union or an equestrian club. Enrol with an organisation in order to find and befriend people who have similar interests. It also a great way to get away from college stress and also to know that no matter where you go in the world you will find people that have interests like you do.
Befriend a senior in your course
Your seniors have already been through the experience you are about to embark on so they always have (typically) solid advice. They can fill you in on everything from the best classes to take to which local pubs and restaurants near campus stay open late! They are a great resource when you're stuck with assignments or when you have doubts in a module too.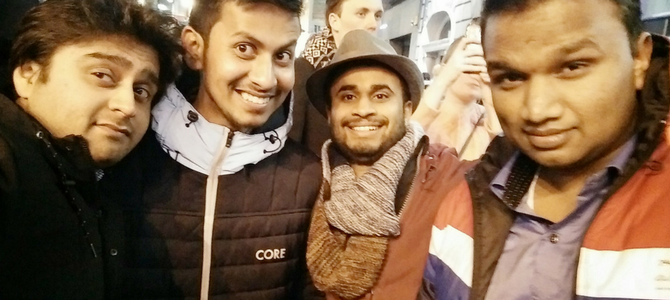 Be serious in getting good grades, but not too serious
Certainly your marks matter in terms of finding employment or applying to graduate school. No one would want to hire or accept you if your transcript shows that you spent little time studying and too much time partying. So don't lose focus on studies because too much fun could be injurious.
However, the score you get in a single assignment or exam won't make a big impact in the long run. So, when it's Friday night, pack up your studies, hit the road and have some fun.
Attend events, forums and summits
Business men pay for affiliations that enable them to go to networking events because making contacts is the first step in the long, strenuous process of finding a job. Most colleges have these kind of events on campus. Use these events or summits to get your name, or resume out there; that way, when internship season (and later, post-grad job-hunting season) approaches, you'll have somewhere to start. I have had the opportunity to attend some like the College Career week, Student Summit, Irish Student Entrepreneurship Forum and GradIreland Events to name a few.
Internships and part-time jobs
You might be lucky enough to find your future employer by doing a summer internship. Internships are an opportunity to test drive your knowledge and see what your studies might look like in a real work environment. By doing an internship or taking on a  part-time job in your industry you will strengthen your CV before you even finish college. There is more to all this like making contacts, finding your role model, etc. and with all this positives you get paid (at least most internships do), so what more can I say?!
Interested in studying abroad? Visit the Education in Ireland website for more information.