Looking for something fun to do this weekend on a student budget? Natasha Madhavan, our Maynooth University and Indian Ambassador, shares her top tips…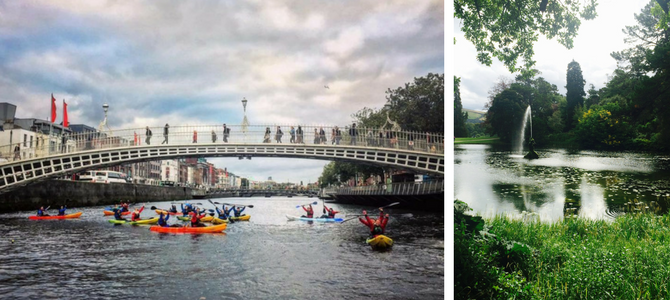 Ireland is such a beautiful country and is filled with so many exciting things to do in your free time. During my four years here, I am very determined to make the most of my time and explore as much as I can of this amazing place! In my pursuit of that objective, I have found some fun things to do during the weekends or any free time (not that you have much of it as a student haha!) that you have. I've compiled it in the list below, check it out!
Kayaking
Kayaking along the Liffey River is one of my favourite things to do. You get to see Dublin City from a totally different perspective while doing so. There are places to go kayaking in Kerry, Galway, Cork and other cities too!  It is quite a strenuous activity, so be warned! If you are the outdoorsy type, you definitely will love this! I happened to go with the Maynooth University International Society and it really was a great time.
Trekking
Ireland is filled with mountainous areas which make for very good locations to go trekking. The view, from when you get to a good vantage point, is always absolutely breathtaking. The trek itself might be tiring, but it is oh-so worth it when you get to the top! I personally love Glendalough. Its gorgeous landscapes never fail to amaze me.
Going to bars
This might seem like an obvious (and almost stereotypical) suggestion for a student weekend activity, but it's a good one nonetheless! Even if you don't choose to inebriate yourself (a wise choice indeed, haha!), it's still a lot of fun to go to bars with your friends. A lot of pubs have live music which is always entertaining! It gives you a chance to explore the pub culture in Ireland along with spend some quality time with your friends.
Visiting parks
Ireland is renowned for its lovely green parks. Walking around these parks and relaxing on the benches makes for a very good change of pace from a busy student's life. It gives you the chance to just lay back and take in the beautiful environment you're in. You could make a day out of it with your friends and pack a picnic!
Driving along the country roads
If you happen to have a friend who has their own car with a love for adventures, you're all set for this one! I find that driving around Ireland is one of the best ways to see it in all its glory. Also, road trips are always a good time!
Visiting churches and museums
Lastly, give yourself a lesson in Ireland's culture and history by visiting the various churches and museums. The churches are always so picturesque and very peaceful inside. Museums are good way to learn about the country you're in and educate yourself in general. The National Museum of Ireland, Dublin Writers Museum and Museum of Modern Art are just some of the museums you could visit!
I hope I was able to give you some alternative ideas to spend your weekends outside of bedroom (Though a good day of rest in your bed is also a very tempting prospect.)! This article is a testament to how great a place Ireland to keep yourself busy and explore the outdoors.