"Ireland is a destination that will leave you with memories to last a lifetime"
Student Ambassador Chinweuba Goodluck Frank tells us about his favourite tourist attractions in the Emerald Isle.
Hello there!  
Finally decided to visit the emerald Isle? Or you thinking of feeding your eyes here in Ireland and you at a loss on where to go?! You do not have to worry.. I can give you options on amazing places you can see here. And believe me, Ireland has got so much beauty that would leave you in awe! 
Ireland is a country filled with breathtaking landscapes, historic sites, and charming towns. Whether you're a history buff, a nature lover like I am, or just looking for a place to relax, there's something for you here. From the bustling streets of Dublin to the picturesque countryside, there are countless amazing places to visit in Ireland. In this blog post, I will highlight some of the must-see destinations in the Emerald Isle –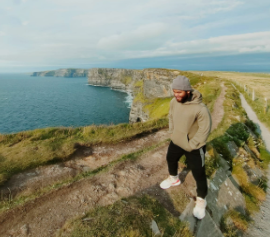 1. The Cliffs of Moher
The Cliffs are located in County Clare and are one of the most popular tourist destinations in Ireland. They are one of the most iconic sights in Ireland, and for good reason. These towering cliffs, located in County Clare rise 700 feet above the Atlantic Ocean, and offer breathtaking views of the surrounding countryside. You can take a guided tour along the cliff top, or hike the scenic trail that winds along the base of the cliffs.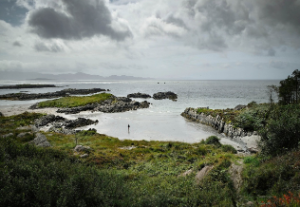 2. The Ring of Kerry
The Ring of Kerry is a scenic drive through some of Ireland's most beautiful landscapes. The path takes you through rolling hills, quaint villages, and along the rugged coast. Along the way, you can visit historic sites like Muckross House and Gardens and the Molls Gap, as well as enjoy panoramic views of the surrounding countryside. The route also passes through Killarney National Park, which is home to a diverse range of wildlife, including red deer and Irish hare.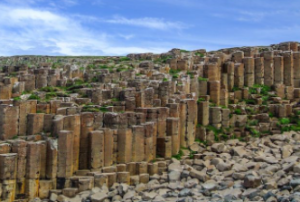 3.The Giant's Causeway
This natural wonder is made up of 40,000 hexagonal basalt columns that were formed by ancient volcanic activity. The Giant's Causeway is located in County Antrim and is a UNESCO World Heritage Site. It is a popular tourist destination, known for its unique geology and legends of giants. Visitors can walk along the causeway and take in the stunning views of the surrounding coastal area.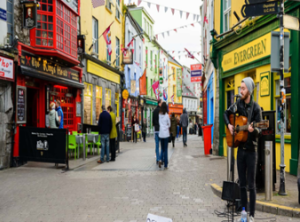 4. Galway
Galway, located on the west coast of Ireland, is a charming city known for its vibrant culture and rich history. Galway is home to a number of historic landmarks, including the Spanish Arch and the Galway City Museum. Visitors can also enjoy a stroll along the River Corrib, or take a boat trip to see the city from a different perspective. The city is also famous for its arts and crafts, and visitors can browse the many shops and galleries that sell locally made pottery, jewelry, and other crafts.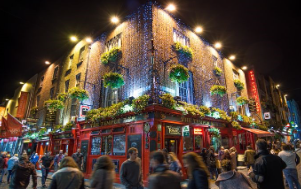 5. Dublin
Dublin, the capital city of Ireland, is a vibrant metropolis that is steeped in history and culture. The city is home to some of Ireland's most famous landmarks, including Trinity College, St. Patrick's Cathedral, and the Guinness Storehouse. Visitors can take a stroll down the cobbled streets of Temple Bar, a historic area known for its lively pubs and restaurants. The city is also home to a number of museums, such as the National Museum of Ireland and the Irish Museum of Modern Art, which offer a glimpse into the country's rich history and culture.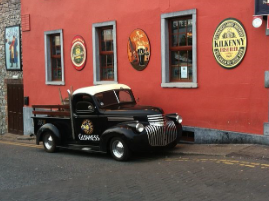 6. Kilkenny: This charming medieval city is located in the province of Leinster and is known for its well-preserved architecture and rich cultural heritage. You can explore the city's many historic sites, such as Kilkenny Castle, St. Canice's Cathedral, and the Rothe House and Gardens. The city is also home to a thriving arts and crafts scene, with many local shops and galleries showcasing the work of local artisans. Additionally, Kilkenny is known for its lively nightlife, with a variety of pubs, bars, and restaurants to choose from. 
And there you have it. These are just a few of the many amazing places you can visit in Ireland. Whatever you're looking for, nature, history, or just a good pint of Guinness, Ireland has something right to offer you. Ireland is a destination that will leave you with memories to last a lifetime. 
Chinweuba is studying Manufacturing and Automation Engineering at MTU