Lois Simche Lebbie is a Student Ambassador from Sierra Leone in West Africa. In this piece, she speaks candidly about the struggles students all over the world are experiencing at the moment.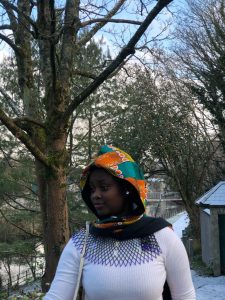 Across the shores of the Atlantic Ocean and over the beautiful Lion Mountains of Sierra Leone on a Thursday evening in September 2020, I sat cheerfully in a plane heading for Ireland. Looking through the window I was full of dreams and aspirations, leaving my village to study in a big city. Upon my arrival, I was quarantined for two weeks, which was the norm for people entering Ireland from a different country, and I still had hopes of experiencing student life away from home.
Unfortunately, that dream was shattered when the number of Covid-19 cases increased and there was a lockdown. The thoughts of the lockdown sent a sharp pain down to my spine, I was not prepared for this prolonged campus closure and it was evident that Covid-19 would cast a dark shadow over my dream student life.
In a blink of an eye, the approach to E-learning evolved with new technological networks from my university for students to collaborate and remain interactive online. At one point, I was confused; unsure of how to proceed, I became tense and uneased. This feeling developed into anxiety to a certain extent, making it more and more difficult to find a reason to smile. I was not only struggling with the online software but with the weather as well, it seemed home and where I was were completely different worlds.
My breakthrough point was one quiet evening when I went for a walk and, whilst listening to music, a line from Tatiana Manaois' song Like You stood out to me; 'it's okay to ask for help'. I immediately sent my course director an email highlighting my challenges that needed some clarifications and she responded to me. I sent another email to the international student office and I received a prompt response; during our online discussions I raised an issue I was facing and other students expressed the same struggles… it was then I realised I was not alone. I eventually became more patient with myself, more knowledgeable and began to prioritise my self-regulated learning process. I gradually started feeling more confident with online learning and started adapting to the E-learning tools, my college remained sensitive to my academic needs.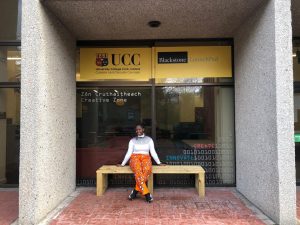 Even though the uncertainty around how long Covid-19 might last is worrying, there are ways out there to help us progress as a society and It is our collective responsibility as students to support the government actions to achieve a common goal of reducing the spread of Covid-19. I am hopeful that very soon I will be connecting with my classmates face-to-face to get to know them formally and informally. I am grateful for having family back home to support me, I miss them dearly. I have realised that no man is indeed an island, despite our various Covid-19 experiences we are ever connected in a
loving chaotic global village.
Lois is a Postgraduate student studying at University College Cork, pursuing an MSc in Social Policy.