South African Matthew Alborough found plenty to like while studying in Maynooth University, including the people and the stunning buildings
I'm originally from Port Elizabeth, South Africa. If you compare it to the rest of the towns/cities there, you could classify it as a small town; however, in comparison to Ireland, it is fairly big. This meant that you became familiar with your surroundings quite easily and everybody knows everybody. In this blog I will give you a bit of an insight into the reasoning behind why I chose Maynooth University, as well as show you how amazing the buildings and grounds are!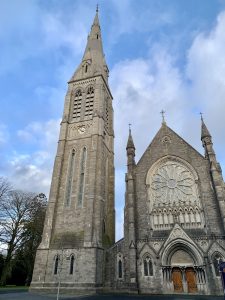 Location
Maynooth University is situated in the small town of Maynooth, Co Kildare. Being a small town it still has all the necessities you need which is perfect if you want to escape the hustle and bustle of the larger places such as Dublin.
Everything you need is in walking distance. This is perfect for students who have access to the shopping centre (Manor Mills), leisure centre (Glenroyal Hotel and Spa) and coffee shops. And, of course, there is a variety of pubs to choose from, which is in almost every town! [Note: This piece was written before the Covid-19 restrictions.]
Size
There is a saying 'Size does not matter'', which is true. Maynooth University may not be as big as other universities, but this is perfect for me. Thee lecture halls are not as cramped and you don't become just another ''number'' in the crowd. This means you have a more personal feel in each lecture.
You also quickly become familiar with your lecturers as well as fellow students which really helps, especially during the formation of group assignments which are part of every module. This helps you to settle into college life and you quickly begin to form friendships.
Facilities
Maynooth University currently boasts a variety of indoor (Phoenix Sports Centre) and outdoor sports facilities. Students will have full access to the sports halls, fitness centre, weights room, physical therapy room, racquetball/handball court, snooker hall and tennis courts.
There are five pitches on the South Campus used for rugby, GAA and football. The pitches are also flood-lit as most teams train during the evenings. On the North Campus there are three high-quality sand-based turf pitches as well as one ''third generation'' flood-lit synthetic pitch.
Dining
There are a total of six cafes and restaurants on the Maynooth University Campus.
1. POP (Arts Building)
2. Urban Square (Phoenix Building)
3. Students Union Bar
4. Coco Diablo (John Hume Building)
5. Pugin Hall (South Campus)
6. Starbucks (John Paul ll Library)
This means grabbing a meal or quick snack between lectures is perfect if you are in a rush and can't leave campus. However as mentioned, there are many alternatives in Maynooth itself. I find this to be extremely useful as I often have a break between morning and afternoon lectures so I don't have to go home to eat.
Accommodation
Maynooth University is fortunate to have its own on-campus residence and is available to all full-time registered students. This makes it even easier for students to get to and from lectures and they won't have to worry about long commutes to and from college. This ensures that you aren't stuck in traffic or trying to find parking on campus and you won't be missing any lectures because of that.
Clubs and societies
At Maynooth University, there is so "much more to university life than study and coursework''. There are currently over 100 clubs and societies to choose from, all of which are student run. This means there is something for everyone.
The MU Clubs and societies page has all the information you need as well as a timetable which lists the activities taking place each day of the week. This is also a great way for you to meet and interact with like-minded people. It will also give you the opportunity to try something new and make friends. You will never feel alone at Maynooth University.
Transport
There is a train station which takes you directly into Dublin every day; the trip would be about 40 minutes. The alternative to this is the bus which is in service every day; this would take about 50 minutes, depending on the time of day and how busy it is.
Having a student Leap card makes getting around a lot easier and cheaper. If you are in possession of one you receive a discounted fee on Dublin Bus, Bus Eireann, Luas, Dart and much more. You will also receive exclusive discounts at various shops, restaurants and other outlets. These are essential for students looking to save.
Perfect fit
Maynooth University was the perfect fit for me as I was able to fit in extremely well and everyone made you feel welcome. The orientation day is a highlight of this as you are brought in with the rest of the international students where you get to interact and meet everyone else who is in the same situation as you.
They have also come to Maynooth from various countries with the same goal: to further their education at such an university. The international office is extremely helpful and always willing to assist you, regardless of the issue, and if you just need someone to talk to. I truly believe that Maynooth University is the best in the world!