In this wonderful piece, Nigerian Student Ambassador Oluwakanyisola Netufo tells how she embraced life, culture and fun while studying medicine in Dublin (pre-Covid)
When I was applying to study medicine, one worry I had was being stuck doing this one thing for the rest of my life. I had already committed to the idea that I would be spending most of my early youth pursuing this degree. Having numerous other interests, I could not imagine my life without having explored them all. I have always been one to ask myself: "Is there more for me?"
Passion for life
Worried about the expectations I had for what life as a medical student would be like, it was reinforced by constant reminders from those around me of my need for attitude and lifestyle changes to suit this new role. It all became a bit daunting to imagine passions burning in me that never got to spark. As someone who never tried new things in secondary school, I felt something was missing. I was scared that I was signing over my youth to my university application. But my time so far in the Royal College of Surgeons in Ireland (RCSI) has been none of those things. I can graduate knowing I have lived.
Join the club!
To my surprise, on checking the RCSI website prior to application, I saw there were lots of clubs and societies to join. I could already picture myself writing my name on every sign-up sheet, so I was ecstatic! After that, I started looking through YouTube to see what was available to me. I was preparing for my orientation day. For my first day in 2016, each society's president spoke to us freshers and I instantly fell in love with the Caribbean African Society (CAS). It felt amazing to be represented by our then vice-president, who is Irish-Nigerian, and by a society of people that look like me so far away from home. That Wednesday was the Society Sign-Up day, the day I had been waiting for and it was just as I imagined. There were balloons and decorations all the way to the ceiling and stands with students in colourful T-shirts just dying to tell you all about their societies. I ended up signing up for CAS (obviously) and CU (Christian Union) in line with my faith.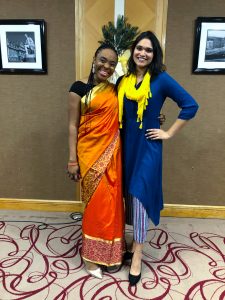 Doing it all
Now fast-forward to the last two years! I went from being a curious mind from Nigeria who wanted to become a doctor but who was also figuring out my place in the world. Now I am an outspoken and even more curious mind ready to take it all on. In the past few years, I have attended a number of balls and cultural nights of different societies, tasted food from around the world, attempted to play volleyball, hiked for 10 hours in heels (forgive me, it was my first time) and have been president of both the CAS and CU. I have done it all . . . and so can you.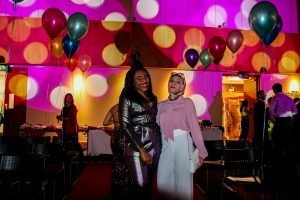 Iconic moments
I had lots of iconic moments while at RCSI. These have included hosting and coordinating the Chocolate Ball while in CAS. It really helped to unleash my creativity.
Then there was my role as Motormouth Maybelle in the RSCI Drama production of Hairspray. It is about racial segregation in the US and, being black, racial inequality is a really important subject for me. It was never really something I could step away from even if I wanted to. I immersed myself in that role and I sang before an audience for the first time in my life. And I received a standing ovation.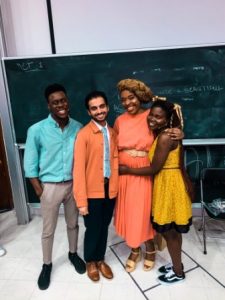 International Night
Even though this is in no particular order, my last iconic moment was International Night 2019, a cultural competition held by RCSI. There was lots of build-up to the night, with hours dedicated to costume-making, organisation of props, lighting, music, visuals, editing, recording and practising. I even had to recite a poem as we aimed for a diverse representation in our collective story. We went on that stage to tell the story of our lives, our history and our present, the reason they combine the African and the Caribbean, why we are CAS. We told our story from before slavery to today, thus exposing our intimate vulnerabilities for judgement. And for the first time since the inception of CAS in 2006, we won.
So, dear medic, you can have it all!
Oluwakanyisola Netufo is studying medicine at the Royal College of Surgeons in Ireland