Master's student Jyotirmoy Patgiri is studying Data Analytics at NUI Galway. In this blog, he shares his thoughts on Ireland as a study destination and an ICT hotspot as well as telling us about his experience of meeting the friendliest people in the world! Read on to find out why he picked Ireland…
Choosing the right path for your future is an important decision. After I graduated from my undergraduate degree, I had a distinct goal and a desire to enhance my knowledge by studying abroad. I was totally confused as to where I should go to further my education. Initially this desicion was daunting and difficult but after comparing all the relevant options and resources, ultimately chose Ireland as my study abroad destination. But what made me to choose Ireland over rest of the countries in this world? Read on to find out my reasons…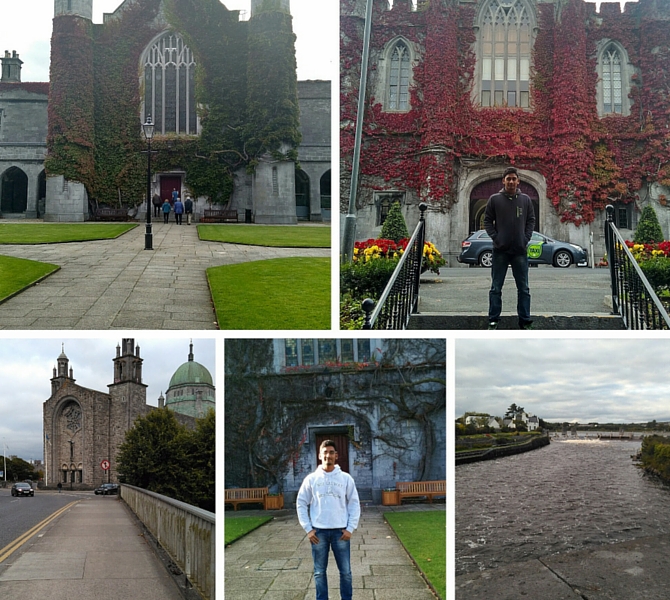 The booming economy of Ireland and its ICT sector is now world-renowned and continues to flourish. It has become the global technology hub of choice when it comes to attracting the strategic business activities of ICT companies. Ireland has earned the reputation for being the heart of ICT in all of Europe. It is now home to nine out of the top 10 global software companies, top 10 'born on the internet' companies (Facebook, Twitter and LinkedIn are all based in Ireland) and many medical device companies. Currently I'm studying for my master's degree in data analytics at NUI Galway. NUI Galway is one of the world-class universities in Ireland that has international reputation for teaching and research quality. The research work of the Forfás /EGFSN Study: "Assessing the demand for Big Data and Analytics Skills in Ireland 2013-2020", which was published in May 2014 reveals that the supply of big data and analytics within Ireland is still at an early stage, mainly because the demand for data analytics talent has only come to the forefront in the past three years. Like any other country, right now Ireland is also taking many endeavours to bridge the gap of skilled data scientists available. The thriving ICT sector is drawing interest to become entrepreneur and a place for start -up companies to grow. Wo, I hear you say! All this sounds really great, right? But this is not the only reason that I chose Ireland as study destination…
People had told me before I left home that Ireland was a beautiful, peaceful, friendly country. And this is what exactly I have experienced from the very first day I arrived. Ireland feels like a "home away from home" and the people here are kind and helpful. For example, when i first arrived in Galway it was completely new to me and I often found myself lost. Each time this happened I asked a stranger for help – instead of just simply telling the way most of them even walked with me to the particular place! Every time this happened I felt so overwhelmed. So it didn't take much time for me to get settled here. The people of Ireland have a genuine interest in foreigners; they love to chat and share a laugh. Always there is a respect for other cultures, no matter where are you from and what is your religion or race. Equality exists in every profession.
Ireland provides students with a high quality of life – a mix of both world-class education and a great social life. At every step, you'll explore more and learn more. You'll never feel bored, this is a place that always offers something to do and one that makes me feel joyful! A country that always ready to embrace new people with céad míle fáilte! (a hundred thousand welcomes!)
Interested in studying in Ireland? Visit the Education in Ireland website for more information.