As the temperature drops, Elena Montes, our University College Cork and US Ambassador, shares the best places to warm up on a tour of Cork's top coffee shops…
Whilst brainstorming of what to write for my very last blog post as an ambassador for Education in Ireland, I had a revelation. What I've heard my entire life is to write about what you love. And I love coffee. So here goes…
Over the past weeks, I embarked on my Cork Coffee Crawl. Having full-time university just west of the city made it difficult to complete the expedition in one go, but if you wish to replicate it, I would recommend a weekend with friends, solely dedicated to exploring my favourite coffee shops.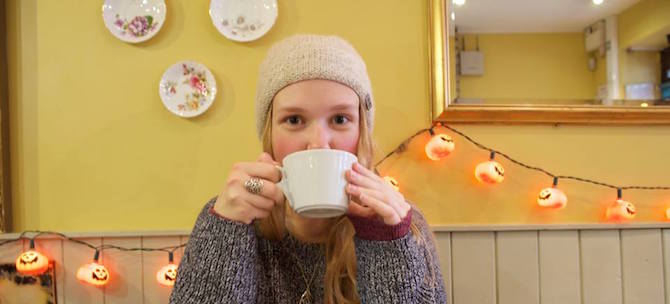 Stop #1: Alchemy
With an otherworldy atmosphere, Alchemy is a beautiful first stop on our tour. Sitting in this coffee shop surrounded by books, sipping on a delicious latte is an experience you won't forget. For me, Alchemy is also quite close to home, which makes it perfect for an afternoon study session or caffeine-fueled catch up with close friends.
Stop #2: Café Gusto
On your way into the centre of town along my usual route, you'll encounter Café Gusto. A minimally decorated establishment, it makes for a pleasant stop after grocery shopping on a Saturday morning. My favourite spot is a tall stool by the window, so I can look out at raindrops on the glass and people-watch while enjoying a delicious pesto breakfast sandwich and my usual latte.
Stop #3: Cork Coffee Roasters
Shamefully late in my residency in Cork, I tried Cork Coffee Roasters eponymous café very recently. The Academy Street location, although a bit small, is extremely charming. And, as a coffee expert, I can say that the espresso used in my latte had a very… fruity flavour. Overall, an interesting place, and a great one to visit on a sunny day – the outdoor seating is generous.
Stop #4: The Bookshelf
My absolute favorite of the bunch. Besides the obvious lack of actual bookshelves (just a giant sticker version of one from floor to ceiling), The Bookshelf café hits the mark. Complete with window-side stools perfect for gazing in a near-transcendental state at passers-by and the comfiest old couch this side of the Atlantic. I would highly recommend trying their fresh raspberry scones with your latte – you can't go wrong.
Bonus Stop #5: O'Conaill Chocolate Shop
Whaaaaaat, surprise bonus round?? Need a palette cleanser after all that delicious caffeine? Check out O'Conaill's, home to the best hot chocolate in town. And not just any hot chocolate. At this fab venue, you can create your own. Milk? Dark? White? A blend of all three? You got it. Add anything from mint to orange flavor and top with a good ol' marshmallow and you're set.*
*O'Conaill's has coffee and tea on the menu too, but you can't not try their hot chocolate. An increase in your happiness level, guaranteed.
So, if you're new and town and wanting to explore, check out the map below to join me on a Cork Coffee Crawl. All the shops are conveniently located to give you a fabulous tour of the town as you go!

Thanks for reading, and have fun caffeinating! Remember to bring a friend (or three).
Elena
Interested in studying abroad? Visit the Education in Ireland website for more information.