Celina Jaffe, our US and University of Limerick Ambassador, shares her thoughts of the value of arts in higher education, and what you will get out of UL's MA programme in Contemporary Dance Performance…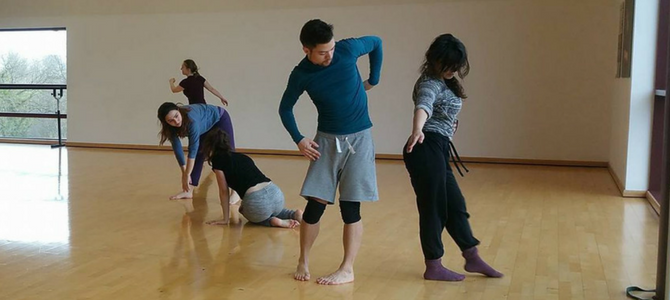 My previous video blog conveys the personal journeys of this year's MA Contemporary Dance students at the University of Limerick. In this blog I hope to share more about what it is we actually do every day.
Our MA programme is a cohort of international dancers working together for one academic year, Monday-Friday, from 9-5. We take classes and intensive workshops in contemporary/post-modern dance techniques, dance improvisation, solo composition, work with guest choreographers to form ensemble performances, write research papers, and produce screendance films. All of this work means busy days and sore bodies but also builds meaningful friendships and a sense of deeper understanding of movement possibilities. This master's programme does what all of the best kinds of MAs do: they break down your understanding of all that it is you know of your practice, then give you the tools to build back your knowledge from a reflective self-guided internal source that you can continue to grow with throughout your career.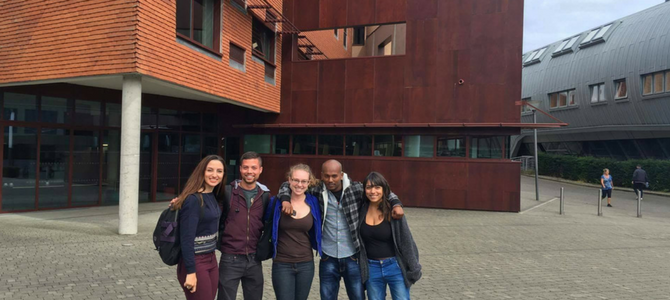 So why get an MA in Contemporary Dance? Two words: networking and context. Learning from the masters of one's art form is the life-long dream of any artist. When you bump into the "big guys" or at least the folks who were trained by them, you can't help but take away a little piece of magic. It is a privilege to work with masters and learn from them, if even for just one day; it's like picking up nuggets of truth that come together like puzzle pieces to form an image of realisation that helps further solidify one's own artistic practice. In other words, the university environment at the Irish World Academy of Music and Dance at UL gives students the opportunity to work with world-renowned guest choreographers and tutors with whom they can build professional relationships.
Some of the guest choreographers and tutors have included:
Mark Baldwin, Jean Butler, Rosemary Butcher, Hélène Cathala, Yoshiko Chuma, Guy Cools, Colin Dunne, Joan Davis, Wendy Houstoun, Eva Karczag,  Lisa Nelson, Charles Linehan, Henry Montes,  Laura Murphy, Mary Nunan, Steve Paxton, Nicole Peisl, Yvonne Rainer, Sandra Reeve,  Jenny Roche, Liz Roche, Nigel Rolfe, John Scott, Lin Snelling, Vaughan, Abigail Yager…
The programme also connects students to the local culture at Dance Limerick as well as festivals, such as Limierck's annual Light Moves Festival of Screendance and the Tipperary Dance Festival, wherein networking is not only available amongst students, but also within the international contemporary dance platform.
Networking is all fun and helpful, (especially if you are an extrovert) but you are going to need something to talk about. One has to be able to defend, challenge, and explain one's artwork and that is where academia comes into play. This MA programme helps students to realise their voice by facilitating discussions about the creative process and studying the historical and current context through which their work is emerging. During both semesters of the MA, students are immersed in theoretical and movement-based approaches to help them come out of their habits and view themes and inquiries that emerge in their work. The ability to articulate and clarify one's process through writing and conversation is an invaluable skill, no matter what field it is that you study.
So, if you are interested in further developing your creative process, dance technique, and performance quality, consider an MA in Contemporary Dance Performance!