Brazilian Student Ambassador Valentina Mello Lunardelli fell in love with WIT's Luke Wadding Library. Here's all you you need to know about it
While I was deciding which college to apply for in Ireland, the library and the study spaces available in each one was a key component in my final decision. The Waterford Institute of Technology (WIT) officially has two libraries: the Luke Wadding Library on the Cork Road Campus and the College Street Campus Library.
Both libraries offer a full induction and orientation programme. My classes are based in the Cork Road Campus, so I am going to give a full tour inside the Luke Wadding Library, as well as discussing the services offered by the building.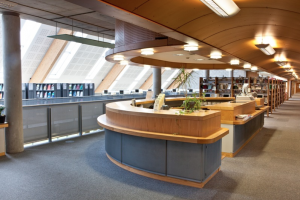 Green building
Designed by architects A&D Wejchert, the Luke Wadding Library was opened in 2000 and can accommodate over 1,200 staff and students over three floors. The building is extremely well equipped, and all 1,200 reader spaces are networked with over 150 student workstations all with full internet access.
The library is a green building and has won a number of awards, including the OPUS award 2001 and the DoELG Sustainable Building Award 2000.
The Luke Wadding Library collection comprises over 180,000 print items, over 120,000 eBook titles and over 340 hardcopy journals, while also providing access to thousands of online journals through the database collections.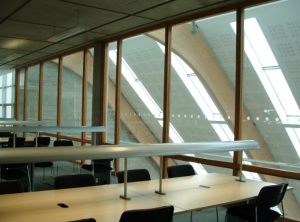 Best resources
The library offers information skills training programme which aims to equip all students with the literacy skills necessary to fully utilize the information sources available in the library.
In addition, the library facilities include photocopying, printing stations and Oscars Coffee Dock. The library staff can also offer advice and assistance about your subject area, help to find good quality resources on internet, as well as refer to the best databases for the student's assignment.
Student zone
The library's student zones contain sockets in each seat of the table and is a very well-lit space. However, rooms can be reserved (for free) to study groups.
It also has dedicated postgraduate study areas and meeting rooms and a dedicated staff reading area. The room facilities included in the main library which mostly caught my attention are the language room with audiovisual material, and the English Language Centre which aims to support and assist students from non-English speaking backgrounds.
As a full-time student in WIT, my experience in the Luke Wadding Library has been amazing. The staff are very helpful, the place is quiet and comfortable to study in, and the reserved rooms are very useful when I needed to study with my classmates. Having a place with a wide variety of sources and books where you can study and find assistance is crucial for your academic life; including it in the list of what to expect from an institution is very important for your future as a student in Ireland.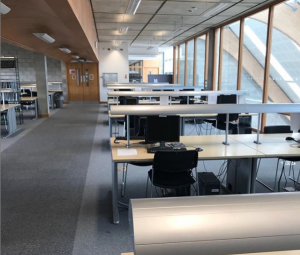 Website
The Luke Wadding library is open from Monday to Friday from 9:00am until 16:00pm and on Saturdays from 10:00am to 13:00pm. It is also offered an induction tour which takes 15 to 20 minutes and it can be arranged with the library reception. WIT's libraries have their own website where you can find more information about it: http://library.wit.ie/ and they are also on Instagram @witlibraries
Note: This article was written before the Covd-19 restrictions