Do you worry that you might not like the city you decide to study in? Well, Indian Student Ambassador Simone is certainly loving Dublin! Read how Simone found the 'silver lining' of what seemed to be a dark and stormy cloud.

It has been around six months now since I first arrived in Dublin and when I look back on my journey it seems like it was just yesterday that I bid farewell to my family back in India and hopped on a plane to start a new adventure as an international student. I remember pressing my face against the window of the plane so that I could get a clear view of Dublin as I hovered above. The view from above was mesmerising and I had a rush of mixed emotions. I was excited to begin a new chapter of my life, as well as being nervous about adjusting to a new place!
It was a rainy day in Dublin and I was struggling with my luggage because my mom had packed almost a year's supply of homemade spices!  As I was trying to figure out a means of transport while saving my bags from getting wet, I heard a friendly voice from behind say; "you look like you need some help!".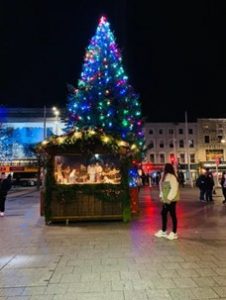 It was a cab driver named James, I have never been so relieved to see someone as I was when I saw him and he would have seen it on my face if it wasn't for my mask! I told him the address of my quarantine and he told me not to worry and that we'd be there soon. He was really kind to help me with my bags as well as ease my nerves with his entertaining jokes! We spoke throughout the journey; I told him about India and how I decided to come here to pursue an MSc in Finance at UCD, he showed me the landmarks around and told me so much about Dublin, the people and everything I needed to know as a newcomer. By the time we reached the destination, I had made my first friend in Dublin! James gave me his card and also helped me move to my permanent accommodation when my quarantine was over.
My house is situated close to the city centre. Dublin City Centre has become my one-stop destination for going on a shopping spree. There is not one thing that you can't find there; not forgetting how easily accessible it is. The narrow lanes that are so lively with the sound of music and cosy bars at every corner— the character here would make anyone fall in love with the city. The best part is the wide variety of food joints that offer all types of cuisines which feels like paradise to a food lover like me.
Dublin also has beautiful waterfronts like O'Connell Bridge and Grand Canal Dock that are great places to unwind and enjoy the company of friends as you sit by the river. At night, the view is spectacular and the lights are a treat to the eyes.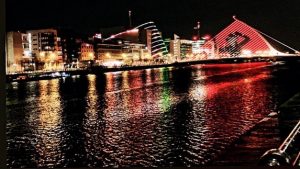 My apartment Is situated in close proximity to Fairview Park and there is nothing more peaceful than taking a stroll on the grass beautifully decorated with leaves during the fall. Occasionally, I also go for a stroll to Dun Laoghaire harbour that has such a breath-taking view. Sitting by the rocks watching the waves crash below gives a feeling of peace and it feels like all my troubles are washed away along with the waves. The sky looks like it is a part of a masterpiece painted with strokes of every vibrant colour.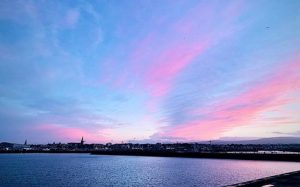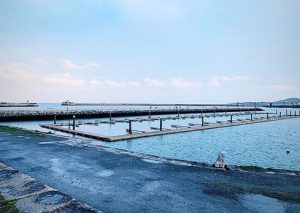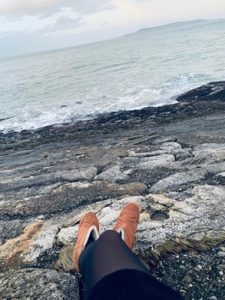 There have been many challenges that I have faced during lockdown with all the lectures being online and the restrictions in place. Initially, I was sceptical whether I would be able to adapt to the complete online platform, but our professors at UCD have been extremely cooperative and the virtual classroom experience is not that different from how it would be face-to-face. Also, we get the bonus of having entertaining virtual backgrounds! The coffee mornings and online meetings have helped in creating a bonding between my classmates and we can hardly wait to hang out once everything is back to normal.
It is a completely different and fascinating experience to have a class full of students attending the lecture from various parts of the world. UCD pays attention to details like the time zone of the students to schedule lectures at a time that is feasible for all. There have been many students who have gone back to their home country as a result of the course being completely online including my flatmates and, as much as I miss my family, I have made really close friends here who have become like family to me.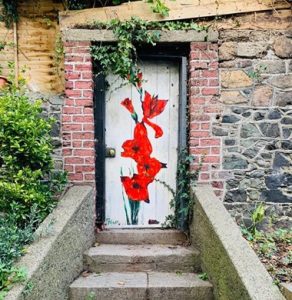 Further, this city feels like home now so I think I am going to stick around for a while. I recently moved to a new place with three other girls…two of them are Irish and the other is Italian. Interacting with them has taught me so much about different cultures and I still have so much more to discover. We have a lot of fun together and I am sure this intercultural experience will help me ahead in life, along with the added perks of having made friends for life! We all come from professionally diverse backgrounds: there is a lawyer, one who studies psychology, a software engineer and me! There is so much knowledge to gain from each person's experiences.
I am really excited about the months ahead! I am very grateful to UCD, for giving me this opportunity to explore so much and to this beautiful city and its people for making me feel at home and helping me create memories to cherish forever!
Simone is doing an MSc in Finance at the UCD Smurfit Business School.