For South African student Matthew Donovan Alborough, being a student athlete at Maynooth University was the perfect way to kick off a successful year of studying and playing rugby.

For me, playing rugby in Ireland has always been the dream. Once I finished my schooling in South Africa, I knew this was the perfect time to start making my dream become a reality. This all came true once I discovered the Maynooth University Rugby Scholarship programme. This gave me the opportunity to come to Ireland and play rugby and complete my Business Management Degree at the same time.
The programme is designed in order to give student athletes, like myself, the opportunity to pursue their degree as well as the opportunity to showcase their talents in the All-Ireland League while representing MU Barnhall RFC.
Unbeaten record
The MU Barnhall RFC 1st Team currently competes in the All Ireland League (Division 2A). This league was inaugurated during the 1990-1991 season and it is also the second highest level of rugby union in Ireland.
There are 18 fixtures throughout the season where you get the opportunity to play each team home and away. This club has achieved great success and one to highlight is that during the club's 50th anniversary year we managed to go unbeaten as well as earn promotion into the current league.
The 2019/2020 season is promising to be just as special as we have already managed to win a trophy half-way through the season! MU Barnhall RFC was given the opportunity to compete for the Dudley Cup for the first time, which is a senior inter-university competition which dates back to 1903. We managed to beat Queen's University RFC in Belfast to claim the trophy.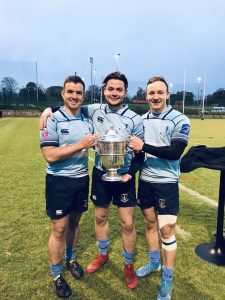 'We managed to beat Queen's University RFC in Belfast to claim the trophy'
Train times
You need to be physically fit in order to play at a higher level, so thankfully being on the rugby scholarship gives you access to a local gym, Sphere Fitness. You are also given conditioning programmes which are monitored by one of the instructors. Trainings would usually consist of 2-3 gym sessions per week as well as the on-field training sessions with the club; one session would be based at the club in Celbridge and the other on campus.
The training sessions take play during the evening from 7.30-9. This suits everyone as you will not be missing any lectures throughout the day. This was crucial in my decision-making, as completing my degree is equally as important as rugby and it would not suit to be missing any lectures due to training as you would fall behind throughout the semester.
Lifelong friendships
Being a student athlete at Maynooth University is the perfect combination if you want to apply yourself in sport as well as academics. As an international student, I have thoroughly enjoyed being part of the scholarship programme. From your first day you are made to feel welcome and part of the family. It is fantastic to build lifelong friendships as well as complete your degree in a country such as Ireland.