Ashutosh Bagla, our UCD alumni Ambassador and Food & Agribusiness graduate, gives us an account of his exchange experience in the US, work experience and graduate life here in Ireland…
"Tell them that you are Irish, and they will treat you like a celebrity"
I was pretty unconvinced when a former Irish exchange student to the US said this in one of our pre-departure orientations. Nevertheless, the long summer of 2015 became extra-long in anticipation of my celebrityhood. Finally, one August afternoon, I landed in gorgeous Ithaca, home to Cornell University, only to find out that United Airlines didn't bring the luggage of more than half of the passengers. Perhaps, my celebrity career was not going to be a smooth ride after all. I soon realised my accent did not yet sound convincingly Irish enough (and I'm missing the red hair!) but my Irish friend Nicole, who joined me on the exchange, definitely enjoyed the Irish fanfare she received across her great American voyage from Washington to Miami. The Irish charm did work for me too. Whenever I did wear my University College Dublin hoody in Cornell, other students and professors would suddenly become more interested in talking to me. They would make a beeline for me in the dining halls, libraries or after the class and tell me about their family from Ireland or their last visit to the Emerald Isle. So, I can confirm the Irish mark does make you a little more popular! My other friends attest that the association works down south in Australia and New Zealand too!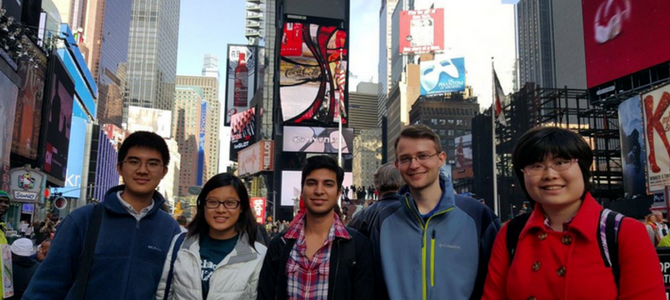 Times Square, New York
Erasmus and international exchange
In Ireland, almost all the university courses have some international aspect built into them, with optional Erasmus being the most popular. The Erasmus Programme (European Region Action Scheme for the Mobility of University Students) is a European Union (EU) student exchange programme established in 1987. Erasmus is a programme throughout Europe for students to live abroad for either one or two semesters of a college tenure. Its goal is to improve the students' language skills by exposing them to a foreign language and culture. Erasmus life is a new way of living and seeing the world. Many people go on Erasmus to Ireland, France, Italy, Germany, Holland and Spain. I strongly believe it also promotes cross-cultural affinity and harmony. University College Dublin (UCD) allowed me an international exchange, more than an Erasmus, which included countries outside Europe as well. I chose Cornell in the USA. Another Indian friend, Pranav, studied computers in UCD went on a year-long exchange to the National University of Singapore (NUS).
"My Irish degree course allowed me to experience academics and culture on the other side of the pond, making me so glad I chose Ireland to be my original study abroad destination."
I thoroughly enjoyed my semester abroad. I tried to do as many of the 161 things every Cornellian should do, including trying all the dining halls on campus at least once to attending the midnight breakfast. Google might reveal some less decent but totally fun activities on that list too! But it was amazing to be on the beautiful campus of Cornell. I took part in canoeing and ice skating and yes Cornell campus does have three big beautiful gorges of its own. Ithaca is amazing! Some exchange students from Europe travelled to Washington, Montreal and Miami on weekends, Thanksgiving and during study breaks and found it thrilling. My Irish degree course allowed me to experience academics and culture on the other side of the pond, making me so glad I chose Ireland to be my original study abroad destination.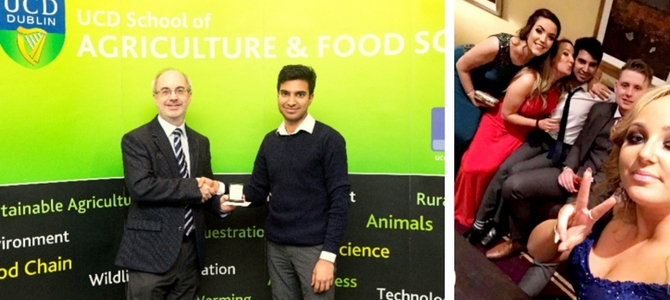 L-R: Ag Economics Society Award and friends and fun at The "Ag Ball'
Practical work experience
Another great aspect of most Irish degree programs is that they offer a work experience semester, providing students with some critical work experience ahead of graduation. This opportunity allows students to bring interesting insights into the academic discussions of their final year modules — yet another creative idea which increases the employability of students. Provided, as a former lecturer used to joke, the students do not burn all bridges while working in those organisations!
For my work experience semester, I chose to work in Teagasc, the national food authority of Ireland. I got to work on a national Bioeconomy project and to diversify my work experience, I also worked in Bank of Ireland, learning about international statutory accounts reporting standards across Europe and globally. Most of my dairy management peers spent the semester on large extensive dairy farms of New Zealand learning about their production system. A few of my friends from other degree concentrations went to Iceland to study volcanic vegetation; to Madagascar to study rain forest and to California to work in world class environment research stations. All my friends on international placements believed that working overseas allowed them to experience diverse cultures and built on their own cultural awareness; enhance their CV; as well as expose them to new working styles and international networks.
Postgraduate opportunity or graduate program?
Once I had completed my undergraduate education, it was natural for me to search for the ideal postgraduate opportunity or the graduate program of a company where I could continue to grow. Since middle school, I was certain that I wanted to do an MBA right after my undergraduate degree. I always believed that it would give me an edge over a pure science or a pure business graduate as I would understand the business better enabling me to climb the hierarchy or the company to reach a management position faster. However, I now realise that one needs to have minimum of two years of post-college work experience before they can enrol into a MBA course of a reputed university.
After visiting a number of GradIreland and UCD Smurfit career fairs, I became aware of the CEMS program. CEMS is one of the highest ranked business courses in the world. It is a postgraduate, pre-experience degree open to a select group of students enrolled in a Master's programme at one of the leading universities in the CEMS Alliance. The CEMS MIM unites high-calibre professors from leading universities and business schools, multinational companies and non-profit organisations jointly designing and delivering theoretical knowledge and practical know-how. It is a requirement of the course that the students must gain proficiency in at least three major languages by the time they graduate and that they must have taken at least one semester abroad in a partner university. I was offered a place in London School of Economics which is one the highest ranked management schools in the world. Other courses such as MSc in Management in University of British Columbia (ranked highly in North America for pre-experience postgraduate business course) and certain other masters in Smurfit were also an option to be considered. My Indian heritage combined with Irish pedigree including the short stints in the United States (Stanford and Cornell) made my profile ideal for theses globally reputed universities.
However, all my academic and career counsellors — after considering my profile and motivation –advised me to go for a graduate program of a multi-national company and then pursue an MBA. They further advised that if I returned to the same company after MBA, I would make a good candidate to be promoted to management. The MBA would make me unparalleled because I would have already experienced the ground realities of production with the graduate program beforehand that an external management applicant wouldn't know about. Hence, started my search for the most ideal graduate opportunity…
I realised quite early on that because my major was Agribusiness Management my options were quite limited to niche multinational food companies, which accepted international applicants. I was lucky enough to have studied in Ireland, because despite Ireland being a small island country, it is host to some of the world's biggest multinational food companies including Glanbia (which also owns Optimum Nutrition), Kerry and Fyffes. Many of these companies have a great graduate programs in the form of a leadership development program where the graduate rotates between different departments of company such as Accounting and Finance, IT, Digital Media, Engineering, Marketing, HR, Procurement/Supply Chain, Food Science and Agribusiness. The graduates can then choose at the end of the program what stream would they like to work for. Many such companies offer global work placements and each year the majority of the graduates achieve full-time technical or early leadership roles within the company after completing the graduate programme.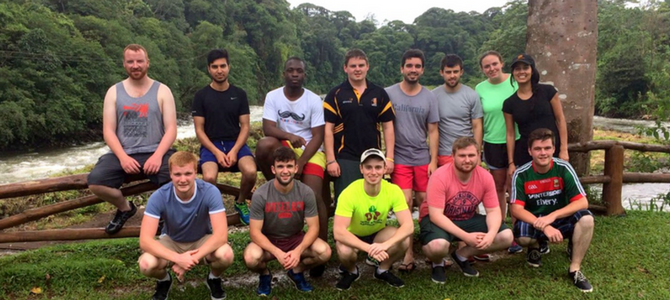 Fyffes Graduates in Costa Rica
The decision
However, my decision to choose the ideal graduate program was made easy quite early on in my research when I realised that while other companies had a well-defined structured graduate program, but Fyffes had a custom graduate program for each graduate. From more than seven hundred applicants that Fyffes receives every year and after successive interviews, it narrows the applicants down to about ten who then fly to Costa Rica where majority of their plantations are based. In about a week's trip the chosen graduates get to see and experience the working of farms first hand, visit the facilities of different players in the supply chain such as the ports of Maersk and different secondary processing industries Fyffes supply their fruits to. At the end of the week, they face a final interview. Here the graduate can choose their preferred destination country and farm type/commercial department that they want to work for. The selected candidates all start in Costa Rica leaning Spanish and on-farm production realities including operations, finances and human resource management before travelling to their destination countries and operations.
While Fyffes seemed like a good opportunity, but I realised that I would learn more in a consulting job where I could be involved in food and agribusiness projects around the world from market development to technical and commercial due diligence. My role model, Indra Nooyi, CEO PepsiCo, correctly says, "Every year in consulting is like three years in the corporate world because you have multiple clients, multiple issues – you grow so much". Therefore, I joined Farrelly and Mitchell, a specialised agri-food consulting firm with operations across Europe, Middle East and Africa but headquartered in Dublin. It has been a thrilling experience so far as I regularly converse with leading global B2B companies and experts to validate the technical and financial reasonings to justify decisions and investments. I am glad because I am learning 360 degrees about the agri-food industry from prospecting the proposals and testing the soils to developing the implementation plan of the project as a going concern. I am learning to distil pages of text down to PowerPoint slides with more pictures than words to convey the message as fast and efficiently as possible. I am learning to devise numbers for parameters for which hard figures were initially not conceivable. I agree with my company's chairperson when he says, "One learns more solving a problem with a consultancy company in 10 minutes than they would doing anything anywhere else".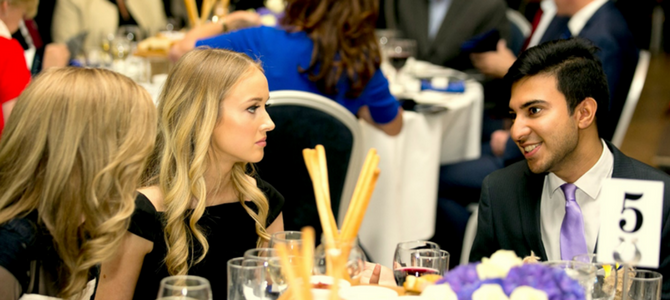 What I learnt?
Perhaps, my Indian heritage and Irish pedigree make me a jigsaw fit for such multinational companies who want to expand globally. Companies such as Glanbia, Kerry and Fyffes are growing rapidly in Asia and other regions of the world. It is very natural for them to hire an ethnic student with Irish tertiary education and values to help them run the operations in the diverse countries far from home base. Therefore, it makes sense for the ambitious students who aspire to become global managers to come study in Ireland as Ireland is a trade dependent economy and it requires diverse employees to become conduit in the development of the Irish companies internationally.
Ireland is the world's third most globalised nation in terms of GDP and remains the most globalised nation in the western world, according to Ernst & Young's latest globalisation Index released at the World Economic Forum in Davos recently. With the recent phenomenon such as Brexit and American companies being encouraged to stay in America, Ireland's dependence on other parts of Europe, Africa and Asia has grown. It is even more critical for Ireland to attract diverse students who can help expand the network of Irish companies further ashore.
An anecdote from a couple of years back seems appropriate to conclude… a couple of year ago, I was in attendance at the Enterprise Ireland Student Ambassador Ceremony and heard a senior government official mention how proud the Irish are of the way they welcome visitors. Ireland was always an island country and most visitors across the Atlantic were destined for continental Europe. Therefore, when a visitor did come to the shores of Ireland they were literally welcomed with "Céad míle fáilte" which translates to "A Hundred Thousand Welcomes". I can confirm that Ireland made this visitor feel like a dear old friend.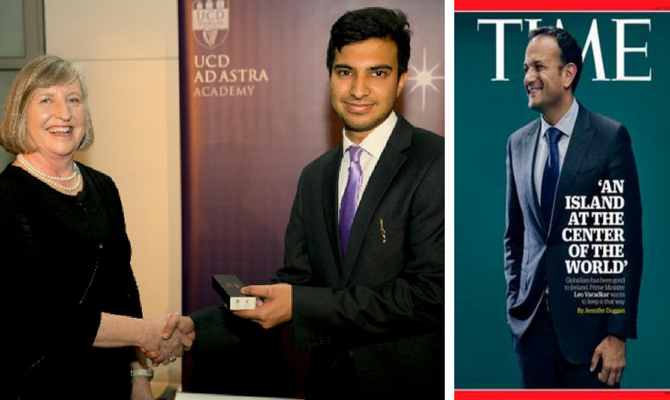 Image L to R: UCD Adastra Award and Leo Varadkar, Taoiseach (Prime Minister) Ireland on the cover of Time Magazine
For the very same reason Ireland is considered one of the most immigrant friendly destinations in the world. A country that was until recently under the strong influence of the church, in 2017 elected the first openly gay, half Indian and youngest Taoiseach (Prime Minister) in its history. It is a testimony to how far Ireland has come. The ten million strong Irish diasporas (which includes 10% of the population of the USA and the UK and about 30% of the population of Australia) is spreading this value of global citizenship and progressive attitude in other parts of the globe. So, what are you waiting for? Come on! It is a wonderful time to be a part of the great Irish network!