Our Ambassador from Germany, Alissa Nadine Zipp, tells us about getting her Bachelor of Business in Griffith College Dublin.

Why Ireland
Studying in Ireland — Sounds quite unusual, doesn't it? I mean, why would you study in Ireland? It's not like Ireland is well known for being the top spot for students and let's not forget about the amazing weather. Once you've lived in Ireland for a while, you will notice that it is the temperature of the rain that tells you the difference between summer and winter. I'd say umbrellas are probably the most bought items here, but — fun fact ahead — you can't even use them as strong winds kill every umbrella that isn't made of proper steel.
An adventure
However, Ireland has its perks. It is indeed quite a small country and the probability is high that more sheep and cows are living here than humans — but this is exactly what makes it so unique and lovable.
Studying abroad
It feels like it was yesterday when I decided to leave everything behind and start my adventure of becoming an international student in Ireland. I always have been that crazy-pants kid who told people that someday she would go abroad, even when I was still in primary school and even though I had no clue about what I wanted to do abroad — but it was always the first point on my bucket list.
I did my leaving certificate, which specialised in business, and became a business trainee at a German company straight after school for three years. Business has always been my field of interest because it gives you a lot of opportunities and creates a stable foundation for your future career.
When my time as a trainee came to an end, I reached one of those awkward stages in life where you don't know what to do with yourself and what lies in your future. And at this point I would like to give you some advice — If you ever reach such a stage in life and you have the opportunity to go abroad, do it. Do not waste another minute. Yes, it is hard to leave everything behind, including friends and family, and yes it won't be easy to start off in a country where you may not know anyone but believe me when I say it does pay off eventually.
For me it was clear that this would be my chance to turn the dream of going abroad into reality, so I sat down for days and did a lot of research about potential countries and universities. I ended up applying for a bachelor's of business at Griffith College Dublin, because something attracted me to Ireland.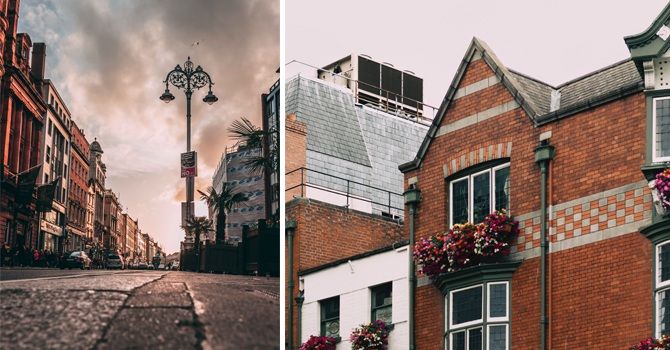 Out of the ordinary
Some of my friends went to the United States, New Zealand or Australia for studying but I couldn't see myself moving to those countries. Ireland, for me, seemed to be something special and out of the ordinary. When I got accepted at Griffith College, there was no turning back. I packed my suitcase and flew to Ireland.
Well, after arriving at the airport in Dublin I was asking myself "what are you doing here Alissa" but I'd say that's a pretty normal reaction and I got over it quickly. Since I've been living here for a while, I can proudly say that making the decision to study abroad was the best thing that could've ever happened to me.
Griffith College
Studying at Griffith College added so much value to my personal and professional development. Griffith is a fairly small college with small classes and a nice little campus. I prefer to study in an environment where the lecturer knows you by your forename, as well as your strengths and weaknesses and can help you properly if you are struggling.
Also, studying at a small college makes it easier to meet people, because it's easy to get to know the students you're going to college with. When it comes to choosing an appropriate college, it's important to reach out to alumni or current students studying at your desired college. This will give you a first impression. However, eventually you should let your heart decide.
There is no right or wrong in any decision-making process and the sole decision to study abroad will be an adventure you will never forget — And if your heart chooses Ireland, you won't regret it.