Ireland is a diverse country that celebrates difference… and we love to party! With Chinese New Year just around the corner, our Indian Ambassador Shilpika Kotina shares four of the many international events celebrated throughout the year at the National College of Ireland…
Studying with different nationalities gives ample opportunities to acquire wider knowledge about different cultures of the world. Studying in an international environment offers real and unique benefits to students, not only in their professional development but also in their development as a human beings. Cultural awareness is the foundation of communication and it becomes central when interaction with people from other cultures is inevitable, adding to the learning process. NCI has always encouraged international students to celebrate their cultural festivals. The celebrations have no limits or boundaries. The International Friendship Society of NCI organises and encourages to celebrate the festivals together. Here's a list of four of the biggest events we celebrate throughout the year at the National College of Ireland…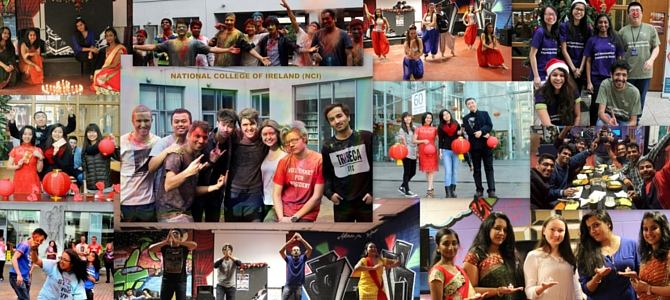 Chinese New Year
Spring Festival, widely known as Chinese New Year in the West is the most important traditional festival and celebration for families in China. It is celebrated in the month of February. The Students Union of NCI arranges the CNY celebrations and following a ceremony in the afternoon, we take part in karaoke and eat traditional Chinese food.
Holi
Holi known as "festival of colors" is celebrated in India. Holi has an ancient origin and celebrates the triumph of 'good' over 'bad'. This colourful festival bridges the social gap and renews sweet relationships. On this day, people hug and wish each other 'Happy Holi'. This festival is celebrated by not only with Indians but also with other nationalities here in Ireland. At NCI, we have great fun playing with colours, dancing and sampling traditional Indian food.
Diwali
Diwali known as "Festival of lights" is the biggest and the brightest festival in India. The festival spiritually signifies the victory of light over darkness and is celebrated in the month of October. At NCI, the day begins with a traditional puja, followed by firecrackers. The event ends with Bollywood dancing and Indian traditional food.
Christmas
The celebration of Christmas at NCI has begins in the first week of December. The clubs and societies organise different activities and it is a really exciting time. The Christmas tree in the college cheers us for the awaited festival.
Festivities are more about collective spirit and celebration than the significance of the origins themselves. The celebrations here are to keep us active and enthusiastic in so many ways. The idea behind these is to turn our life into a celebration. From these, you acknowledge the awareness of different cultures and how things are done differently. A recent research shows that experiences in other countries make us more creative and complex thinkers and these events have the ability to teach you how to work within a multi-cultural team, understand cultural diversity, learn about languages, become more flexible, creative, interesting and smarter.
If you are interested in studying around in Ireland, visit the Education in Ireland website for more information.