Interested in undertaking an MA in Criminology and Criminal Justice and having the chance to experience the International Courts of Justice, the Hague? Moria Crowley, our US and Maynooth University Ambassador, is doing just that. Find out more…
Why Maynooth?
Maynooth University (Maynooth for short) is technically Ireland's youngest university as it was formed in 1997 from St Patrick's College. However, what started as a seminary in 1795 now boasts a modern campus with numerous areas of study. The South Campus houses the historic buildings and a number of academic offices as well as the new John Paul II Library. The North Campus holds much of the academic buildings and the majority of student services. Maynooth is the only university town in Ireland, where both the university and the town itself holds about 15,000 people each.
I knew Ireland would have a different insight to law than I would get in the United States. I studied my undergraduate in Texas, quite a different place than Ireland. It's a bit wet in Ireland, for one! In Texas I had the opportunity to briefly study different legal systems – but an academic understanding can only go so far. I was greatly inspired by a course that allowed be to travel to Paris and London; there I saw that if I wanted to know international law I had to be where the law was.
Taking the steps to study in Ireland was a process that forced me to examine what interested me about law and what aspects could I learn about in Ireland that could not be done anywhere else. While quite different from where I started, I think that Maynooth is a fantastic place to learn and expand your knowledge!
Why law?
The Master's of Arts course in Comparative Criminology and Criminal Justice (within the Department of Law) not only examines the development of justice systems in numerous countries but also the impact of law in a local and international manner. As an intense one-year programme, Comparative Criminology has modules on International Human Rights, Prison Systems and much more. It even allows you to see these in action, with trips to places like Irish prisons and the International Court of Justice, the Hague. The context of study that Maynooth offers is incredible. The lecturers are all brilliant; they are enthusiastic about what they teach and are invested in the education of their students.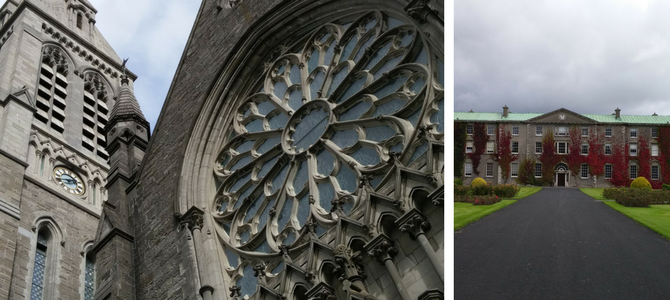 Applying as an American
When applying as an American graduate student in Ireland, the process is similar to the Irish one. The first thing you need to do is contact the international office of the university or college you are interested in! They are there to help you with the process and are very accommodating.
There is an online system called Postgraduate Applications Centre (PAC) where you can select the university or college you are interested in and the course. This is also where documents like your essays, Letters of Recommendation, and transcripts may be uploaded. Each one is different; different requirements need different things from you. After you have applied, the hardest part is waiting for your acceptance. If you can express your passion and interest in your application, you should be confident.
As an American, a few other things are simplified. You do not need to pass an English fluency exam if your previous degree was offered in English. You do not need a visa. As Americans do not need entry visas for Ireland they also do not need student visas. Instead, you simply need to report to an Immigration Officer with the proper documents: your letter of offer from your place of study, proof of access to sufficient funds and a passport. It is important that you are organised and ready at your port of entry!
Differences in a new place
At Maynooth I encountered a noticeable difference in testing style: the exams are held in January and May, giving me time to focus on essays and my dissertation during the semester. There is more in class discussion than I expected. Further, the chance to go to places like the International Criminal Court is astounding!
Having worked in Dublin a year previous to starting my programme, I had certain things well in hand; travel by bus and train; remembering that it's not compulsory to tip your waiter; that tax is included and that everything's grand. Talk to your lecturers and others in your programme. Each college here offers fantastic support in the form of the international office and the Student Union. Take the time to visit local points of note, be it a castle or a hill or a pub. The key to a good time in Ireland it to keep your chin and grades up and your rain boots on.
Find out more about the Master's of Arts course in Comparative Criminology and Criminal Justice at Maynooth University