The second instalment in our international student guide to Ireland series is Limerick – a city steeped in history and stuffed with artistic and cultural hotspots. Discover the city's best food spots, its amazing music scene, museums, markets, sights and much, much more...
Eat, drink and dance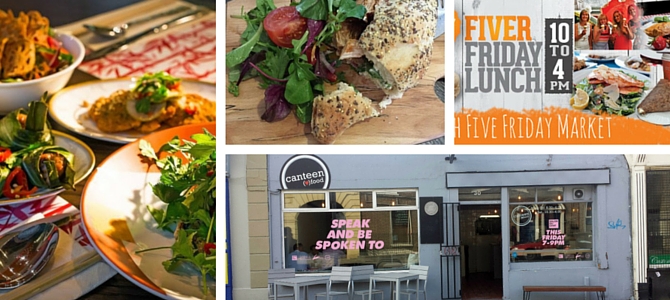 Limerick offers great choice when it comes to food. Canteen on Mallow Street is great for honest, good food at honest, good prices. Start your morning the right way with one of their healthy breakfast porridge pots from just €3 or indulge a little with a Breakfast Burrito or Green Eggs and Ham. Lunches here are also the bomb and really reasonably priced from between €3 to €9. Oh and the coffee's great too!
Authentic Asian street food more your bag? Head to Aroi on O'Connell Street. Dishes here range from €3 to €10 for mains and we adore the Pineapple Fried Rice, Fish Cakes and the Crispy Lotus Salad. The ingredients are fresh and so, so tasty! We dare you not to become a regular customer!
Check out LaCucina for great pizza and pastas – it's a family-run spot and they do take-out. And if the only thing that will do is a seafood chowder, drop in to Curragower Bar for your fix.
Looking for a serious lunchtime bargain? The Milk Market (more about this shopping spot later) does a killer Friday lunch for fiver and it's a great place to start the weekend.
With a massive student population, Limerick has a great party scene. Dolan's is a top live music spot (and often have traditional music sessions) and is a popular haunt, as is Flannery's Bar. Looking for a taste of the traditional scene– Limerick's a treat when it comes to sessions. Drop into Nancy Blakes on Upper Denmark Street mid-week or the Locke Bar on George's Quay.
Shopping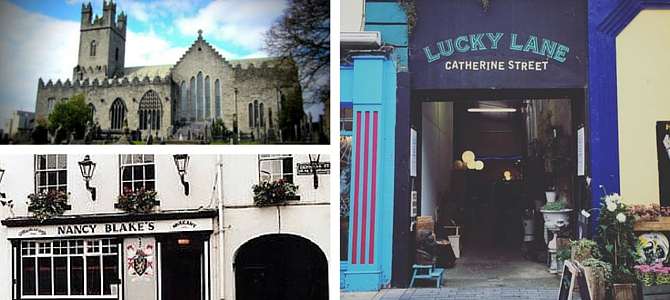 There's plenty of retail options in Limerick city. For all the high street favourites, pay a visit to the Crescent Shopping Centre and splash your cash in stores like Boots and H&M. Or wander down Thomas Street, Bedford Row and Catherine Street in the city centre to find plenty of independent and interesting boutiques. There are also a number of shops worth checking out around the Market Quarter, Cruises Street, Bedford Row and William Street – all teeming with unique and quirky offerings.
We think the best shopping spots in Limerick though are its markets and browsing stalls while stopping for street food or top-class coffee is a great way to spend an afternoon. The Milk Market is open Friday through to Sunday and is packed full of great stalls to indulge in a little retail therapy or just to window shop. Check out filmmaker Conor Bryce's artistic view of the market…
Through the Lens – Limerick Milk Market from Conor Bryce on Vimeo.
UL has a regular farmer's market every Tuesday from 12 noon – 5pm – it's brilliant for local food and one for foodies. Lucky Lane market is a laneway (surprise, surprise!) lined with flowers and there's even a piano for public use, feel free to sit down for an impromptu performance! Here you'll find everything from vintage clothes and second-hand books to furniture and jewellery. The Limerick Craft Hub showcases the best in design and features open studios where you can meet the makers and watch them at work.
Things to do
There's so much to do and see in Limerick City. Visit The Hunt Museum and marvel at one of Ireland's greatest private collections of Art and Antiquities, dating from the Neolithic to the 20th Century.
"Everything from Neolithic to current exhibitions by local contemporary artists is housed in this mini-Louvre. It feels very special to open a drawer and find a Renoir watercolour inside. And a Gauguin sketch in the drawer beside it! I missed the Picasso in yet another drawer, I was too gobsmacked by the Jack B Yeats on the walls, and almost blinded by the colours of the 17th century Italian ceramics." Anne Cunningham, The Independent
St Mary's Cathedral is seriously old and seriously impressive to boot! Its architecture is a mixture of the Gothic and Romanesque styles and it contains many interesting features, such as a stone altar and Lepers' Squint, an opening in the wall that permitted lepers to hear Mass and receive Communion. Alternatively, immerse yourself in medieval times at King John's Castle and experience over 800 years of dramatic local history for just €8 – bargain!
If you're into sport and rugby in particular, you're in luck! Even if your not a sports fan, Thomond Park – the the home of Munster rugby – is worth a visit. Matches happen here on a regular basis with student discounted tickets available for most games.
Street art is a big deal in Ireland and Limerick has embraced the movement with some amazing pieces dotted around the city, meaning you don't need to be flush with cash to sample the city's urban art world.
Studying in Limerick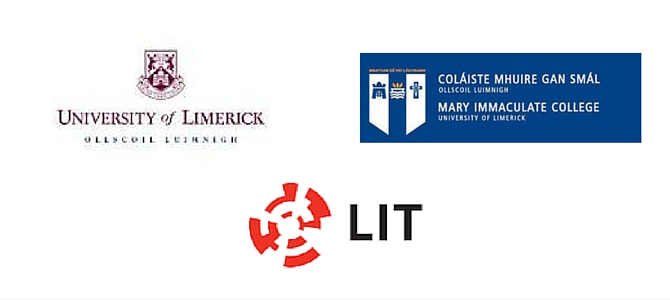 There are three fantastic options for study abroad in Limerick – the University of Limerick, the Limerick Institute of Technology and Mary Immaculate College. All institutions offer a range of world-class courses, click the tabs below to find out more about each college and read first-hand study abroad experiences from our Student Ambassadors.
Limerick Institute of Technology (LIT) is an institute of higher education in Limerick, a modern urban city in the Mid-West region of Ireland and is one of 13 institutes that are members of the Institutes of Technology, Ireland (IOTI). LIT is the fourth largest IOT in Ireland, with more than 6,000 full time and part time students and 500 staff.
The Institute has five campuses and a learning centre across Limerick city, Tipperary and Clare. The main campus is located at Moylish Park, with two city centre campuses in Clare Street and Georges Quay in Limerick city. LIT in Tipperary is based in two campuses, Thurles and Clonmel.
Mary Immaculate College (MIC), founded in 1898, is Ireland's leading university-level College of Education and Liberal Arts. The College has a growing and diverse community of over 3,000 students enrolled in undergraduate programmes in Education, Liberal Arts, Early Childhood Care and Education, and Theatre Studies, as well as a range of postgraduate programmes at Diploma, MA and PhD levels.
MIC is conveniently located in a leafy suburb just ten minutes' walk from Limerick city centre, in Ireland's Midwest region. With access to all major routes, the campus is just 20 minutes from Shannon International Airport and near to all the most beautiful scenery and tourist destinations in the Shannon Region e.g. the Cliffs of Moher and Bunratty Castle.
MIC has a vibrant international community, collaborating with more than 50 partner universities & colleges in Europe, North America and Australia, and hosts over 120 international students annually.