Indian student Jitesh Emmanuel sums up his experience studying in Ireland with this beautiful quote: "It's the one place on Earth that Heaven has kissed with melody, mirth, and meadow and mist."
After a 17-hour journey from India, I arrived in this magnificent emerald isle in the month of September 2019 to pursue my masters at Cork Institute of Technology. I was both excited and anxious to settle in and begin my course.
Great support
Finding accommodation can be a challenge due to the influx of students and increasing population in Ireland. However, it is not impossible if you make good use of the support services provided by the international office of the institute that you are studying in.
I was glad to receive an email in June 2019 from my college's international office informing me about student accommodation provided by Carma Properties. I was offered a single room in a house in Bishopstown, right opposite to my college. The house was shared by seven other students with a fully equipped kitchen, washing machine and dryer, suitable heating and electricity.
I was even provided with the necessary amenities like an iron box, duvet, a welcome kit containing a bag of sugar, salt, oil, biscuits and bread for the first month. I was pleased and relieved that my accommodation was sorted right in time.
'Mesmerising'
My first day in Cork was mesmerising. I explored the city centre, gazing at the colourful buildings and alleys and the sloping roads. I walked across the river Lee making note of important landmarks, buses and shops. I was happy to see that the 205 bus from the city centre would drop me right in front of my accommodation. There are regular bus services to Dublin, Galway, Limerick, Waterford and other cities provided by services like Bus Eireann, Citylink and GoBus.
Getting settled
I was all set when the room keys were handed over to me by my warm and welcoming landlord. The international office too ensured that I was happy and comfortable with the place and were in touch with me. I was amazed at the support services, societies and clubs that CIT provided to all students during the orientation week.
There were many student volunteers who gave walking tours of the campus and provided helpful info to the students. There were lot of freebies handed out, like sling bags, mobile chargers, snacks, chocolates, stationery, guide books and health and safety flyers. I felt very satisfied and less anxious; it helped me settle in faster than imagined.
Ireland is a wet country throughout the year, with temperatures ranging from an average of 5 to 12 °C. It's mostly cloudy and windy with pleasant bursts of rain and sunshine. During winters, the lowest temperature would be -3 °C. There is very low possibility of snow but be prepared for frosty nights and mornings.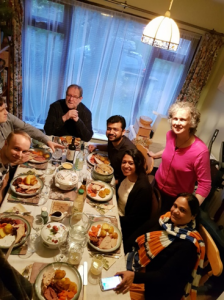 Sense of humour
Irish people are very helpful, considerate, appear shy at first but are very friendly if you talk to them. I have had very pleasant and interesting conversations. The Irish have an incredible sense of humour. I can assure you it's never a dull moment when you make friends from here.
In order to call back home, you would need a Sim card. There are plenty of student discounts and offers around too and it helps if you ask when you go out shopping. I bought most of my grocery from the larger supermarkets. Most of my monthly grocery shopping bills came to about €50 – €70.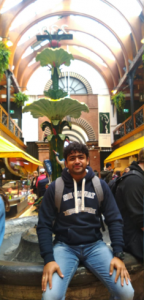 English Market
In Cork, I stumbled upon the historic English Market which has stalls selling organic vegetables, fruits, meat, poultry and eggs. It's a lovely place to visit and take a stroll around.
Ireland is famous for its legendary butter and milk. Do take a chance to try the full Irish breakfast comprising of eggs, toast, baked beans, sausage, pudding, potato fries and a glass full of healthy Irish milk.
The Irish lamb stew, shepherd's pie, mashed potatoes with gravy, chicken stuffing, steamed vegetables and pork make a delightful dinner. I was lucky to have enjoyed a traditional Christmas dinner hosted by a lovely Irish family.
Starting classes
Classes began in full swing a week after orientation. I find the lectures very engaging and informative. The lecturers are very friendly and helpful and very attentive to my needs as a student. I head to the library to study and do my assignments. It's always good to plan and manage your time when you begin your course because you would have deadlines in assignments.
The student union at CIT is an active body which does its best to attend to student issues, organise workshops and facilitate events, fairs and festivals all throughout the semester. It is headed by an amazing, diverse team of students who just inspire you to enjoy and make the most of your student life. I use my free time to work out at the swanky college gym, visit Irish pubs with my flat mates or travel.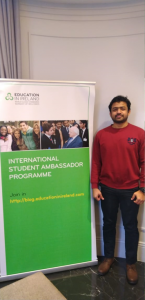 Being an ambassador
I was selected to be an international student ambassador by Education in Ireland in November. I was invited to a one-day session at the Davenport Hotel in Dublin hosted by them. It was an enlightening and informative experience and I cherish the moments spent socialising with other ambassadors and Education in Ireland staff.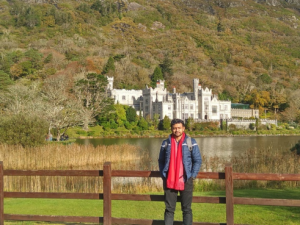 Beautiful country
There are beautiful castles, churches, museums, and amazing landscapes to visit in Ireland. Some of them worth mentioning are Blarney Castle, Cliffs of Moher, Aran Islands, Connemara, Wicklow, Ring of Kerry, Galway, Cobh and many more. If you have an international driver's licence and insurance, you can rent a car and explore Ireland.
The famous holidays and festivals in Ireland would be Christmas, Halloween, Easter and St Patrick's Day. I had an amazing Halloween and Christmas in Galway where I watched the Macnas parade and experienced the Christmas market, carols and frenzied shopping. It is beautiful to witness the lights in the city and listen to joyful Christmas music.
I plan to travel in spring again when the days are longer and the sun shines brighter. I am an avid photographer and have captured the most scenic pictures here in Ireland. I am enjoying my student life in Ireland. It is a land full of possibilities and positive experiences. I hope to complete my master's with flying colours and can't wait to see what the future holds for me in Ireland.