'I cannot think of a country better than Ireland in which to start my pharmaceutical career".  Olga Gragyan is 100% certain that the 'Emerald Isle' is the best place she could have chosen for her studies in Pharmaceutics and Drug Formulation at IT Carlow.  In her first blog, she tells us all about it.
What will tomorrow be like?" is a question that has been preying on people's minds across the world for over a year now and I am no exception. However, what remains constant is the selfless dedication of those essential sectors whose people are an inexhaustible source of inspiration for me, especially as a future worker in one such sector:  the pharmaceutical industry. While it is the educational establishments who train professionals, the grocery stores that meet our needs, and the doctors who heroically cure us, it's scientists who represent the future of our planet.
Undoubtedly, the input into and from science in the current crisis has been incalculably huge; however, I've been particularly focused on the developments in pharmaceutics and medicine manufacturing, a sphere in which I hope to make a positive impact.
Pharma skills are in big demand
I chose pharmaceutics way before words like "lockdown", "self-isolation" and "pandemic" were uttered more often than "travelling", "hugs" and "parties". Nevertheless, recent events have made sure that this science remains one of the most in-demand for decades to come. Such demand can be justified, and is just one of the reasons why I chose it to be my career pathway.
To begin with, team effort is an integral part of pharmaceutics. It is not only about the knowledge but how to apply it, and in this regard your teammates cannot be better support. It is well-known that "the truth sprouts from discussion", so who else would you talk to but your co-workers?! Besides, no one will ever feel alone and the "all for one" motto just inspires you to try to always go beyond what you feel are your abilities.
Great career potential
Furthermore, pharmaceutics offers an extensive range of future specialisations and career-growth opportunities. It is possible to work in (amongst others) the primary and secondary manufacturing processes, quality control, quality assurance and product development processes. Just imagine being a part of the team that develops a life-changing drug or medicine that can cure an untreatable illness, or even boost the immune system so that it becomes resistant to any pathogens! These things aren't dreams; they're puzzles to be solved!
The career pathway in the pharmaceutical industry can be narrow, such as specialising on medicines just for cancer treatment, or as wide as opening a whole laboratory or even a company that will focus only on cancer! It is always up to a person to decide what to do with the knowledge and experience they acquire.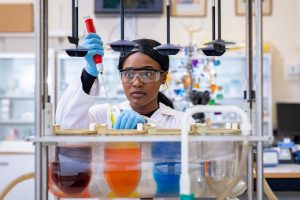 Finally, history shows that every big event leads to change in most spheres of life. Since the beginning of the pandemic, medicine has been relying on the pharmaceutical sciences like never before. In other words, pharmaceutics is now the starting point for forming new strategies with regards to medical treatment.
Ireland is the perfect place to start
A good career start is really important because it brings the above-mentioned developments to life.  Ireland is a great country to both start and develop your career as a pharmaceutical scientist. First and foremost, it has attracted 9 out of 10 of the world's largest pharmaceutical companies, including Bayer, Pfizer, Novartis and MSD. Furthermore, the geographical location of Ireland allows it to sustain a good economic relationship with the EU, the UK and the USA.
I cannot think of a country better than Ireland in which to start my pharmaceutical career, and if I were given a choice over and over again, I would choose the path I am on now – a pharmaceutical science student pursuing a degree on the Emerald Isle!