'Keep calm and enjoy yourself!' That's Malaysian student Lynn Chiam Hue Theen's message for students from abroad who want to learn about budgeting for their time in Ireland. Lynn, who is studying Law at Letterkenny Institute of Technology in Donegal, has plenty of tips for saving money!
Generally, the word 'students' and 'savings' do not go well together, as the cost of living for an international student can be prohibitive if you don't know the ropes. I now have first-hand experience of being an international student in Ireland, and am here to impart my skills in the art of saving money.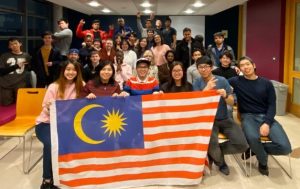 Become familiar with the price of food when shopping
Food shopping can be disastrously pricey when you're not aware of the "value" items in different stores. It is best to buy supermarket value products rather than well-known brands, and to view the supermarkets' catalogues to scout for the cheapest price option. Also, shopping at the end of the day when many items are discounted is one of the simplest ways to be thrifty. Although the discounted items may have an imminent expiry date, most of them are fine if consumed soon after purchase, or frozen for later.
Buy second-hand
Second-hand stores, including charity shops, provide a variety of used products in excellent condition and at affordable prices. You can find winter clothing, furniture, kitchenware, and assorted goods at a greatly discounted rate.
Books for university can have a diminishing effect on a student's wallet. But fear not!If you are lucky, you can discover the treasure of individual books at low prices (yes, there's always the library, but sometimes it's hard to get the books that you want because other students might have borrowed it.
Keep an eye out for sales
During festive seasons, stores will promote seasonal sales and stock clearances. This is a "grand" (we the Irish say!) way to save money, especially on Black Friday Week. Timing and information are everything when searching for an item that offers good value for money.
Airplane tickets tend to be cheaper during the winter season. For example, many sites like Ryanair allow you to set up an alert when flights to your destination have dropped in price, and being flexible on your travel date can save you hundreds. Make sure to find the most affordable and convenient solution to travel for international students.
Students with their benefits
The word student covers a broad category of studies. But they all share a common trait which is student discounts. Many businesses in your town may provide special rates and discounts for students when you present your student ID card. If you do not see a sign stating that stores offer a student discount, there is no harm asking as you can save a substantial amount om entertainment, clothing, food and more! Buses like Bus Eireann offers great deals for students, including a ticket with unlimited usage as long it is redeemed within the time frame.
There are also additional discounts for students when purchasing things online. Moreover, there is a free app called Unidays, which advertises discounts specifically for students. Utilising student discounts is crucial if you're to be wise with your spending.
Cut your own Hair
Frankly speaking, cutting your own hair may be a tough job, but you can save a hundred euro each year. Cutting your hair short may seem like the smartest choice, but it means cutting your hair more than twice a year which can be more exorbitant. The longer you wear your hair, the longer you can wait to get your next hair cut, and you can style it different ways too. Or if you simply cannot stand the look of your hair, you can find a friend with a devastatingly good sense of style to do the trick. In that case, you are saving money and also helping your peers discover their hidden talents.
Living outside Student Accommodation
Apart from tuition, housing is one of the most significant expenses for international students. Living on campus might seem more convenient, and a great way to make new friends, but living off-campus can provide opportunities to save a good chunk of cash since living in student accommodation is quite costly.
You may consider splitting your time between on- and off-campus accommodation. Staying in school accommodation on your first year is preferable, so you get well adapted to the new place and come to know it like the back of your hand. In your second year or remaining years, living outside student accommodation allows you to stay at an affordable rate, and you would learn how to pay for utilities and waste bins.
Homestays are also a terrific option for international students. By living in a homestay, international students have a golden chance to gain language proficiency, explore local spots with natives and have home-away-from-home experience.
Free Stuff
When you go to the supermarket, there will almost always be a few booths set up that promote their products with free samples. It is okay to snack on these from time to time, but don't overdo it! By the same token, fast food chains like McDonald's have a condiments counter for customers, and as long as you don't do it too often, these can be a great place (after you've enjoyed your take-away or coffee!) to grab a few packets of salt and pepper, and one or two serviettes, at those times when you're really stuck. Remember, taking it in moderation is better than to be told off by the staff for taking too much.
Cook it yourself!
Another expenses that can be reduced easily is with food. If you have access to a kitchen, you may decide to cook for yourself, which is often cheaper than eating out. In addition to that, there are many benefits to cooking at home. It is healthier, and you can cook a wide variety of cuisines. Cooking is a skill that is worthwhile to develop because it also brings joy. Cooking with a housemate is a wonderful way to relieve stress, try something new, build friendships and make 'fun-licious' memories.
Home-cooked meals are a bit of an endangered species, but once you start to cook at home, you will be impressed by how convenient it is and might consider it as a daily routine (never turning back to eating out or take-away foods again!)
Bring them from Home
It is always a hassle for students studying abroad to pack their luggage. Packing is more than just shoving your entire life in a suitcase. The essential things to pack are the basic things that a student will use daily. Stationery is always crucial. It is better to bring a few folders, foolscap and pens from home that will facilitate your academic year. Also, some spices or dried foods from home can cure homesickness and save money.
Toiletries to pack include medications or prescriptions. If you have flu and just need a tablet to solve the problem, going to the doctor can cost a hefty sum. But taking the pills that you usually consume from home will save you the trouble of paying a whole lot of money. But if you have a severe illness or injury, it is always advisable to see a professional at the health centre at your university.
Keep Track of your Expenses
It might seem tedious, but keeping a record of your finances is the best way to prevent you from overspending unnecessarily. To start, you can create a spreadsheet of a payment log, noting down your income from parents or any part-time job, and also the outflow of regular payments such as rent or mobile phone contracts. You will be able to monitor precisely how much you have available to spend.
If you have a mobile banking app, you can check your balance at any time. It is also crucial to track your spending for the longer term in order to budget better. Nowadays, it is so easy to monitor your spending, so you don't an excuse for overspending!
And finally ….keep calm!
Living as an international student doesn't have to be a struggle financially. By implementing these basic strategies and cutting certain unnecessary expenses down or out altogether, you should be liberated from monetary restraints. I would like to encourage all future students to "keep calm and save money!"