Venezuelan Student Ambassador Ana Gil-Villanueva has some great advice for students coming to Ireland: have fun, make friends and enjoy this magical and beautiful country
Moving abroad can be one of the most exciting and rewarding life decisions someone can make. It can shape your perspective on life and bring you so many good memories. However, it can also bring a lot of mixed feelings, worry and anxiety.
I have been living in Ireland for nearly seven years now. However, when I first came here in 2013, I didn't think I was going to stay this long as I came as a language student for one year. I was so thrilled to be here and I wanted to make the most of my experience. And even though I experienced homesickness and anxiety, I tried to immerse myself in my new home.
One piece of advice I have given to a few people moving abroad is that it is extremely important to try to immerse yourself into your new 'temporary' home. This makes the adapting process easier and means you can make the most of your experience in your time abroad.
So here are three simple things that I tried which helped me make my experience as a language student and college student a bit less daunting.

Keep an open mind! 
I know it can be super stressful to adapt to a new college and find new friends and to speak in a language that isn't yours. Moving to a new country can lead to cultural shocks which can be difficult to get over if you don't keep an open mind.
Life runs differently in other countries: the pace of life may be different, as are customs, traditions and even holidays. Learn to embrace each one with an open heart and an open mind while you are abroad and try to see life from a different perspective. 

Stepping out of your comfort zone
One thing I have noticed during my time as a language student – and especially while being in college – is that many foreign students try to keep their circle of friends to their nationalities.
I know it can be tough to get to know people from other countries, but that's part of the experience!
There is nothing wrong with hanging out with people from your home country, but if you want to improve your English or get to know other cultures, having as many friends as you can from different nationalities is the way to go!
Also, don't be afraid to talk to or make friends with locals. Having local friends is the best way to learn the Irish culture first-hand. The friendliness of the Irish is very real and they love to get to know other people from outside Ireland!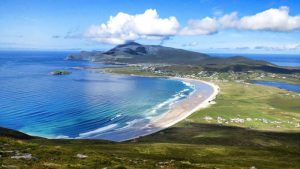 Have fun! 
Keep busy, make new friends, get out of your accommodation and enjoy yourself. Being abroad may be a once in a lifetime experience, so make the most of it.
There are so many things to do in Ireland, from having fun to experiencing amazing food, visiting the countryside and various different cities, to seeing some of its post card views. Gather with a group of friends and enjoy the magic and beauty of Ireland!