Malaysian student Kai Meen Chen really embraced life in Galway by becoming a 'Wave Maker' for its year as European Capital of Culture
Note: This article was written in December 2019 before the current restrictions were imposed. For more on Galway 2020, check news updates: https://www.rte.ie/news/2020/0324/1126142-galways-culture-capital-schedule-significantly-reduced/
What do you think of when you hear the words 'wave makers'? Mexican wave? Wave creator? No!
Wave Makers is the Galway 2020 volunteer programme. I came across this when I attended a volunteer fair in NUI Galway. I had no idea what it was, but I still decided to sign up to be a volunteer. Why not?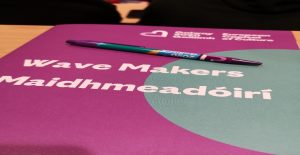 That leads to another question: what is Galway 2020? Maybe some of you have heard of this before, but when I shared it with my new friends in the Education in Ireland Student Ambassador Programme, they had never heard of Galway 2020.
I am honoured to have become part of the team and I was in a good position to shout about it because I was living in the charming city of Galway.
New, bolder and more vibrant
Galway 2020 is the company responsible for delivering a year-long programme of events in Galway city and county as part of its designation as the European Capital of Culture. The European Capital of Culture is a city designated by the European Union (EU) for a period of one calendar year during which it organises a series of cultural events with a strong pan-European dimension.
Galway city is the second Irish city to be designated this way, with Cork having held the title in 2005.
The events have taken place or will take place in 2019 and 2020. Yes, it already started in 2019 and the events are hopefully going on all year. This is what makes Galway even more special in 2020! There will be something for everyone throughout this extraordinary year and the great news is that most of the events are free. (Note: Check https://galway2020.ie/en/ for updates on all events.)
Making waves
Everyone involved has worked very hard to ensure we have a capital of culture that we will all be proud of. Here are three reasons why I felt I could not miss this amazing opportunity:
1. Meeting people: This was a unique opportunity to make new friends as all the volunteers are from different places including Galway, Ireland and from all over the world. You can also expand your social life and meet more of the wonderful friendly people of Galway. It's never too late to start meeting new people and doing interesting things, and you'll likely see your life improve.
2. Stop being conservative and learn new skills: This could help me to discover new skills and learn something new. Life is not just about studying, dude! This programme provided basic training before you actually become a volunteer, so no worries if you didn't know what was involved. The training involves being taught about the programme and its purpose, as well as being provided with local expertise so you can familiarise yourself with tourist information: where to find tourist offices, good food, shopping, attractive spots, etc. For those who are not local, this helps you learn lots about the city.
3. Share more, get more: This was an opportunity to improve the wellbeing of the communities in Galway city and county. One of the programmes was called Project Baa Baa. Sounds fun, right? This event was designed to bring the agricultural heritage of the west into focus by inviting other communities living with sheep to come to Galway for the European Congress of Sheep Farming & Associated Traditions. Want to know more about sheep, especially the sheep tagged with colour? Join the events at the end of May 2020. (See https://galway2020.ie/en/ for updates.)
How I got involved
My recruitment process to become a volunteer was not hard. Once I had approached them by giving my contact e-mail, I was invited for a face-to-face meeting. This was just a short briefing about the programme.
Next, I received an invitation via e-mail to attend the training course. I was encouraged to download an app called 'MyImpact' for the volunteer opportunities. And I didn't need specialised skills as they provided the training. You just need to be yourself and have FUN!
Last but not least . . .
Galway 2020 had an opening event on February. Beginning in the farthest reaches of Galway, fiery celebrations will erupt in towns and villages across the country. Taking place in the open air, celebrating the power of being difference! Embrace your uniqueness, Galway!
For updates on events in Galway 2020 and restrictions due to the coronavirus, go here: https://galway2020.ie/en/