From how to apply to modules, Dinesh Choudhary, our Indian and Waterford Institute of Technology Ambassador gives us the facts and figures on the MBS Marketing course at WIT…
Why marketing?
My reason for choosing to study marketing was due to the fact that I had primary degree in same field. Exploring the subject further and getting professional expertise in this area was a priority for me.
Why Ireland?
Reason 1: Ireland has one of the best education systems in Europe.
Reason 2: Wide range of scholarship options in comparison to other countries so there is an opportunity to avoid high debt often asscociated with study abroad. I got the Indian Wicket Scholarship. Find out more about available scholarships at Waterford Institute of Technology
Reason 3: I wanted to experience new culture, and Ireland was an ideal place to satisfy this goal.
MBS Marketing at WIT
The MBS Marketing program at WIT is excellent and promotes interaction and learning at every turn. We often have lectures with other MBS groups and the seminars available eeach week are really beneficial. These seminars are delivered by business industry experts, and the course interesting as it is demanding and challenging. The lecturers are practically-oriented, and offer real world experience trough their teaching. I have two modules in marketing, in one of the module the class consults with acompany based in Kilkenny, and other modules such as Enterprise Innovation are involved in live projects with a media firm. The uniqueness of modules makes this course engaging and exciting.
Extra learnings
Recently we had a practical lab session focused on social media marketing. Lecturers at WIT encourage students not to limit their learning to specific modules and aften arrange for extra learning classes so that students can further enrich their perspectives and knowledge.
The structure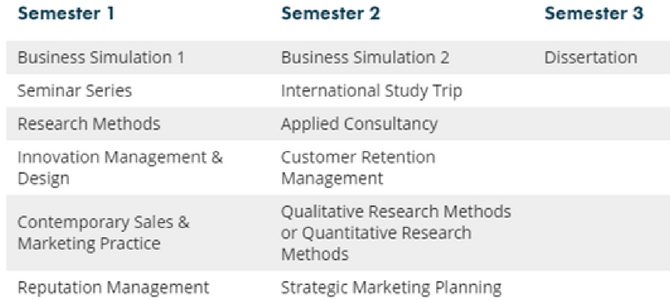 A normal session
Classrooms are well equipped with all facilities and lecturers are always ready to help and provide support. The MBS group is diverse in terms students. This gives everyone the opportunity to learn more about different cultures and traditions from their class mates – everything from beliefs to fashion! Classes are also small and this can really help concentration and focus. 
The process
The international office team at WIT are very responsive and active throughout the year. Whenever I face any difficulty I just write a email and instantly I receive the answers I'm looking for. It's great to have this kind of support as an international student.