Choosing a Master's is not an easy decision. Mohammed, our DCU and Iraqi Ambassador, tells us why he chose the course he did; what drew him to Ireland and what career prospects are available down the line…
Why I decided to study a MSc in Management
I graduated with a Chemical Engineering degree from the American University of Sharjah in the United Arab Emirates. As my graduation date approached, I began looking for colleges to do my Master's and at that time I believed doing a Master's in Chemical Engineering at the same university was a must. Once my advisor found out she was outraged and she told me two things:
Doing a Master's in the same institution, or the same country you graduated from is not always the best option.
Doing a Master's in Chemical Engineering as a Chemical Engineer is a trend from 2006.
In today's dynamic world, a student must be competent in many different ways and must hone new skills instead of only building on older ones in order to excel and achieve more. And so, after gaining work experience, and keeping in mind my advisor's words, I began looking for universities and courses that allow me to mix something with my technical skills to create a better mindset.
Why Ireland and why DCU?
Ireland, in general, was a destination I had in my mind, for it had a reputation for a world-class education system. It is affordable and it is one of the safest countries in the world. DCU, in particular, had an attractive course for me, and it is the MSc in Management [Business] or MSBM for short. What is unique about this course is that it is designed for students who come from a non-business and a non-management background. This course is under the AACSB accreditation, and it is considered to be one of the top 90 management courses in the world according to the Financial Times. And finally, this course is one of the few courses in the world that adopts a "personalised learning" approach that allows you to tailor the programme to your desired outcomes.
The nuts and bolts of the MSc in Management (Business) course
The course consists of several modules and is means to develop many skills which are summarised below: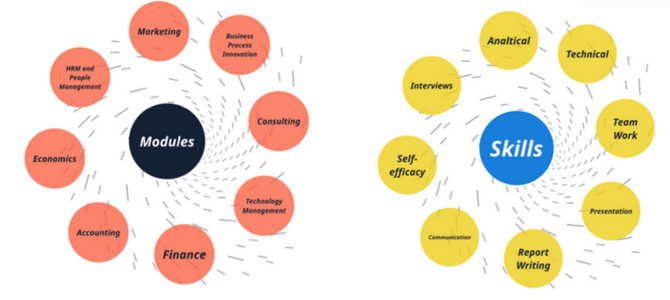 However, the most critical module is Next Generation Management which is tailored to build your career, your digital skills, your business and society awareness, and your research abilities. This module is spread throughout the year of the programme and provides an excellent opportunity for you to work with students from other disciplines, such as E-commerce, Strategic Management, and Marketing and this provides you with experience on working with teams of people from different backgrounds. Another great aspect to this course is that it attracts people from many different nationalities where you would find students from all continents, religions, and ethnicities in one lecture hall which enables you to interact with different cultures and prepares you for the globalised business world of today.
Finally, students have the option to complete a dissertation or a practicum, which is a group work based activity that includes students handling a real-life problem for an Irish company.
What careers does this course prepare me for?
More than 95% of graduates of this programme have got careers in management, analytics, consulting, and various other positions, inside and outside Ireland, upon completing the course. Past graduates have moved to companies of the likes of Google, eBay, PayPal, IBM, and many other giants in today's business world and this is achieved with continuous support from the DCU careers office.
Find out more about becoming an international student at Dublin City University