Learn more about Anish Umarjikar's experience of choosing Ireland, arriving at the National University of Ireland Galway and beginning his course in MSc International Management…
Research
After completing my Bachelors in Engineering, I decided to pursue my Master's abroad. Choosing to further my education overseas meant I would have the chance to experience an international environment and develop myself. I attended an Education in Ireland fair in Mumbai out of curiosity and was impressed by the plethora of compelling courses and campuses offered in Ireland. These Education in Ireland events are a major highlight and helped me to make my decision. It was during this event that had the chance to meet the lecturers and staff from the universities and during my second week at NUI Galway, I met one of the professors who guided me during the fair.
Find out more about upcoming Education in Ireland events
Thanks to the guidance from the university representatives, I applied to various Irish universities. For Postgraduate students, the Postgraduate Application Centre (PAC) is the portal which will be the central point for most of the university applications. You can create your application all by yourself, with pre-requisite documents listed on the PAC as well as the university website. Depending on the university and course, you may have to pay application fees online. The Irish universities have a reputation of taking a decision about offers in a short space of time. I received my offer within a month. Although, I waited for few other decisions from other universities I had applied to also.
Tough choices
After all the offers were in, I was stuck in a dilemma. Now I had an offer to study in Central Europe as well as from Australia and Ireland! This meant that a tough choice and when it comes down to studying abroad, the decision making can be stressful. I would advise the prospective students to speak to the industry experts, university alumni as well as your family to make sure your decision is the contemplated and cogent. I made an Excel sheet containing all the parameters which are essential in your education and rated each of the universities on these factors. This helped me to decide which course and university I should opt for. Some of the measuring factors I noted are duration, fees, overall cost effectiveness, living costs, part-time work and job opportunities. For me,  NUI Galway led the pack in almost all these factors along with offering a dose of culture, high-quality education and excellent student services. This cleared my mind of doubts where should I study. One thing led to another, and I accepted my offer! Accepting an offer is pretty easy using PAC. Depending on the course and the university you might have to pay an 'acceptance deposit' fee in order to accept your offer and secure a place. This deposit is part of your course fee itself.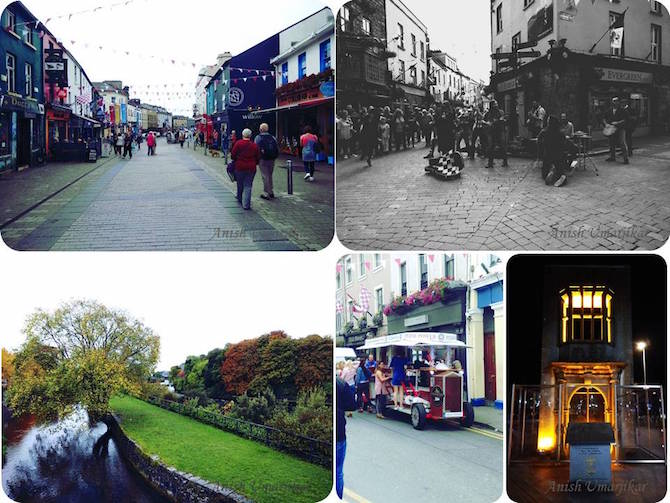 Visas
If you require a visa to study in Ireland and depending on your native country, you may also have to pay to apply for a visa. For me, I paid €1,000 via PAC as the 'acceptance deposit' post which paid €5,000 as per the visa requirements and started my visa application process.
Read the complete list of documents required by the Irish consulates for a visa application
My personal take away and suggestion to all prospective students is to start the visa processing as soon as possible. This will help keep stress levels down and allow for unforeseen circumstances such as resubmitting documents!
Getting here
Lookout for airlines which have student discounts as well as the higher baggage allowance for students. This will be a boon to you if you are moving abroad for the first time in your life. Try to arrive at least two weeks before the orientation, this will help you understand all the local systems, and most importantly find accommodation.
Galway
I arrived 10 days before my course started and booked temporary accommodation via Airbnb for a week. Everything in Galway is lively; one can feel rejuvenated just by walking the streets. People are kind and affable and Galway is a friendly city. Bus connectivity is very reliable and punctual, linking all areas of the city.
Orientation week
It has been more than three months since the orientation week yet I still remember every part of the experience. This was the time I realised how lucky I was to have chosen Ireland for my education and NUI Galway as my university. During this week, you have the chance to explore student services; take part in activities; tour the campus and discover societies and sports clubs. This week is the best time to make new friends, explore the university and get excited for the days to come.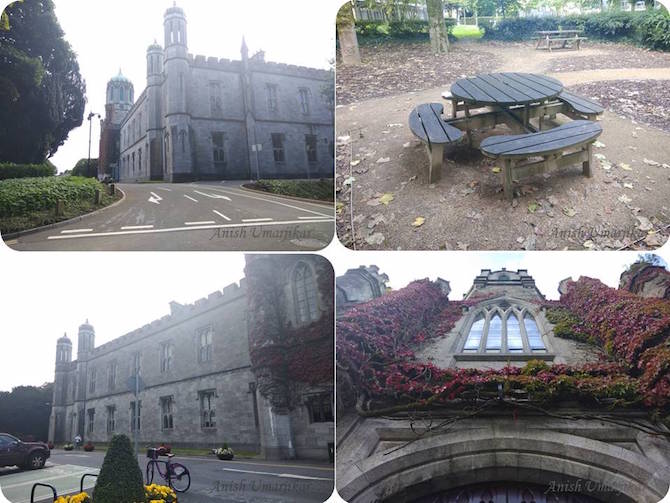 NUI Galway
NUI Galway truly respects its students and does everything possible to take care of them. There are even counsellors who help students overcome any problems they have. This is the first time that I have seen a university caring for students to such an extent. The chaplaincy service supports and guides students who need spiritual help (for all religions). The international office is one of the most important places if you are an international student. They are an awesome bunch of people, who will help you with absolutely anything — from opening a bank account to a Schengen visa!
The university constantly fosters innovation and originality. This helps us to be open to our ideas and Blackstone Launchpad act as a platform to materialise them. If you wish to study in an environment where you want to develop in each of the verticals in your life, NUI Galway is the place for you.
MSc in International Management course
My business school had arranged a small orientation for all the management students to help us understand how the semester worked. I was really excited to learn under such a great team of professors. This orientation was very specific for our course and prepared us for the classes about to come. As an icebreaker, the school also arranged dinner for us in a nice restaurant at the city centre. It was great to meet my classmates and professors in a relaxed social setting before classes began.
The course of MSc in International Management is one of the best courses offered by the Cairnes School of Business, NUI Galway. It has been awarded the best Postgraduate Course (Business) in Ireland in 2013 and made it to finals in 2017. I find the course very interesting and subjects like Global Business, Human Resources, International Cross Culture and Strategic Management offer real insight into the industry. All the professors are approachable and happy to help — each bringing their unique style and experience to the class. This makes it interesting and easy to grasp the concepts. I cannot measure the wealth of knowledge I have gained in just three months of classes, which excites me for the times to come.
Find out more about International Management at NUI Galway
Accommodation
Irrespective of some hurdles faced for finding accommodation, I did find a lovely place not far from the university and moved in immediately. The University Accommodation Office helps students with everything including finding the right place to stay to guiding us about the do's and don't's of renting. However, one can always to search for accommodation before you arrive, using the Facebook group, Rent & Daft.
Interested in finding out more? Comment below if you have any questions about this amazing university, my course or about Galway. I'm happy to help!