Indian student Swetha Krishnan was delighted to win a scholarship to study Criminology & Criminal Justice in the prestigious School of Law in UCD
The beginning
In July 2018, I decided to do my post-graduate abroad and started the long process of applying to universities. I also decided to focus on my academics as well as my extra-curriculars. I managed to publish two papers and won best speaker in a competition. I also decided to learn a language and chose Korean, since I was a fan of 'K-pop' band GOT7 and enjoyed watching Korean dramas. I also did a lot of volunteering, as it is a cause close to my heart.
I picked out five universities across the world to apply for LLM, with UCD being the only university I applied to in Ireland. I took the IELTS exam and scored eight points. With everything set including having my reference letters and my statement of purpose, I applied to the five universities and then the waiting started.
Applying myself
When filling out applications, it is important that you complete everything on the checklist. Even if one of the essential requirements is missing, your application can get rejected. I got conditionally accepted to all the five universities but I wasn't financially stable to travel abroad without a scholarship so I started filling out scholarship applications. This is when I came across the V.V. Giri Global Excellence Scholarship.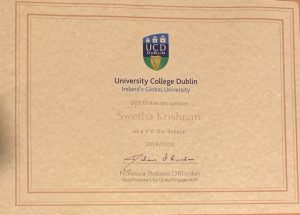 Winning ways
Receiving the scholarship, which is a full tuition fee waiver scholarship, came as a great surprise to me and I am forever grateful for the opportunity. In my opinion, it is important how you express not just your desire to obtain the scholarship but also
your future plans that you will achieve
with the scholarship you are awarded.
It is also important that you don't come across as desperate, nor write long essays; it is always better to keep it short and to the point.
Of course, I have no way of knowing how the selection panel works or why I was chosen, but I believe this is one of the reasons (apart from my scores as an undergraduate).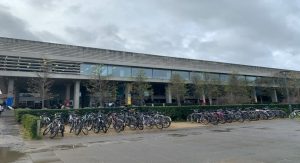 Why UCD?
I was awarded a scholarship from two other universities but I was already keen on Ireland and UCD. This was not just because of the UCD School of Law's high ranking in the world but also Ireland's various positive reviews and experiences posted by other international students.
I arrived in Dublin in September and was delighted with the international and multicultural campus.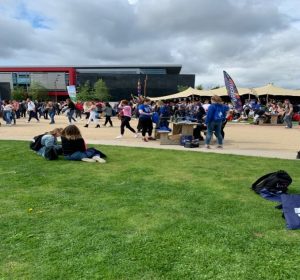 Freshman Week is great as it allows you to get exposed to the working of the campus as well as being a good way to find out more about Ireland and the law school.
The number of societies and events hosted by UCD is huge and there really is something for everyone. UCD is a huge campus with multiple facilities. My favourites are the James Joyce library and the law school; my secret favorite spot is the graduate study rooms in the library and law school.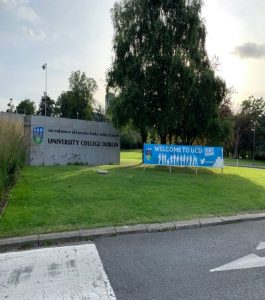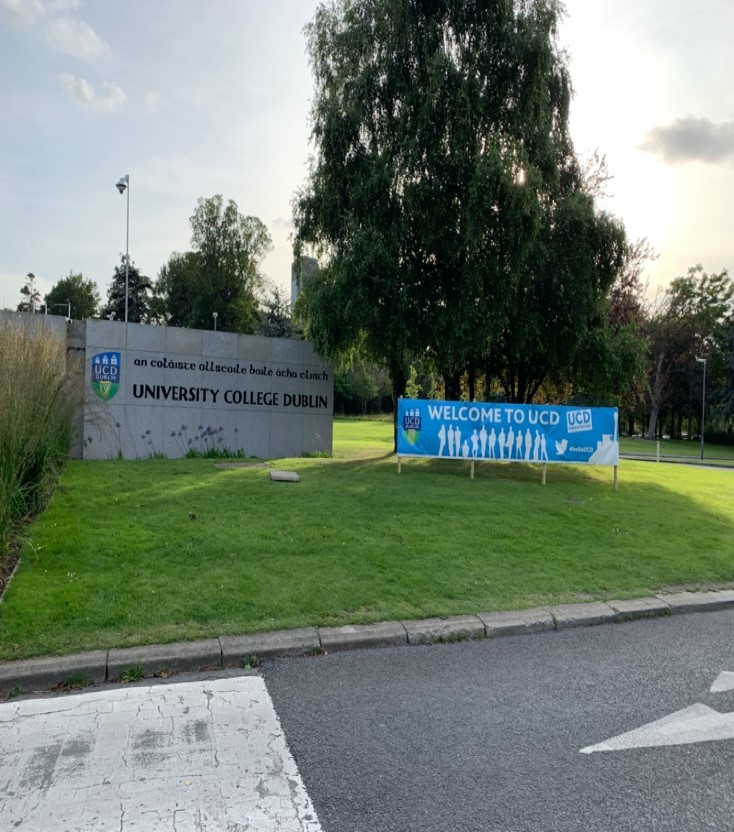 School of Law
My classes started around the second week of September and it was a completely different experience from my Indian university life.
The professors and the students are all helpful and incredibly knowledgeable. I was completely starstruck by more than one of my professors and was so impressed with the distinguished guest lecturers. I soon learnt that it was a good idea to make use of the amazing library, the online resources and the student resources provided by the university in order to get as much knowledge as possible.
My time at the UCD Sutherland School of Law has been nothing short of an intellectual heaven. I would strongly recommend UCD for its top-notch facilities that make university life easier as well as its hugely talented academic team.
I realized through this whole journey that hard work and the will to never give up is the greatest recipe for success. I am not saying that it's the same for everyone since it's limited to my personal experience, but I hope you find this helpful.