Waseem, our Pakistani Ambassador, shares his top three places to meet new people and have fun in and around Dublin City University …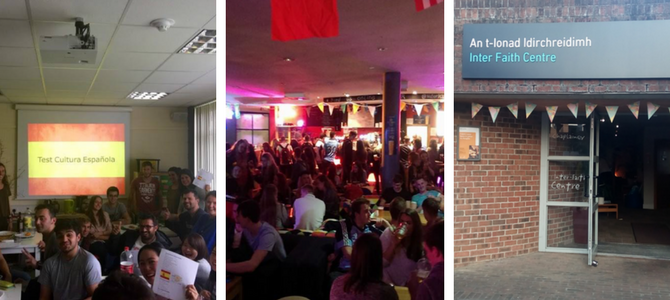 DCU does so much to help and support international students and make them feel more at home. During my time as a student here I've found a wealth of places around DCU to socialise, meet new people and make new friends. Here are three of my favourites…
DCU Languculture Space
Located in The Henry Gratton Building, the DCU Languaculture Space is an international hub where international and Irish students meet and share their language, culture and food. Admission is free for all students. Weekly events include beginners and advanced level conversation classes, introduction to culture, food, festivals, movies, and speed chatting. Speed chatting is the best event organised every month and participants have a short, 3-minute conversation with a partner and when the signal sounds they change tables to chat with the next partner.
The NuBar
Located in The HUB (DCU Student Centre), The NuBar offers a wide range of hot and cold drinks and a great food menu. Pool tables, a beer garden, and plasma screens make it a perfect place to chill out from studies, watch a match, catch up with mates, and make new friends. The NuBar regularly holds International Student Nights and SHiTe NiTe, where students come and enjoy cultural exchange, live music, and dancing.
The Inter-Faith Centre
The Inter Faith Centre is right in the heart of the Glasnevin Campus and welcomes and support sstudents, regardless of their spiritual beliefs or practice. On a bad rainy day, when you are down or when you feel a bit lonely, make a visit to Inter Faith Centre to chat and laugh with other students over a free cup of tea or coffee and snacks. A piano and keyboard is also provided for students who wish to practice. The Inter Faith Centre also organise various on and off campus events, and trips to historical places in Ireland, and other European countries. Simply, this is just not a place to pray but also to connect with other students.