Discover nine of the many reasons to love Limerick in our University of Limerick three part special by international Student Ambassadors Marina Röhrich (Germay), Lindsay Nygren (USA) and Bárbara Campos (Chile). First up, Sociology & Political Science student Marina shares her top three…
Choosing your university for your time abroad can be tough. There are so many great choices, how should you find the right one?
The University of Limerick (UL) gives you several great opportunities. UL hosts 1,000 other international students, so you will always find yourself in a crowd of people from all over the world! And with over 70 clubs and societies you also have the chance to meet many Irish people as well.
In this three part post we invite you to discover the best places inside the UL campus but also the main reasons that make us love the city of Limerick. So, even if you are already studying in another university in Ireland you'll have all the local tips for a visit.
Marina's favorite places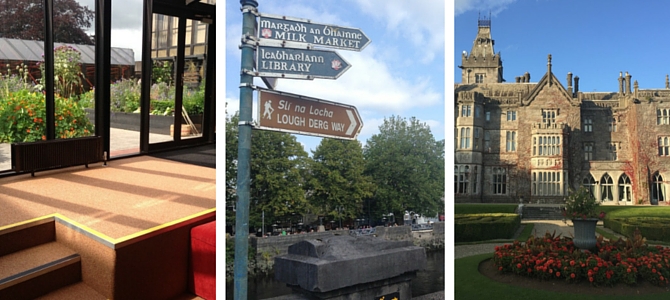 The rooftop garden at the Main Building in UL
One thing that was directly fascinating to me about the University of Limerick was the whole campus. Everywhere you look it is green! My favorite place on campus though is definitely the rooftop garden at the Main Building. This small area before the garden is a great zone to relax while waiting for your next class to start. I really enjoy sitting there, listening to music and reading something! Going to miss that place for sure!
Milk Market Limerick
Saturday and Sunday morning in Limerick? Off we go to the Milk Market! The Milk Market is a small market right in the town centre of Limerick. Fresh fruits, vegetables, cheese or pastries accompanied with live music – it is definitely worth a visit. Spending my Saturday mornings with friends, having a scone and a cup of tea or coffee there is a great way to start the weekend!
Adare Village, County Limerick
Just a short ride from the University of Limerick (tip: take the Dublin coach for €5) is the beautiful village of Adare. This small village is definitely one of my favourite places close to Limerick. The iconic thatched cottages stretch along the main street – definitely something for a lazy Sunday afternoon. One of my favourite experiences I have had during my time in Ireland was a treat of Afternoon Tea (€35) at Adare Manor. The tea is served in one of the beautiful restaurants of the Manor – a real high-class experience!
If you are interested in studying abroad in Ireland, visit the Education in Ireland website for more information.