Does the pandemic have you feeling a bit out of sorts? Californian Student Ambassador Simrin Bains knows how you may be feeling and shares ways she's managed to keep her mental health in check.

Time to get deep.
The pandemic that shall not be named has taken its toll on each of us in its own unique way; whether that be mentally, physically, emotionally or a combination of all three. Tuning into the news day after day to learn of more lives lost, being separated from family and friends and adhering to everchanging government lockdown orders has been no easy feat.
Throughout the pandemic, which has shifted the world as we knew it and has forced many of us to find the strength within ourselves to persevere, an important conversation has arisen– how can we prioritise our mental health?
My experience
I have struggled greatly with my mental health throughout the pandemic, battling a constant push-and-pull of feeling grateful for my physical health while also allowing myself to process the negative emotions associated with living through such unprecedented times. I am
currently studying medicine in Ireland, which places me over 5,000 miles away from the comfort of my home and family in California. During the pandemic, my homesickness has been accompanied by a constant worry for my family's health and wellbeing, stress regarding when I may be able to see them in person again and the struggle to push these feelings aside to remain a good student during my hardest year in medical school.
I've had to prioritise my mental health in ways I did not have to before, which has taught me some tips and tricks that I'd like to impart to you. A fair warning though– nothing on this list is particularly revolutionary, but these methods have helped me cope with the current realities of our world and if writing about them can help even one person out there, I'd consider it a job well done.
So, without further ado, let's get into it.
Try to stick to a normal (ah– don't we all miss normal) work routine.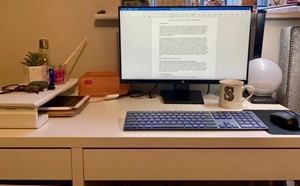 Many of us are used to the routine of getting ready in the morning and rushing out the door to make it on time to wherever we need to be. This routine helps us wake up and get into the work mindset. I know many of us do not have the liberty of rushing out the door nowadays, but simply waking up at the same time daily and putting on a fresh pair of clothes (this one is for all of us who have lived in our sweats for the past year) can really serve as a mood-lifter. Whether you're a student or a full-time employee working from home, it's important to change up your workspace every once in a while. Set up your desk in a way that motivates you to work and get crackin'!
Go outside.
This one is self-explanatory. Leave your homes and venture out into the unknown (while being sure to follow social-distancing and movement restriction guidelines) to get active and get some fresh air!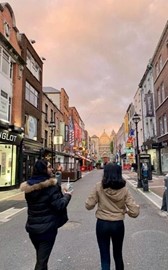 Video chat or phone calls.
If you're like me and are separated from your family and many of your friends at this time, schedule some video and/or phone calls so you can stay connected! You can even throw in some fun activities like doing free online escape rooms, watching movies together via Netflix's or Prime Video's watch party features and so much more!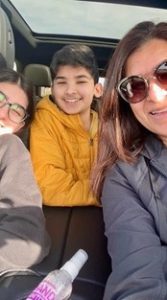 Share your feelings and don't be afraid to ask for help.
Now, it's no secret that being stuck at home for the better part of a year has made some of us go stir-crazy. This can become overwhelming for many of us, which is where tools like counselling, journaling or simply speaking to a friend come into play. Please don't be afraid to ask for help if you need it.
Be kind to yourself.
Your mind, body, and soul have been through it this past year, and you deserve to be proud of yourselves. Don't be too hard on yourself or feel like you have to be perfect right now. Take care of yourself, remind yourself that you're doing a great job, and drink plenty of water (it's always the simple things we forget to do, isn't it)!
Simrin is currently in her fourth year of Medicine at the Royal College of Surgeons in Ireland.