Considering Public Relations as an option for further study? Our ambassador from Vietnam and student of Public Relations with New Media, Hue Linh Duong shares her experience of putting the practical elements of her course into practice.
Cork Institute of Technology (CIT) hosts an annual Innovation Week that showcases the talents and ideas of students. My class, Masters in Public Relations and New Media invited three PR professionals from Dublin and Cork to speak at a seminar event for us. This allowed us to showcase everything we have learned in front of a larger audience as well as use our skills practically.
Communication
For this seminar, all classmates worked together harmoniously to pull it all together. We managed to do so in the space of one week. It was a tight deadline but we got it done. Preparing for an event like this allowed me to learn to communicate as part of a team — a critical skill for anyone working in public relations. I was able to describe, explain and present my ideas effectively and I really felt understood by my Irish classmates who have been so understanding and open to cultural differences. This event really tightened my relationship with my other classmates.
Event Management
Event management requires you to manage your time and organize everything effectively. Firstly, we set up the agenda or programmes based on the theme "Story? Corporate Storytelling in a Digital Age". Next, we prepared the press release to invite the industry speakers. With easy coordination, we shared the work and supported each other — which resulted in a successful event and an unforgettable experience.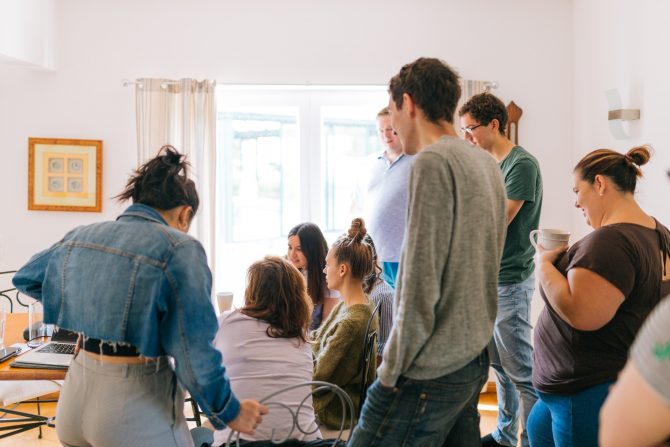 Storytelling Skills
Everyone has their own story but not many people can actually tell a story. In a world where millions of brands co-exist it can be difficult to differentiate your product from hundreds that are similar. People nowadays are more likely to scan rather than fully read something and consumers are often described as having goldfish memories as a result of being overwhelmed with so much information every day. This means people can very quickly forget something they have just read. That is why, more and more brands prefer telling a story through a video, infographic or animation. However, not many stories are successful at winning the attention of the audience — they have to find out their own "Magic slide" to build up their unique story. For me, a good story is like a good recipe. You need various ingredients and flavor but ultimately it has to be simple to follow, making it easy for the audience to remember in their mind and heart.
Networking
The seminar was a brilliant opportunity for students to connect with the successful public relations practitioners in Ireland. They shared their valuable experience accumulated through success and failure which is something you are unlikely to find in any book. Each speaker has their own strength that I can follow and learn from them. Jill O' Sullivan is an experienced editor. She found that traditional journalists and editors need modern technology and not just writing skills in the digital age in order to win over an audience. "You have to present where your potential audiences are at", said Jill. Marie Toft is a managing consultant at a firm called Emotionise. The company's name reflects her aim using emotional content to engage with the largest possible audience. And, Jack Murray, CEO and Founder of All Good Tales and Media Q, used his sense of humour to tell us great stories that can get more attention, an emotional connection, funding, loyalty and sales.
What you learn every day in lectures will add to your knowledge and skills, but ultimately action is required to translate theories into practice. The time spent working towards this event will be a memory I cherish forever. I loved every minute of it and have learned so much. The memories were documented in a video that I hope you will enjoy.