Making the ordinary extraordinary: Singaporean Student Ambassador Mahpara tells us how to enjoy the little things in life
To look for joy in hidden places, with the threat of isolation looming, has proven difficult this past year. The 'Covid university experience' has been tough to navigate and, at times, has proven to be quite demoralizing; but even in the bleakest of times, there are moments of joy we can carefully curate to fit our busy schedules while remaining safe.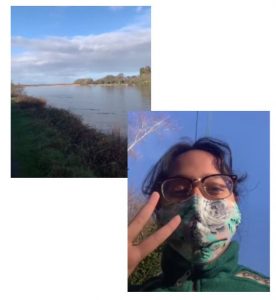 Getting acquainted
In the first few weeks of classes in this academic year, I found that getting used to lectures online was the most challenging aspect. To always ensure your microphone is muted, having a strong Wi-Fi connection so that you're not constantly leaving and joining the classroom and putting tape over the camera— to prevent any awkward encounters, was a learning curve.
Adapting
The added safety net of parents and siblings bringing life and noise to our surroundings is missing and instead, we have to find ways to fill it by ourselves. That is when I started to plan my adventures to force movement and excitement into an otherwise isolating schedule. To abide by safety regulations, in some cases this simply meant a walk along Corrib River, especially when the weather was accommodating. The University Trail, which I join from Corrib village, up to the sports fields and beyond, until I'm forced to turn around, is stunning.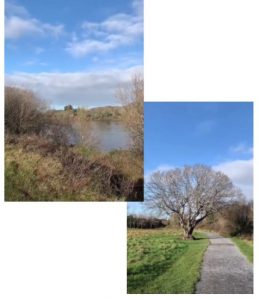 This trail includes views of the river, the castle, the occasional cow and an abundance of dogs. It encourages exercise not only of your body but of your mind, the sound of gravel accompanying your thoughts. The weather from September to November last year was, for the most part, beautiful in Galway. Though the route is planned and memorized, the days you choose to walk it, the surprising sunny mornings that inspire you to leave your apartment is an adventure in and of itself.
I was also very lucky to have a roommate who had a car. This meant that my housemates and I, all in the same bubble, could drive down to Salthill to enjoy a chillier walk, with the rocky stretches of beach before us and Coco cafe's hot chocolate keeping us warm.
There is adventure in everyday activities and moments. A walk can seem so simple and an outing for groceries can seem so mundane but to harvest joy into these seemingly forgettable moments makes it impossible for life to become entirely boring. It has helped me in having the best semester I've had yet.
Mahpara is studying Medicine at the National University of Ireland Galway.