Before she came to Ireland to study at Dublin City University, U.S. student and vegan Shamile Aldossary's family and friends teased her by sending her endless pictures of traditional (meaty) Irish food, but she needn't have worried. Much to her delight, Dublin's vegan food scene is popping! (and the donuts are amazing).

Before moving to Ireland, I had a lot of worries. Probably my biggest concern was the availability of vegan options. My friends and family did nothing to ease my fears in the slightest by sending me pictures of traditional Irish cuisine. I think that was just their way of trying to convince me to stay. But I was so nervous that there wouldn't be any options for my plant-based lifestyle. The thought that I might not be able to reward myself with Ben and Jerry's vegan ice cream after a tough day made me feel homesick before I even got here.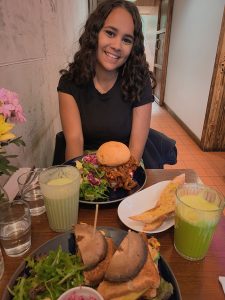 To my very pleasant surprise, Dublin is one of the most vegan-friendly cities I have ever been to! The scene is truly popping. It seems there are new vegan restaurants popping up every month. Now my only worry is being able to try all of them before I leave and with my limited student budget.
And the PRODUCE?! Oh my gosh. I actually cannot stop talking about the fruits and vegetables in Dublin. It is so delicious and so CHEAP. (Americans, I am talking Whole Foods quality at an 1/8 of the price).
Facebook group Dublin Vegans is here to help
My biggest recommendation is to join the Facebook group, Dublin Vegans. This community is fantastic: sharing tips, recommendations, advice, and events. In December I attended a Merry Vegan Christmas Potluck hosted by the group – it was a blast! In general, Facebook is a great resource to find out about weekend markets and pop-ups in Dublin. You have to be sure to attend the annual Dublin Veg Fest as well, usually held in October.
Oh, and yes, Dublin does have Ben and Jerry's. Dunnes Food Hall usually has several flavors to choose from. Thank goodness.
Please keep reading to check out a guide of some of my favorite vegan or vegan-friendly spots. You can also check out my *Dublin Vegan Journey on Instagram @Shamile.Aldo.
[divider] [/divider]
Sova Vegan Butcher

Located on Pleasant Street in Dublin 8, this is a must-try in Dublin. Or in my case, must try a few times a month. Oops! An excellent choice for a nice meal in a charming restaurant, whether brunch or dinner. My personal favorite: a vegan take on an Irish breakfast which comes with faux bacon, white pudding, black pudding, and scrambled tofu. They also have fresh juices and smoothies. If you're a student on a budget, brunch is definitely the way to go. Massive portions for a fair price.
Cornucopia
A vegetarian staple in Dublin for over 30 years, this is my favorite spot when it is a rainy day and I want a home-cooked meal but don't want to cook it myself. A counter service-style restaurant, Cornucopia has the warmest, most cozy meals. They do it all: breakfast, lunch, dinner, and desserts. Not everything is vegan, but everything is vegetarian so just be sure to ask. I beg of you, do not leave without trying one of their raw cakes.
Token
Located in up and coming Smithfield, Token is one of my favorite places for a fun evening with friends. More than just a restaurant, Token is a retro bar, arcade, and pinball parlour. They have the most delicious vegan junk food a girl could ask for.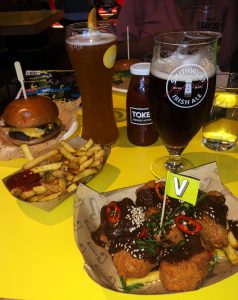 The most noteworthy (and Instagrammable) is their Vegan Big Mac. Holy not-cow. I personally love their vegan nuggs, which come in so many different flavors. All of their offerings come in such gigantic portions that I never have room to try their vegan dessert. It looks amazing so I just need to plan ahead next time.
Veginity
Definitely a bit more upscale, Veginity is a lovely dining experience. They serve all-day breakfast, brunch, lunch, and dinner. If you can't make it for a meal, stop by for a croissant. They have an amazing selection of vegan pastries. I also heard they do a build-your-own kombucha mimosa…
McGuinness Takeaway
A classic Dublin chippery but with so many vegan options. Not sure if my favorite is the battered tofu or the vegan kebab. They cook everything on a separate grill, and as far as takeaway food goes it's not too greasy. Everything is under 5-6 euros.
DiFontaine's Pizzeria
I absolutely love this place, if not for their delicious vegan pizza, then for their kind and friendly staff. It has that New York pizzeria feel that sometimes I just crave. When I went to try a slice, the owner shared a story about how they came up with their recipe.
A girl came in looking to surprise her girlfriend with some New York style pizza for their anniversary. She asked if she could bring in cheese and if they could make pizza with it. DiFontaine's hadn't made a vegan pizza yet, but they happily agreed to help the couple. Next, they invited vegans to come into their shop to try different faux cheese combinations. Through trial and error, they came up with their incredible vegan slice:  Follow Your Heart cheese (the best faux cheese brand, as proclaimed by me) and homemade cashew ricotta. The ricotta is house-made every day and if I could I would eat it by the spoonful.
The Happy Pear
As you might expect from the name, this is a happy place in Greystones. Both a food market and café, it is decorated with lively colors and comfortable seating indoor and outdoor.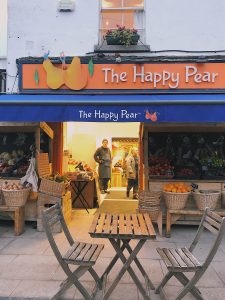 The best way to visit, in my opinion, is to go after completing the Bray-Greystones Cliff walk. This is an easy two-hour walk along the stunning coast that includes views of the Irish Sea and Wicklow Mountains. A slice of The Happy Pear's vegan carrot cake tastes even sweeter afterwards.
Vegan Sandwich Co.
One of my favorite vegan stands that I simply cannot get enough of.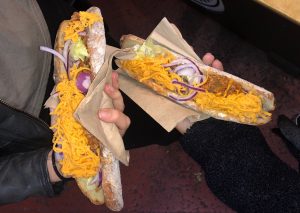 They serve their signature vegan roll with seitan chick'n and you can pick from a number of different toppings and sauces. My go-to order is spicy chick'n, chili mayo, cheeze, lettuce, and red onion. Yum! They also serve breakfast muffins with a faux egg. Haven't tried it yet, but it looks amazing. They are at different markets around the city, but just track them down on their Instagram @VeganSandwichCo.
Wigwam
Coffee shop and restaurant on the ground floor; nightclub, ping pong tournament, karaoke, and comedy club in the basement. This place is such a cool spot to hang out in. They have a number of vegan options on their menu, including Jerk Cauliflower tacos, Disco nachos, and a salad bowl. Just be sure not to leave without trying their Irish Coffee, which can be made vegan. They are also one of the few places in Dublin that does a bottomless brunch.
X'ian Street Food
Have you heard of a Spice Bag? I'd be surprised if you haven't because this bag of greasy goodness is truly a part of the Irish experience. Traditionally a mix of chicken, chips, and Chinese spices, I assumed as a vegan this is something I would just have to miss out on. But fear not! X'ian Street Food on Grafton street has a vegan version: the Tofu Spice Bag. And it is amazing.
Vish Shop
You just have to try their Vish™ and Chips. They have a wide variety of takeaway-style foods, including Cheesy Chips, Cauliflower Wings, and Carrot Dogs.
Sano Pizza
Authentic Neapolitan-style pizza in Temple Bar for only 6 euros. So delicious and easily made vegan.
Aperitivo
Another Dublin spot that has excellent vegan pizza, but also mouth-watering paninis. With plenty of toppings to choose from, it can be an indecisive person's nightmare. My personal favorite is the Vegan Pulled Pork, but my friend prefers the Vegan Green that comes with an incredible pesto base.
Take A Veg
Vegan street food with a Latin twist. It took me a while to find this place as it was tucked into the Moore Street Shopping Mall on Parnell street, but I'm glad I did, because it was absolutely delicious. Try their buffalo sandwich or Pepito sub. Follow their social media @TakeAVeg because they announce incredible limited-edition offerings including spooky activated charcoal pancakes for Halloween.
Groundstate
Coffee shop and café by day, yoga studio by night. I haven't had a chance to take a class yet, but I recommend stopping by for a healthy plant-based meal and a tasty cup of coffee.
Happy Food
A Dublin plant-based favorite. They have a wide variety of healthy and not-so-healthy options, from their buddha bowl to their vegan whopper sandwich. Definitely worth a visit for their breakfast croissant sandwich and the Avocado Heaven smoothie.
Carrot Tail
100% vegan and zero waste. Affordable prices for high-quality food. I am a sucker for their Chikon and Waffles.
Hot Donut
I love a good donut, and Hot Donut might be the best. They have a number of vegan options, and they are constantly coming up with new ones. Which I am constantly telling myself is an excuse to stop by once a week in case they have a new flavor.
Rolling Donut
There seems to be a million of these around Dublin city, and thank goodness for that. One of my favorites is the Vegan Vanilla Glaze with Pistachio, yum!
Bear Market
VEGAN CINNAMON ROLLS. That's all I need to say. Might be my favorite café to sit in and read while enjoying a sweet and oat mylk cappuccino.
PÓG
There are two locations: Bachelor's Walk and Tara Street. They do an amazing vegan pancake; my order includes bananas, coconut cream, and chocolate chips. They also have an incredible vegan afternoon tea.
El Grito
Finding good Mexican food in Dublin is a feat. But I found it! They don't have many vegan options, but enough to make me happy. My order is the hibiscus tacos with a side of guacamole and Horchata. All of this for under 10 euros!
[divider] [/divider]
The best part of this guide is that I barely scratched the surface of plant-based options. I couldn't include all the incredible, innovative vegan options in this guide because there are simply too many.  Aren't we lucky? So, my fellow Veggie, go out and explore the beautiful, vegan-friendly city of Dublin. And DM me if you stumble upon something incredible and vegan because my already four-page-long Google Doc, Vegan Bucket List for Dublin, could definitely use your tips!