Abbie O'Connor, who is originally from Atlanta, Georgia, is full of praise for how students are coping with the restrictions but still enjoying college life
I was born in Atlanta, Georgia, but I spent the majority of my life living in Westmeath, Ireland. I graduated from high school in Boston in June 2020 and made the decision to move back to Ireland for university after three years of living abroad. I am now studying business in Dublin City University.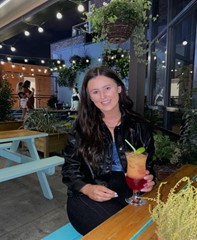 Social life
This past year has been challenging for people all over the world. College life has been very much affected by the global pandemic.
However, what stood out to me in my first semester was that, despite the restrictions and the switch from in-person lectures to online zoom classes, students in Irish universities still had many opportunities to make new friends and maintain a social life whilst complying with the Covid-19 restrictions
Outdoor restaurants and bars
Throughout the pandemic, many bars and restaurants in Dublin created or improved their outdoor dining facilities. This meant college students could socialise safely and meet new people in compliance with the pandemic guidelines.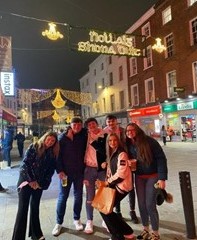 Other options
When increased restrictions were introduced in November and early December, this meant that students were not able to meet at restaurants and bars even outdoor any more. My friends and I found that going into the city centre and walking around or renting bikes to explore the sites of Dublin was just as much fun. We are fortunate to have many beautiful parks nearby in Dublin, so we were able to get outside and exercise whilst socialising safely.
Student accommodation
Although I can only speak of my own experience of campus accommodation, I believe that it is extremely beneficial socially. Covid-19 restrictions meant that people were not allowed to have visitors over to their homes, but with campus accommodation, students were able to interact with their roommates.
Clearly the college experience this year is very different in many ways. Social interaction has been particularly affected. However, I have found that students across Ireland are resilient and open to making the best of this difficult time.
Abbie is studying business in Dublin City University