Brazilian Student Ambassador Sandra Rocha has some pretty cool advice about what to do when you feel like giving up – and we've all felt like that in the past year or so
Going to college was not really a dream of mine. When I came to Ireland, the idea was just to take an English course. However, after two years, I decided to take this important step because I saw many job opportunities in Ireland.
I am from Brazil and studying another language is a challenge; there is also the fear of not being able to understand the teachers or having trouble doing assignments and exams.
I remember that when the pandemic started in Ireland, face-to-face classes were suspended and we started having them online. I know I let the work accumulate and when the exams started I had no time. But I couldn't concentrate with so much happening at the same time, especially in the first year when you don't know how to do an assignment. The words don't come out easily and you may not have the necessary technical vocabulary to write properly.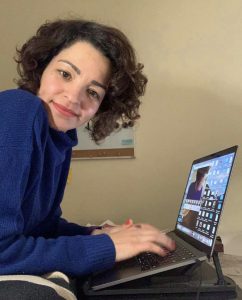 Seeking help
At these times it is very important to seek help and the college has an important role in providing the support that the student needs.
I decided to call the college and talk to Zulaine Cardozo, Coordinator of the Faculty of Administration at CCT College, as she was also a student and had also experienced the difficulties of the first year. She told me to stay calm and not to demand perfection and to concentrate on finishing the semester; then after I could decide what to do and she said an important phrase that I follow in my life.
"When we are sad, we cannot decide anything because we can regret; when we are happy, we must not promise anything." Such kind words that soothed my heart. It was like a hug. We often think that showing vulnerability is weakness, but on the contrary, when we talk about our insecurities and fears, we become stronger.

Top tips
Here are some tips to help you in this process:
Tasks: Always try to do assignments as soon as the teacher gives them, do not let them accumulate. Don't be in a hurry and don't be cruel to yourself. Remember that you're in college to learn, you don't have to be perfect.
When you feel like giving up: Close your eyes and remember the importance of this faculty in your life. Visualise yourself graduating and receiving your diploma. Feel the emotion and the value that the diploma has in your hands. Remember your motivation, what made you go to college.
Difficulties arise in life so that we can become stronger: when this occurs ask for help. You don't have to do this journey alone.
Celebrate each step: Did you send in an assignment? Celebrate. Did you do your exams? Celebrate. Celebrate each stage of the journey because the time is flying.
Sandra is pursuing a BA (Hons) in Business at CCT College Dublin