Coming to study in Ireland on your own may seem daunting, but it is worthwhile and will help your education and build your character. So says Will Stover from Canada, who maintains that choosing to study in Ireland was a great way to get out of his comfort zone.
At least once in your life you will probably have heard the phrase: "You need to step out of your comfort zone." I know I have . . . many times. It can be applied to anything: school, sports and, most importantly, life in general. The phrase is important because if you are comfortable, it's likely you're not pushing yourself or growing as a person as much as you could be.
As an international student, travelling to a new country can be a great opportunity to step out of your comfort zone. I came to Ireland not knowing anyone, not knowing what my room would be like, not knowing what the bus system is like, and not knowing how university in Ireland would treat me. And yet all of these unknowns are exactly what I was looking for.
A time to grow
After three years of college in Canada at the same school, in the same city, with the same people, I was too comfortable. Things were easy for me. All of the factors were known. I didn't feel like I was growing as much as I could have been.
There were other opportunities to continue my education in Canada, but again these would still be very familiar to me. So when I saw that TU Dublin had a programme that was an extension of my current one, I thought it was meant to be.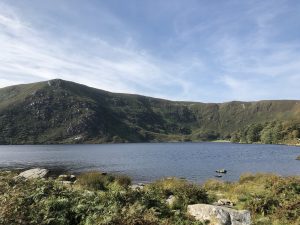 The real Ireland
For years I had heard only good things about Ireland, from the beautiful landscapes and old castles to the friendly banter in the pubs. But personally I feel that you can only take in so much of a place as a tourist; you don't really get to know the ins and outs of a city or country without living there and really taking the time to get to know it.
So why not move there for a year? This would not only challenge me as a person, but give me a great opportunity to get to know Ireland for what it is, not what the tourism industry wants us to see.
After living here for over three months I can say that is exactly what I received. I have seen what the people, politics and culture is really like. The good and the bad, and that is what I feel is important.
Embrace the challenge
"A smooth sea never made for a skilled sailor." Franklin D Roosevelt's quote is a perfect summary of why you should step out of your comfort zone (it also applies perfectly to Irish weather!). Adding a bit of chaos helps strengthen you as a person and changes your perspective on many things. You may look back on your old self and think about how much you've changed and how far you've come. It is an investment in yourself, which I feel in 2019 is not a high enough priority for most people.
There may be many factors limiting you in your life to do such a thing, such as money or family. But one thing that should not stop you from such an adventure is yourself. Some might use the reference "Yes Man", and while I like that idea, I do think it should be a calculated "yes". But if there is no self-sabotaging reason not to go, the trip should be made.
Strengthen your soul
To wrap up, I would like to share with you one of my favourite quotes that sparked the idea. It is a very blunt version of being out of your comfort zone, but sometimes, I think, you need to hear it like it is.
"Character cannot be developed in ease and quiet. Only through experience of trial and suffering can the soul be strengthened, ambition inspired, and success achieved." -Helen Keller