Named as the "Coolest Place on the Planet for 2017" by National Geographic Traveller, Donegal is home to the Northern Headlands of the Wild Atlantic Way and the largest Gaeltacht. Jo-Ezer, our Letterkenny IT and Malaysian Ambassador shares his favourite spots…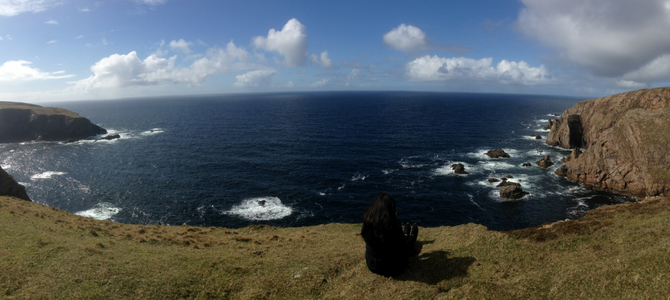 Donegal, where Irish culture thrives in its simplest, purest form with a deeply resonating sense of a community. It's a magical place where eleven lighthouses shine out across the sea, beckoning you as they did me.
During my time in Letterkenny, I've had the privilege to have left nothing but footprints, and taken nothing but many, many memories (and photos) from this rugged and virtually untouched, remote yet breathtakingly beautiful region in Ireland.
Here are three places that you should be already adding onto your to-go list if you visit Donegal, especially for students who are sniffing for an exciting and budget adventure out of town. Thanks to Local Link Donegal's Route 271, exploring from rocky trails to cliffs, from valley to peak, and cuddling intimately in Mother Nature's embrace does not get any easier.
Arranmore Island
How to get there to and from Letterkenny
Local Link Donegal, Route 271 – Letterkenny Bus Stop @Reynold's Music à Burtonport (6euros return)
Arranmore Ferry – Burtonport Pier à Arranmore Island (9 euros return)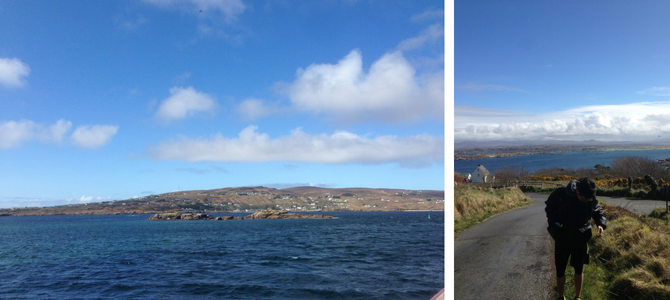 Since the bus only leaves from Letterkenny once in the morning, and once in the evening, unless you are planning to stay a night on the island, a day trip is preferable. The bus will drop you off at the pier where there's a small office for you to get your tickets validated. You can also grab a foldable guide that gives you a few pointers on what to do on the island, it will come in handy just in case the Irish weather decides to pull a fast one on you. There's also diving and water sports if you're up for it!
When I visited Arranmore Island with a friend, we explored the hiking trail all the way to the north-western most point on the island. There was a bit of hike at the start, but the rest of it was a brisk walk that took us around 45-50 minutes, on a hilly trail that overlooked the sea and the neighbouring Arran islands.
It was my first time seeing the blue North Atlantic and its waters rage white as they violently smashed against solid granite walls far below. Yes, it was my first time at a cliff, and having a more-bitter-than-sweet relationship with heights, it was, for lack of better word, edgy. It was also the first time, in true Donegal fashion, we hitched a ride back in the back of a SUV, squeezing with a very friendly family, if not for whom we might have missed the ferry.
All this time I've thought about describing the scenery, but it just would not do the splendours of Creation the slightest bit of justice so I'll let the photos speak for themselves.
Remember to coordinate your commuting time between the ferry crossing times and the bus schedule. If something unexpected happens, just call into the office at Burtonport pier and tell the lady to ask the bus driver to wait for a little longer, as I did. Thank you, Aisling, you're a star!
As St Columba once set sail for the island of Iona from here, perhaps this is where your journey, story, and adventure begins – but of course, with a picnic lunch, windbreaker, camera, and some fit legs.
Mount Errigal
How to get there to and from Letterkenny
Local Link Donegal, Route 271 – Letterkenny Bus Stop @Reynold's Music à Dunlewey (6euros return)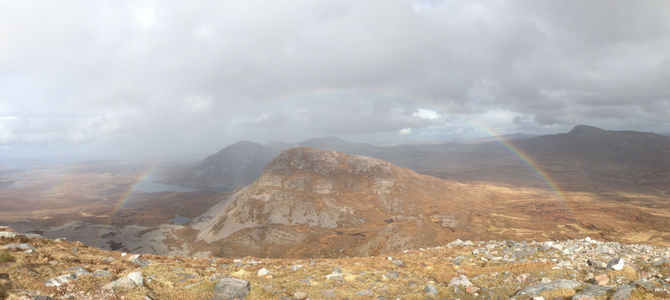 You'll have to backtrack a little on foot to the carpark that you'll pass on the way. It will take an extra 10 minutes, but here's a tip, cross the road first so that you're walking at the edge of the hilly road, stop and absorb the stunning beauty that is Dunlwey Lough, the roofless chapel that you cannot miss, and the valley that cradles it.
The first 20 minutes or so up the trail is very boggy. A walking stick for footing tests and waterproof boots are a must. Thenceforth, the trail becomes rather rocky and scattered with loose pebbles and stones, tread with care!
After around 30 minutes, if you should be to see a significantly flat-topped mountain in the north-eastern direction, that's Mount Muckish. A little further up, and the cars speeding by R251, indeed, look like ants scurrying away. 15 minutes more of trudging, and you'll reach a point where you can see past the other side of Errigal, from Lough Altan all the way to Gortahork, and the coast towns nestled by the North Atlantic. The mountain is altogether very rocky with lots of clearings, unlike the hills back in Malaysia, so it's easy to get photographs, but the best ones are the ones kept away as memories. The weather was not the best when I hiked, but I for the first time in my life, I had the chance to see both ends of double rainbows!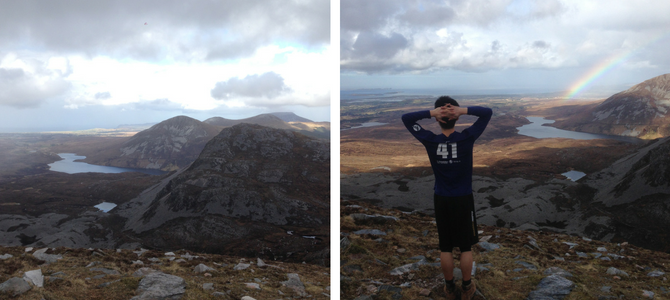 There are two peaks, with an extremely narrow ridgeline separating the two, the lowest of this dangerous stretch known as a col – (ha, new word!), only by setting foot on the second peak, is your mission considered accomplished!
At 750m above sea level, and as highest peak in Donegal! If you missed the bus back, like my friend and I did, hitch a ride back. Thank you, Peter, a Raphoe-based Garda! Now that you have been enlightened, go forth. Get a life, take a hike.
Glenveagh National Park
How to get there to and from Letterkenny
Local Link Donegal, Route 271 – Letterkenny Bus Stop @Reynold's Music à Glenveagh National Park (6euros return)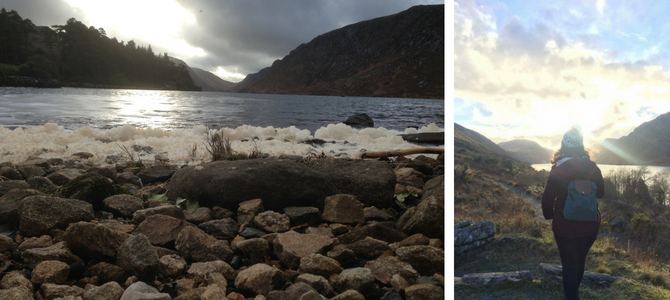 I visited this gem of a place during an outing that the International Society organised. There's an option of walking to the castle or taking a small bus in. Having walked in the first time, I would take the bus in if I were to visit again because the park is so much bigger than we can imagine. Heads up: one day is not enough!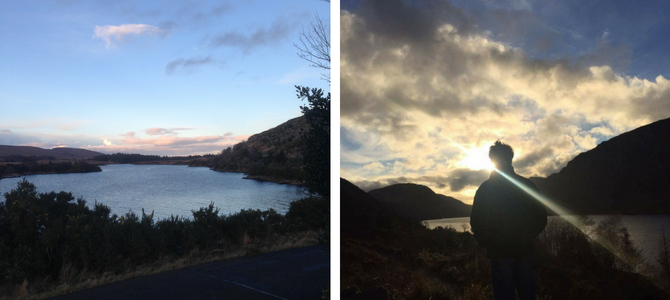 Beyond the castle and its rich history, the park has several walking, or even hiking trails that you can choose from. You can explore the park, with all the lakes, hills, fishing spots, and all its beauty on a bike as well!  The countryside view was almost…enchanting. It was another of those times I just stopped taking pictures and enjoyed the moment.
Helpful links and resources: