The Waterford Institute of Technology (WIT) Malaysian Society organises trips throughout the year and these getaways for students are a great way to take a well-earned break from study. Seen Mun Chung, our Malaysian Ambassador, tells us about her memorable visit to Killarney and Dingle…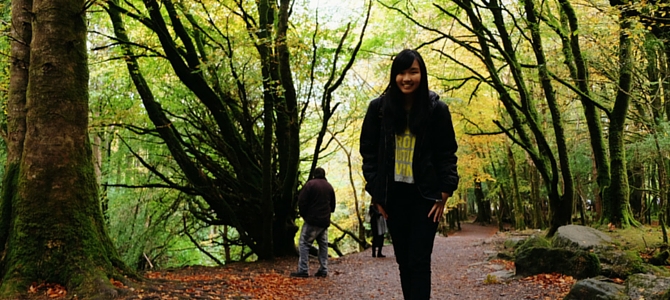 I've been studying abroad in Ireland for two years now, and a two-day break to Killarney National Park and Dingle in October was definitely one of the most memorable weekends of my time here. While away, we were able to relax, refresh and revive ourselves. The weather was lovely and the charming sunshine was the best medicine to our study-weariness.
On the first day, after two and a half hours of bus journey, we visited Killarney National Park. Killarney National Park (in Irish it is called Páirc Náisiúnta Chill Airne) is located beside the town of Killarney, County Kerry, Ireland. It was the first national park established in Ireland, created when Muckross Estate was donated to the Irish state in 1932. Killarney National Park expands over 25,000 acres (10,000 hectares) of mountain and lakeside beauty, including woodlands, islands, waterfalls, historic houses and working farms.
One of the most popular panoramic viewing points is Torc Waterfall. You will hear Torc Waterfall before you see it. The orange leaves of autumn enhanced the beauty of the scenery. At the park's heart is the Muckross Park which is surrounded by gardens and even traditional farmland. We also had a chance to visit the Ross Castle before going ending our trip in Killarney National Park.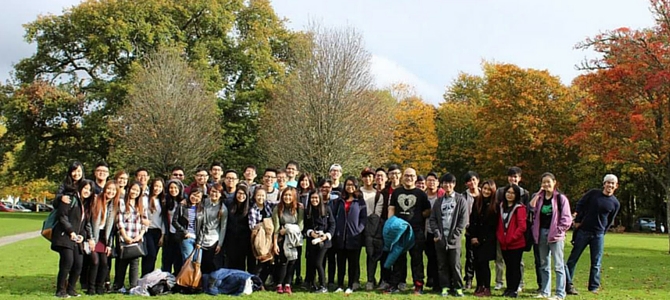 After checking in to our hostel, we took the golden opportunity to walk and shop around Killarney town. For Nike-lovers, you will find out that the Killarney Outlet Centre is a shopping heaven. Nike products are sold at low prices in the Nike Factory Store located in the Killarney Outlet Store. If you love to eat seafood, Quinlan's Seafood Bar is a must try. It is a family run business, established in 1960. As overall winners of Radio Kerry Business Of The Year awards, they serve fresh seafood (mostly fish) to ensure complete customer satisfaction.
We travelled to Dingle on the next morning and joined the Fungie Dolphin Boat Tour. The whole trip takes about an hour to complete and it costs €11 and Fungie the dolphin has put Dingle, Co Kerry on the map for animal lovers worldwide. Throughout the boat trip, most of us acted like kids and screamed as loud as we could when the dolphin jumped out of the water to meet us. Fortunately, we were able to meet Fungie and enjoyed ourselves in the gentle rocking of the boat as it glided across the water. We also did not miss the chance to visit Dingle town before ending our journey. It was a heart-warming journey and one I'll never forget.
It you are interested in studying in Ireland, visit the Education in Ireland website for more information.