Find out more about studying Biotechnology in Ireland from Wagner Hernandes, our Brazilian Ambassador and Government of Ireland Scholar. Currently studying a MSc in Biotechnology at University College Cork, he explains more about the industry and why Ireland is a great place to study and work in the field…

Biotechnology can be simply described as the use of living organisms to modify and/or to produce something of interest. Although it can be a mouthful to some, it's not rocket science (but NASA has biotechnology trials in space!). It's present in our day-to-day lives and many products that we use are derived from biotechnological processes, including fermented drinks and foods, washing detergent, plastic and pharmaceuticals.
With the advent of the so-called bioeconomy, there's the need to develop new technologies and processes for the use of biological products. That's where biotechnology plays a major role.
This is quite an extensive field of study and it involves a variety of different areas. Biochemistry, bioinformatics, cell and molecular biology, chemistry, genetics, microbiology, the list goes on…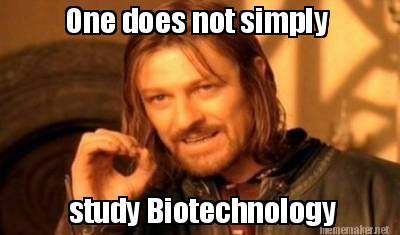 With the advent of the so-called bioeconomy, there's the need to develop new technologies and processes for the use of biological products. That's where biotechnology plays a major role. It impacts most economic sectors, from agriculture to industry and healthcare. In this context, Ireland has become a highly attractive location for investment in and development of the biotech sector mainly because of three factors:
Globally recognised education
Exemplary regulation and standards
Growing research and development excellence
Many important biotechnology companies are operating in Dublin, Cork (Little Island and Ringaskiddy) and Limerick, including nine of the top 10 biopharmaceutical industries. Therefore, highly trained and skilled professionals are constantly required.
There are approximately 15 courses in biotechnology between undergraduate and postgraduate degrees at Irish institutes of technology and universities across the island.
Please note: some of the courses listed may not be titled as biotechnology but the course curriculum might approach different aspects of biotechnology and its application. You should always search different degrees, higher education institutions, and also important, description of the modules. These are often available online and will give you an idea of how the course is offered and assessed. Find the one that suits you best and go for it!
Choosing University College Cork (UCC) was very easy for me. After spending one year in Cork as a visiting student from Brazil's Science without Borders programme, I was more than familiar with the place, facilities, structure and everything else that goes with it. Once you experience study abroad education and have such an amazing time, you've that constant desire to go back. When contacting the UCC International Office, I discovered the Government of Ireland International Education scholarship programme.
I'm currently enrolled in the MSc in Biotechnology, ranked in UCC's top 3 postgraduate courses in the Irish Times. It's offered by the School of Biochemistry and Cell Biology in an interdisciplinary collaboration with other departments. With an industry-based curriculum throughout three terms, lectures, lab practicals, tutorials, workshops and a six-month research project (dissertation).
Students can conduct the research project from April to September during a work placement in an industrial partner or research centre around Ireland or abroad. In order to prepare the students, the University's Careers Service provides assistance with CVs, applications and interviews. UCC also has its own Biochemistry and Biotechnology society, make sure to check them out on Facebook.
… or develop a new probiotic… or a new crop variety. The possibilities are endless!
Interested in studying abroad in Ireland? Visit the Education in Ireland website for more information.