Trinity College Dublin MSc student Michelle Galvin tells us about her Irish love affair.

A decision built on romance
Countries are usually referred to in the feminine gender, but not my Ireland. My Ireland is a witty gentleman, a beautiful man raised in the countryside; I think his father might have been a shepherd. He has thick black hair that flops around and cascades over his eyes, he has piercing sky-blue eyes like Pierce Brosnan's, and a lovely wide jaw-line.
My decision to study in Ireland was built on romance — I fell in love with this country over 15 years ago and I've been having an on-again, off-again relationship with him since then.
Falling in love with Ireland
It's hard not to fall for Ireland. As many love affairs do, mine began by accident. It was August, many years ago; I had just completed my undergrad degree in Southern Florida. I was inter-railing around Europe but had missed my flight home from Heathrow. The options were limited, but the least arduous route was a trip to Dublin, from where I could catch a connecting flight home to Miami.
Taking the path least travelled — as I always do — I made my way by train from London to Holyhead in Wales, and then by ferry to Dun Laoghaire, a port in south county Dublin. It was a gorgeous sunny morning when I arrived. White seagulls cried overhead as they darted in and out of the sea, scooping up breakfast. Sailboats peppered the bay and reminded me of my hometown of Key West. People milled around happily along the shoreline, out for their morning walk with the dog.
I've landed in Pleasantville, I thought. I liked this place, a lot, and Ireland wasn't even on my grand European itinerary. How had I managed to leave this one out!?
Ireland and I spent a whirlwind five days together that first time. I went to the National Gallery for a peek at some very grand Irish art, and then whisked myself off to U2's hotel — The Clarence — for martinis before dinner, and pints in Temple Bar with some of Ireland's most talented musicians. I was falling deeply in love!
Five days later, I stood at the Ha'penny Bridge hailing a taxi. It was time to say good-bye and return to my former life. Tears streamed down my face as I rode down the Quays, soon to be whisked away forever. But when you're in love, you find a way to make it work.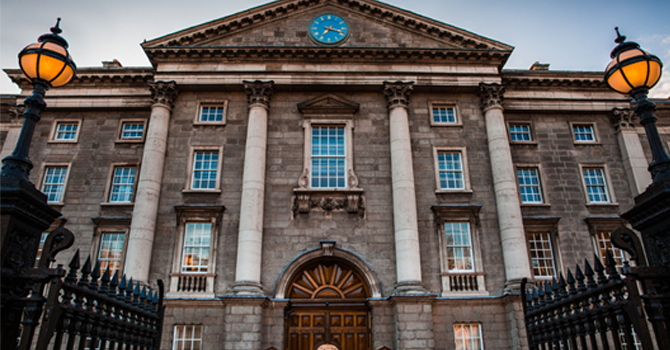 Studying for a BA
I returned home, threw my backpack in my room and began working my way through a pile of mail. I came across a letter from my alma mater, the University of Miami. Inside, there was a voucher for a student visa. A student visa that was good for anywhere in the world for six months. That was good enough for a second Irish affair. My third Irish affair was longer. It was a mature relationship by now, so we moved in with each other and settled down. It was time for a commitment; I enrolled for a five-year degree course at the Dental School in the prestigious Trinity College Dublin (TCD).
Graduating in 2005, I returned to the US again in 2010, but the sweet memories of Ireland never leave me alone — This love affair really was becoming addictive. I'm a bonafide adult now and a mother of three Irish-born kids. I stole and married one of Ireland's finest and whisked him back to America with me.
The desire to go back
However, I lived with a terrible yearning for my past lover's warm touch though, for his dramatic craggy west coast cliffs, for his long romantic sandy beaches, for his cosy touch while tucked away in an old pub snug with close friends on stormy, cold nights — a feeling that only one who has experienced it could ever understand. I longed for him to wrap his strong arms around me while he sings "Dirty Old Town" in a crowded, warm bar — laughing and floating around the dance floor, dancing a festive, clumsy jig. In dreams, I floated across the blue waters at Dun Laoghaire bay, skipping my hand across the icy water, while pressing my face into the fresh Irish air. I longed for him.
Back home, among friends, I heard rumours about him. He had experienced some hard times, but had emerged all the better. He was now a world-class entrepreneur, known for innovation and creativity. The world's hippest Fortune 500s and thousands of international students had discovered my secret Ireland.
So before I knew it, I was back for more at Trinity College, doing an MSc in Entrepreneurship, which had lured both myself and my family back. Now here I am, looking for an "unfair advantage" in the world of startups and innovation — a dentist with a dream standing on the banks of the River Liffey; my river of life.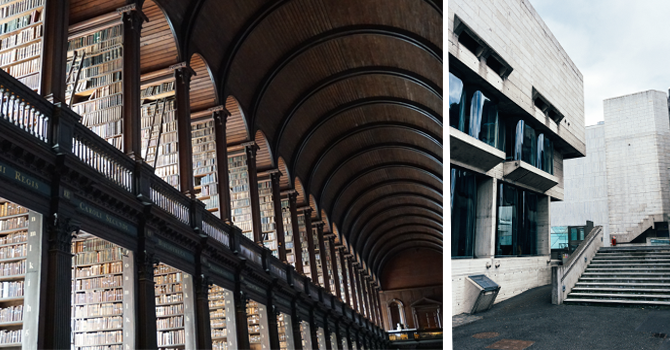 Why Ireland?
What is it about Ireland that keeps pulling me back, along with so many others? In a word, it's the mix: culture, climate and corporations, history, hilarity and high finance. Nowhere else on earth manages this balancing act — this magic blend of old and new — of yesterdays and tomorrows.
Like the Atlantic mist rolling in over its westerly mountains, Ireland surrounds you, it hugs you and it doesn't let you escape. Ireland is simply irresistible!